SAMSON SALAMAT – Pakistan
This story is part of the series We are human rights changemakers to celebrate Equitas' 50th anniversary. All through 2017, we invite you to discover stories of 50 inspiring human rights changemakers. These are but a few of the hundreds who have changed lives around the world through human rights education with Equitas' support.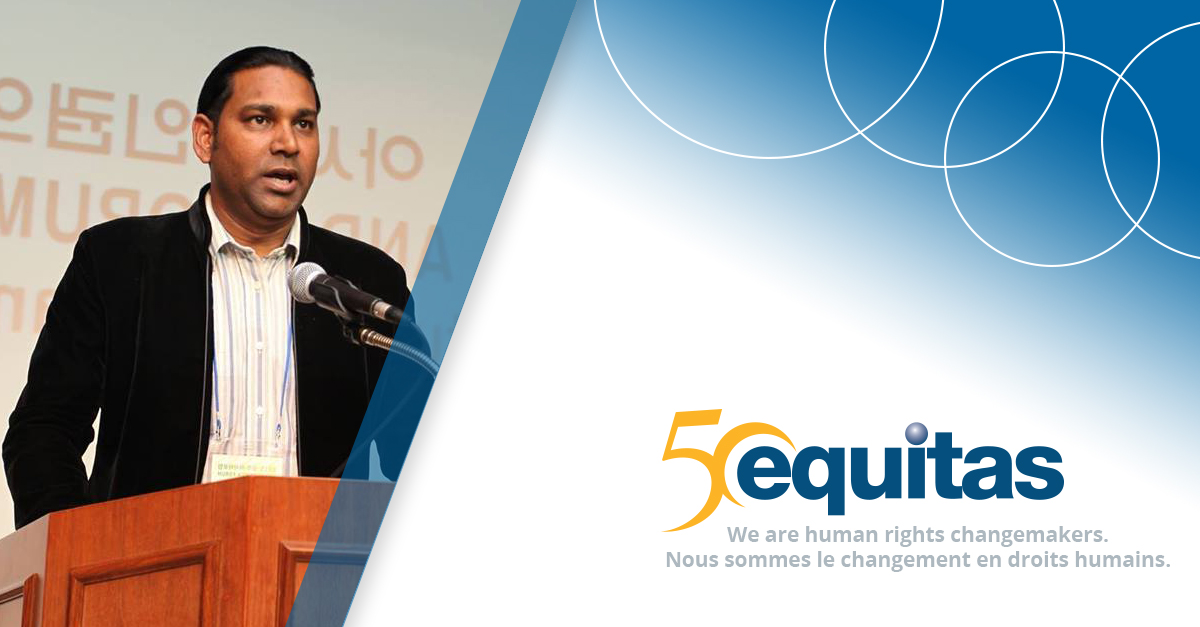 When Samson Salamat was a child in Pakistan, neither he nor his seven brothers and sisters could use the same plates or glasses as their classmates. They were not the same as the other 2,000 families in their village—they were among Pakistan's 1.5 percent Christian minority. There, as elsewhere in Pakistan, which is 96 percent Muslim, Christians were relegated to the dirtiest jobs, such as street cleaning. Samson was lucky, though. He was able to leave his village for college in Lahore, the nation's second-largest city, then take a master's degree in political science. Still, he couldn't escape his distress over the unfairness. 
Biases against non-Muslims are constitutional in Pakistan, often extending beyond discrimination to persecution. And human rights, well, that's often considered as Western propaganda. "Working on human rights, even talking about human rights, is considered to be against the ideology of the country, against religion, against the culture of Pakistan," says Samson. 
The unfairness bit into him. "I had a vision that since my community is facing discrimination, I should do something. It was not a negative reaction, but a positive approach." 
In 2000, when he was 26, Samson began working for the National Commission for Justice and Peace, a Catholic organization. Focusing on religious minority rights, he created training programs for youths to work for these rights in their communities. Eventually, he realized that in Pakistan the concept of human rights was so foreign that before advocating for human rights, people needed to understand that humans—all humans—had rights.  
This led Samson to apply for Equitas' annual three-week International Human Rights Training Program (IHRTP) in Montreal, Canada, in 2007. "Equitas is where I gained my expertise and the idea of developing an organization focused on human rights education," he says. "Working for human rights is not possible until you understand the concept of human rights—the international standards of human rights—and until you have skills like advocacy and training program facilitation. This is what I needed." 
Three years after his Equitas training in Montreal, Samson launched the Centre for Human Rights Education-Pakistan, or CHRE. Its trainings connect students, journalists, lawyers, NGO staffers—people from Pakistan's minority and majority communities—to help change the nation's concept of human rights and, says Samson, "explain that human rights are not against any religion or culture, but protect the rights of all humans, without discrimination." 
CHRE's initial offering, "Participatory Course on Democracy and Human Rights," was introduced in 2010 as an annual program. A second course, "Participatory Course on Peace and Tolerance" covers non-discrimination principles and advances nonviolence. Upon finishing the training, participants create a plan to spread human rights and non-discrimination concepts to their particular communities—whether as students, workers, children, women, religious minorities (Christians, Hindus, Sikhs, Parsis, Ahmadis), persons with disabilities, or transgender.  
It's all extremely risky, something that Samson, with a wife and three children, has come to accept. Targeted by both governmental agencies and extremists, he's been physically attacked by jihadist forces and intimidated by state actors. His movements are monitored, his phone is tapped, and nearly every month members of state security visit CHRE's offices. Meanwhile, Samson often finds himself speaking at memorials of slain compatriots. When asked about protection, he answers, "There is no protection mechanism; I do this with my own passion," adding, "but it's getting worse, day by day." 
With the Taliban, Al-Qaeda, and other militants active in Pakistan, Samson measures success not by visible policy reversals, but by the increasing numbers of voices challenging extremism. In a country where many don't even dare to speak, he says, "we have an extended family of human rights defenders who are clear on what human rights mean and how to contribute to the struggle." 
The hundreds of CHRE-trained activists have now launched Rwadari Tehreek, a social movement for religious tolerance and interfaith harmony. Its 15,000 members promote pluralism by advocating for action against militant groups and holding rallies and educational programs to end intolerance and religious discrimination. Members work with the government to protect educational institutions from extremism, demanding that school syllabus be stripped of hate material. They also seek an end to all forms of torture, reminding the government through letters, rallies, protests, and meetings that it is responsible for all people in Pakistan. 
"Pakistan is a multi-religious, multi-linguistic and multicultural society," says Samson. "And there is beauty in this diversity. We have thousands of people working voluntarily to create awareness and respect difference, especially of religions, bridging the gap between Muslims, Hindus, Christians, and people from other faiths working together, challenging the extremist mindset. That's a success." 
---
SAMSON SALAMAT – Pakistan
Founding Director, Center for Human Rights Education 
Equitas' International Human Rights Training Program Alumnus, 2007 
---
Story prepared by Donna Gold, Personal History. www.personalhistory.org 
Equitas' International Human Rights Training Program is undertaken in part with the financial support of the Government of Canada provided through Global Affairs Canada.
Did you like this story? Give us your support! Even the smallest donation contributes to big impact in Canada and around the world.