Children and Youth are Human Rights Changemakers
Children and youth around the world play a key role in building more inclusive and equitable societies. They are motivated to lead change on issues that are important to them. They create safe spaces that enable them and others to feel like they belong and to actively participate. They recognize that when they work together, they have the potential to make a real difference in their communities.
Youth Transforming Communities in Canada – from Coast to Coast to Coast
Through training, tools and by creating innovative spaces for collaborative dialogue with decision makers and community members, Equitas supports children and youth to be the leaders of today and tomorrow.
In Canada, over 20 youth and 20 program staff from 24 organizations representing communities from across 8 provinces and territories, came together in Montreal for a 4-day Youth Forum in December. During the Forum, they reinforced collaborative relationships strengthening the Speaking Rights program across Canada and built knowledge and skills to take action on relevant issues in their communities. The Youth Forum coincided with the International Conference on Human Rights Education, giving youth an opportunity to engage with decision makers and influencers on themes related to their Community Action Projects, as well as on issues that matter most to them.
Through a new interactive online space, SpeakingRights.ca, youth across Canada are taking part in national conversations on equality, inclusion and diversity and learning how to respond to issues in their communities. The site provides a venue for youth to find inspiration, share their motivation, investigate issues related to human rights, and plan actions as changemakers in their communities. In the past year, the site had over 9,900 visits and counting!
Through 39 Community Action Projects led by children and youth in Canada this year, Equitas supported young changemakers to build knowledge and skills to take action on issues that affect them directly, such as gender inequality, discrimination, violence and bullying, and identity and community connection.
Still today, children and youth face increasing barriers to participation, particularly girls and young women, newcomers and refugees, children and youth from religious or ethnic minority groups and Indigenous populations, as well as those living in poverty. During the past year, Equitas has reached over 120 000 children and youth across Canada to help them break down barriers and have a real voice in their communities.
In the wake of the tragic events that took place in Québec City in January 2017, Quebec's financial community joined forces to establish the Inclusion Fund, a philanthropic Fund dedicated to support projects aimed at promoting values such as openness, inclusiveness and equality. Equitas was honored to be selected as a grant recipient and will use this Fund to further our work supporting children and youth leadership in building more equitable and inclusive communities and to strengthen our work in Montreal and other communities across the province, starting with Québec City.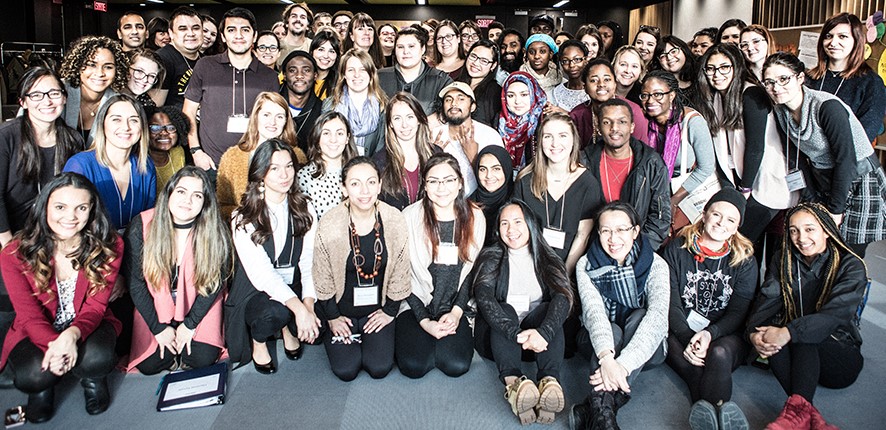 " Thanks to our project, my peers and I are better informed and more aware of citizen initiatives to combat racism. Also, we started a conversation on racism and exchanged our points of view."

–Young participant, Montreal
Prize Winning Initiative to Make Schools More Inclusive
Working with Equitas, the English Montreal School Board (EMSB) Before and After School Enriched (BASE) Daycare Program has engaged 300 elementary students from 8 schools to develop Community Action Projects to make their schools more inclusive. With the support of high school students trained in our Play it Fair!, children came up with creative projects to address issues in their schools, such as: videos to encourage others to make school environments more inclusive; a photo exhibit on children's rights; and games to counter bullying and promote peaceful conflict resolution.
Through this initiative, high school students and children alike build leadership skills and learn how to take action to make their playgrounds, classrooms and communities better places for all. The projects were so impactful that the EMSB children and youth won 2 prizes for their amazing work: the Quebec English School Board Association's 2018 Innovation in Teaching or Program Delivery Award and the 2017 Equitas Play it Fair! Award.
Creating change around the world
Youth and women are key drivers of positive social change in the Middle East and North Africa region. Despite their desire to engage with their communities, they often face tremendous barriers to participate. This year in Tunisia, Jordan, Morocco and Egypt, Equitas organized 4 focus groups through the Rawabet initiative with youth leaders, women and persons living with disabilities to encourage them to participate more actively in the promotion of their social and economic rights using new technologies. Participants particularly highlighted the inclusive approach of the focus groups, which was based on the participants' experience, critical analysis and reflection and led to the development of strategies for action.
In Sri Lanka, though a capacity-building workshop on our Play it Fair! program, we trained 53 teachers, staff from community based organizations that work with children and government officials on the importance of human rights education for children in order to promote reconciliation and unity. After the training, 18 learning transfer plans were implemented and 2 Community Action Projects were developed. The projects used Play it Fair! in Sunday schools of 4 different faiths to promote human rights values.
In Senegal, 2 Youth Forums brought together 134 youth from both urban and semi-rural communities and 11 municipal decision makers and traditional leaders, as well as state representatives. They shared lessons learned and good practices to counter violence against women and girls, and to improve access to education by facilitating the acquisition of birth certificates. Additionally, activities from our Play it Fair! program were implemented in 7 schools and organizations that offer informal educational services to children. Many of the young participants were from underprivileged areas and families living in poverty. Some of them were also victims of violence or traditional child labour. Over 200 children, of which more than half were girls, benefited from these activities promoting human rights values.
" I learnt how to solve problems and how to participate in the development of my community. "

– Youth Forum participant, Senegal
What they say
Morocco
"Our theatre play presented important issues in a humorous way. The mothers who attended commended us on helping them become more aware of the negative consequences of early marriage on the health of their daughters."
– Maha, youth participant in Morocco (February 2016)
Winnipeg, Canada
"We are still showing the video and sharing it with the community. A lot of the time the youth in the video are recognized and are the go-to youth for others when they need help or resources [on mental health] … Our video was shown to our leaders and our Executive Director who then took it to show in Switzerland at a conference about violence against Aboriginal women."
– Coordinator of the Ma Mawi Wi Chi Itata Centre, Equitas partner working with Indigenous youth in Winnipeg, Canada (May 2016)
Learn more
Equitas – a leader in programs for children and youth
British Columbia Multicultural Award (2016) in recognition of our work building welcoming and inclusive communities in B.C. and across Canada.
Tri-Cities award (2015) for Play it Fair! B.C.
Equitas was awarded the Quebec Human Rights Commission Rights and Freedoms prize (2014) for its work with children and youth.
Trailblazer award (2014) from the Canadian Coalition for the Rights of the Child
Received Canadian Race Relations Foundation's Award of Excellence (2012) for engaging youth in the fight against inequality, exclusion and racism through its Speaking Rights program in Montreal, Vancouver and Winnipeg.
Awarded the Prix de la citoyenneté Ann Greenup (2009) recognizing exceptional efforts in the struggle against racism in Québec
Awarded Honorable mention, Award of Excellence in Anti-Racism in Canada (2008) by the Canadian Race Relations Foundation
Recognized as a best practice in "A Compendium of Good Practice: Human Rights Education in the School Systems of Europe, Central Asia and North America" by the Council of Europe, OSCE ODIHR, UN OHCHR and UNESCO and the Good Ideas in Integration on the Cities in Migration website.