Children and Youth are Human Rights Changemakers
At Equitas, we know that children and young people have limitless potential that we should draw on to make our communities more equitable and inclusive. To this end, we believe in the importance of teaching the value of human rights at a young age so that young people can become true agents of change in their communities by putting human rights into action in their daily lives and teaching others about them. We are convinced that by mobilising younger generations on issues that affect their lives, they will become crucial players in the fight against all forms of discrimination, injustice, and inequality.
Here in Canada

– Contributing to social change

Play it Fair! is a program that has proven value for children aged 6 to 12 across Canada. In addition to promoting inclusion and living together in harmony, this program allows children to develop inter-personal skills such as self-expression, self-confidence, communication, and group work. Play it Fair! also seeks to promote harmonious intercultural relationships and diversity while also reinforcing the importance of inclusion in our communities by supporting community organizations and schools who welcome refugees and new arrivals to Canada. In November 2018, we brought 25 people from 16 different Canadian organizations together for a nation-wide Community of Practice. In order to promote the inclusion of young refugees and children who are new arrivals to Canada, one of the work groups involved in this initiative modeled itself on the Play it Fair! approach. This ensured that their organizations, which fostered a deeper respect for diversity in over 100 children from Quebec, Manitoba, Alberta, and British Columbia, were safe, welcoming, and inclusive spaces.

Thanks to Equitas' transformative youth programs, steps are taken each day around the country to build more equitable and inclusive communities. This year, thanks to the support of the Inclusion Fund, we had the opportunity to expand our youth programs to Quebec City. Equitas is proud to be partnered with 10 organizations in Quebec that play an active role in their community and seek to widen the impact of change in 12 community centers and schools. We achieved this change by launching 6 Community Action Projects this year that deepen inter-cultural understanding, promote youth leadership, and encourage dialogue about issues that affect the respect for diversity.

The Speaking Rights program is recognized around the country for its transformative effect on young Canadians from different backgrounds. Youth engage their communities and continuously break barriers by engaging in Community Action Projects that address the issues that directly affect them: racism, violence, bullying, etc. This year, the program allowed us to reach out to over 3,330 young people from 27 of Equitas' partner organizations and support 24 Community Action Projects in 32 communities across the country. These youth-focused projects are opportunities for them to shine by promoting human rights and the values that are associated with them. Whether these projects take the form of spaces that foster sharing and discussion or platforms for free expression, they all reinforce young peoples' ability to act by teaching them useful skills that will allow them to become the leaders of today and tomorrow.

One of these Community Action Projects was the Rural Youth Reconciliation Initiative, where youth from Equitas' national partner, Canadian Roots Exchange, created teams of Indigenous and non-Indigenous rural youth leaders aged 18-29 who worked together over 3 months to plan and implement community building initiatives. The teams in Lloydminster, Alberta, Kamloops, British Columbia, and Kangirsuk, Quebec completed a 4-day training outside of Montreal supported by Equitas.
"Being in this safe space and having outside organizations such as Equitas as allies, really helped me boost my confidence in this project. In addition, this experience has taught me the importance of youth creating opportunities for other youth and viewing each other as a community!"
– Speaking Rights participant from Toronto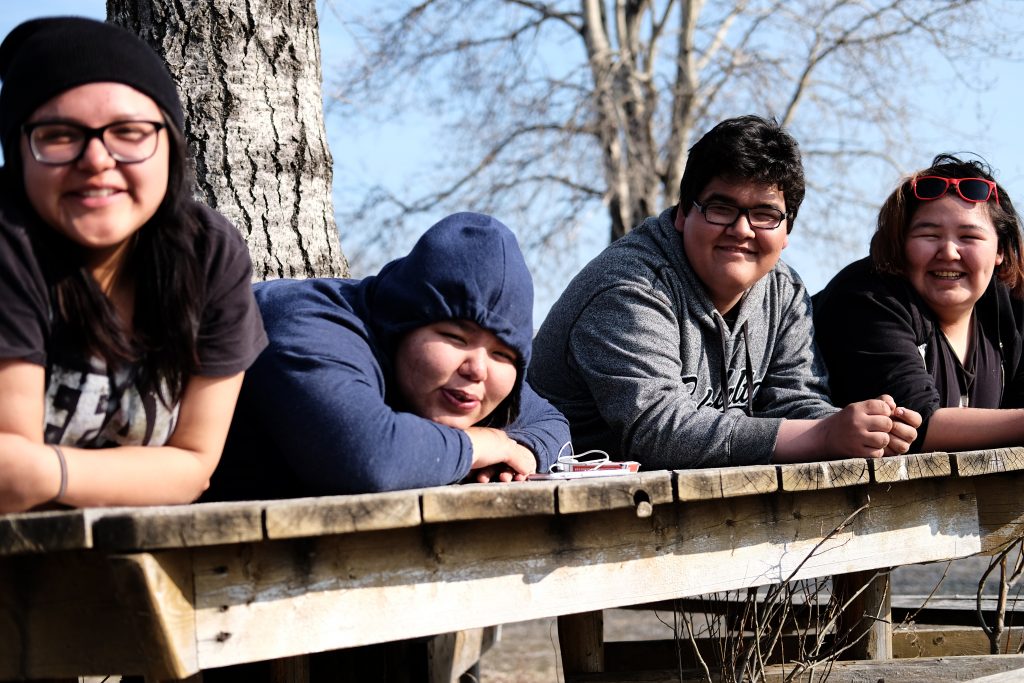 " Thanks to our project, my peers and I are better informed and more aware of citizen initiatives to combat racism. Also, we started a conversation on racism and exchanged our points of view."

–Young participant, Montreal
Around the world –
Winds of change
In the Middle East and North Africa, the voices of young people and women are often unheard even though they are the primary agents of social change in their countries. Youth who are interested in taking an active role in the lives of their communities are, unfortunately, often excluded from decision-making processes and face numerous obstacles. Since the launch of the Rawabet initiative in March 2018, Equitas has been supporting the development skills and leadership of young people, women, and people living with disabilities in Jordan, Tunisia, Morocco, and Egypt to help them play a more active role in their communities and address the problems of social exclusion through community actions. This year, 3 training workshops in Jordan and Tunisia reinforced the skills of over 70 human rights educators. These workshops gave participants a chance to develop and run 6 Community Action Projects using a human rights-based approach and new technologies, which allowed them to address the issues that matter to them most. For example, in Morocco and Jordan child marriage is a practice that primarily affects the lives of girls who live in poverty. This is why young leaders in Fes and Amman decided to take action to fight against this harmful practice in their cities. Other key issues were the focus of other community initiatives, for example: ensuring that people living with disabilities have access to the labour market in Ben Arous, Tunisia; social security for women who work in agriculture in Siliana, Tunisia; and sexual harassment in Sohag, Egypt. Since our aim was to encourage discussions with key decision-makers, we laid particular emphasis on giving community leaders and members of local organizations the relevant knowledge and skills that would help them get results.
6 ways Equitas increases children and youth participation
What they say
Morocco
"Our theatre play presented important issues in a humorous way. The mothers who attended commended us on helping them become more aware of the negative consequences of early marriage on the health of their daughters."
– Maha, youth participant in Morocco (February 2016)
Winnipeg, Canada
"We are still showing the video and sharing it with the community. A lot of the time the youth in the video are recognized and are the go-to youth for others when they need help or resources [on mental health] … Our video was shown to our leaders and our Executive Director who then took it to show in Switzerland at a conference about violence against Aboriginal women."
– Coordinator of the Ma Mawi Wi Chi Itata Centre, Equitas partner working with Indigenous youth in Winnipeg, Canada (May 2016)
Learn more
Equitas – a leader in programs for children and youth
British Columbia Multicultural Award (2016) in recognition of our work building welcoming and inclusive communities in B.C. and across Canada.
Tri-Cities award (2015) for Play it Fair! B.C.
Equitas was awarded the Quebec Human Rights Commission Rights and Freedoms prize (2014) for its work with children and youth.
Trailblazer award (2014) from the Canadian Coalition for the Rights of the Child
Received Canadian Race Relations Foundation's Award of Excellence (2012) for engaging youth in the fight against inequality, exclusion and racism through its Speaking Rights program in Montreal, Vancouver and Winnipeg.
Awarded the Prix de la citoyenneté Ann Greenup (2009) recognizing exceptional efforts in the struggle against racism in Québec
Awarded Honorable mention, Award of Excellence in Anti-Racism in Canada (2008) by the Canadian Race Relations Foundation
Recognized as a best practice in "A Compendium of Good Practice: Human Rights Education in the School Systems of Europe, Central Asia and North America" by the Council of Europe, OSCE ODIHR, UN OHCHR and UNESCO and the Good Ideas in Integration on the Cities in Migration website.