Montreal, January 9, 2015 – As we commemorate the fifth anniversary of the earthquake in Haiti, Equitas wishes to highlight the efforts of its local partners to rebuild their affected communities. "Our Haitian partners have worked very hard over the past five years to strengthen the social fabric at the community level and encourage a more just society based on human rights values which also includes people traditionally excluded, marginalized and voiceless," said Ian Hamilton, Executive Director of Equitas, which has been working in Haiti since 2006.
Equitas' local partners include organizations promoting and defending the rights of women, children, people with disabilities, sexual minorities and peasants. Their collective work has contributed to the emergence of a new form of leadership that promotes greater citizen participation, equality, inclusion and solidarity – equipping and mobilizing communities to solve their own issues. There has also been tremendous value in bringing together representatives of different social groups to network with rural development and national-level human rights organizations.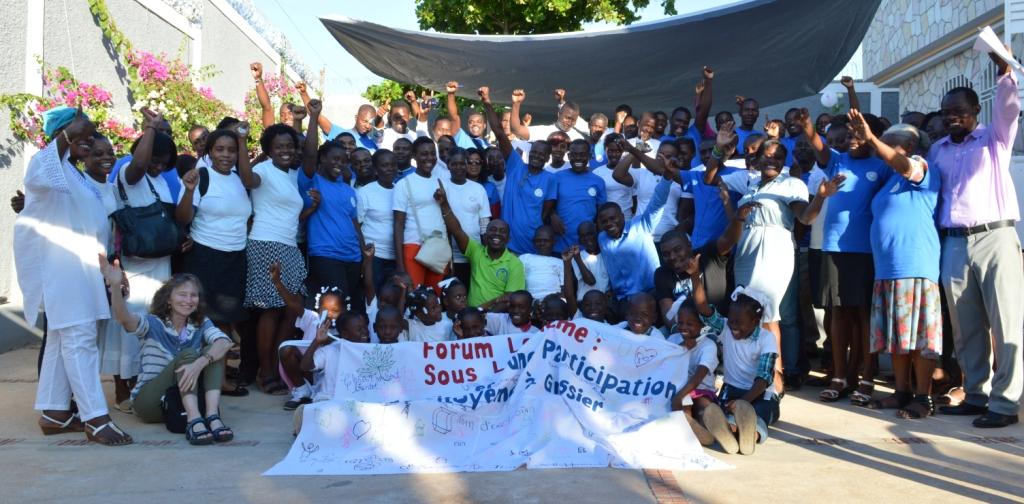 A new start
The earthquake caused much suffering, but it also forced the affected people to stand together, to forge new links of solidarity and to re-assess their social development model. "We see things that were hardly possible before the earthquake; citizens are more and more involved, taking control of their destiny and realizing that together they can take action to improve the living conditions in their communities, "says Gail Dalgleish, a Program Officer at Equitas. These results are due, in part, to the Citizenship Engagement Program, led by Equitas and its partners, which encourages community members to discuss their common problems, find solutions and implement them.
Faced with the devastation and despair of the earthquake, many members of Haitian communities chose to roll up their sleeves. The work of Equitas' partners facilitated the sharing of resources and promoted citizen engagement. In Gressier, located at the epicenter of the earthquake, the results are particularly impressive, "It is not uncommon to hear people say 'we don't need to wait for the others to act' as they want to take charge, " says Daniel Roy, Education Specialist at Equitas. Residents from all the areas of Gressier are working together to implement sustainable and beneficial actions for the entire community, including the recent refurbishment of a water source whose access had become dangerous.
Equitas' program in Haiti is undertaken with the financial support of the Government of Canada provided through Foreign Affairs, Trade and Development Canada (DFATD), along with support from Quebec's Ministère des Relations internationales et de la Francophonie and the American Jewish World Service (AJWS).