January 28, 2015
Today Bell is creating a discussion about something that is often kept under wraps. Mental illness is stigmatized in our society, despite the prevalence of anxiety disorders and depression. According to the Canadian Institute of Health Research, 1 in 5 Canadians will experience a form of mental illness at one point in their lives.
Here at Equitas we believe that games and activities provide a starting point for children to discuss issues in their lives and work together to find ways to promote inclusion, respect, fairness, acceptance and cooperation. Equitas' Play it Fair! human rights training program has reached 500,000 children to date in canadian schools and after school programs.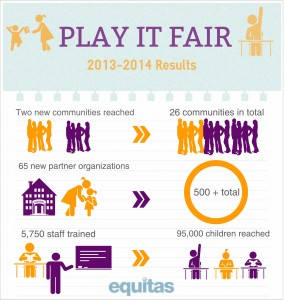 Over the years, the Play it Fair!  program has contributed to the social integration of many children who have suffered from bullying.  Such is the case of a young boy who attends an after-school program in Toronto where Play it Fair! is in use. He has Asperger syndrome, a type of autism spectrum disorder. He was initially shy and reticent about participating. However, after a few days he spoke to his mother about the Play it Fair! activities they had been doing at the camp and the impact they had on his group. He said that he wanted to tell the others about his Asperger's. The mother was surprised, since he had been bullied before and his family had always been hesitant about openly naming his condition for fear of further isolating him.
 With the support of the camp staff, he explained  his condition to the other children in his group. The children's reaction was amazing – asking him respectful questions about what it was like to have Asperger syndrome. In the end, this child was able to be open about who he was and be accepted and included by the group. His mother said that it was incredible that he felt so safe in this group that he wanted to be open about his Asperger's, and that the positive response he got from the other children made her son (and her) feel much more confident about the upcoming school year.