Mwanga
Mastullaah
Ashah
, Executive Director and Founder of
Islamic Women's Initiative for Justice, Law & Peace
(IWILAP), is fighting
tirelessly
for
the rights of
Muslim
women and to improve access to justice for the most vulnerable populations in Uganda. IWILAP works to confront the patriarchal laws and cultural traditions that disadvantage women
in order to build a just and equitable society where the rights of women and girls are respected.
According to Ashah, "one of the reasons [she] founded this organization was the gap that existed between the rights of women in general vis à vis the rights of Muslim women." An intersectional human rights-based approach that puts the rights of women, especially Muslim women, is at the forefront informs all of IWILAP's work.
Advocacy and Education: Confronting Bias and Ignorance Using Religious Teachings
As an alumna of the International Human Rights Training Program and a discussion ambassador on the Equitas Community, Ashah is a proponent of using human rights education to create change. The Equitas Community is an online space for human rights defenders to share information and best practices about their human rights education work, and, as a discussion ambassador, Ashah initiates discussions based on current issues and her work to get discussions flowing. Back in Uganda, IWILAP uses human rights education and advocacy to condemn violations of the rights of Muslim women in Uganda. Using policy briefs, radio and TV interviews, and other efforts to raise awareness on issues such as gender-based violence (GBV) among other human rights issues,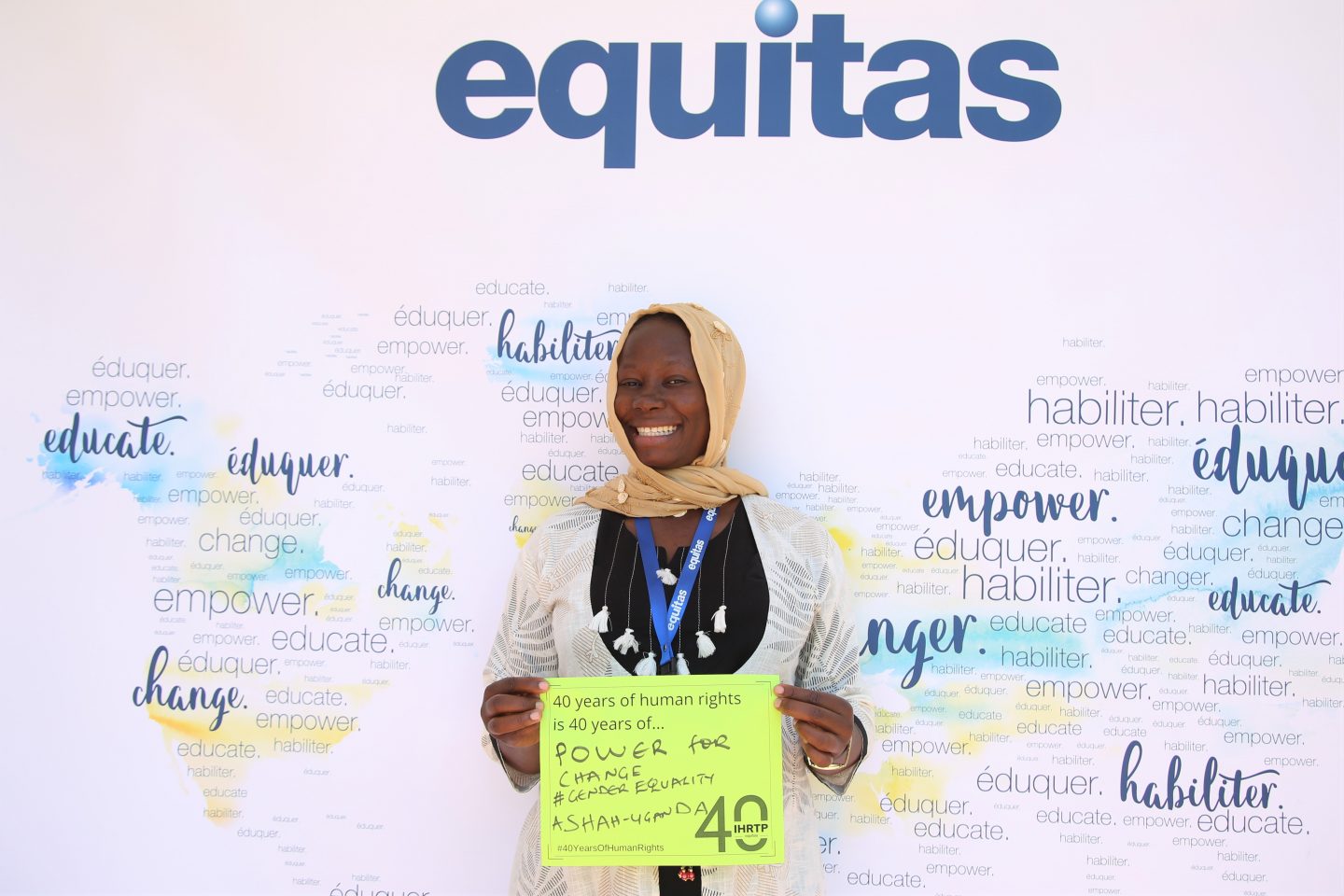 IWILAP works to tackle gender equality and promote the respect for the rights of Muslim women through identifying how the rights of women are recognized in the Quran. In one of her blog posts on the Equitas Community, Ashah declares that "[T]here's nothing in the Islamic faith that diminishes women – it's power, politics, and sometimes a purposeful misapplication of Islamic law."
Ashah wants to confront the harmful stereotype that Islam somehow disadvantages women or promotes the violation of women's rights. "What is provided for in the UDHR [Universal Declaration on Human Rights], the ICESCR [International Covenant on Economic, Social and Cultural Rights], the ICCPR [International Covenant on Civil and Political Rights], the Maputo Protocol [the Protocol to the African Charter on Human and Peoples' Rights on the Rights of Women in Africa] is also provided for in the Quran." However, many Ugandans react negatively when women's rights are promoted using the language of international human rights instruments, as this is erroneously perceived as stemming from Western culture. Using the language of the Quran, she is able to reach people who may be otherwise unreceptive to calls to respect women's rights and this ultimately makes her work more successful.
Human Rights Education and Activism
Ashah is using the tools she developed as a participant of Equitas' International Human Rights Training Program (IHRTP) to create change in her country through advocating for laws and policies that prioritize human rights, most notably the rights of women. For instance, one of the most significant threats to women's health in Uganda (pre-pandemic) was the high rates of maternal mortality. In response to this, IWILAP lobbied the Ugandan Parliament to create policies and budgets that support the sexual and reproductive health rights of women. Human rights education has a multiple effect – Ashah uses the best practices she learned at the IHRTP to pass on knowledge of human rights with the hopes of spreading awareness and creating a society where the rights of women are put first.
Access to Justice and Gender-Based Violence
IWILAP's access to justice work is built on a recognition that this is an issue that intersects with gender, religion and class; though many Ugandans are unable to access legal services due to court backlog and lack of a government legal aid program, Muslim women are often most marginalized by the judicial system. Through providing free legal assistance, either for court representation or representation in alternative dispute resolution processes, IWILAP empowers women to exercise their rights and pursue justice.
The COVID-19 pandemic has rendered access to justice projects more challenging as court closures have led to even more backlog in an already clogged system. Ashah describes how survivors of GBV have been disadvantaged by court closures as they have been unable to seek justice and remedies in courts. Women experiencing violence at the hands of their partner have been most hard-hit by the pandemic and subsequent lockdowns – women may be stuck in their house with their abuser, have less options to seek refuge as shelters close and have limited opportunities to take legal action against their abuser.
Equitas' Online Community: Sharing Best Practices
As a member of the Equitas Online Community, Ashah highlights the importance of information sharing on this online space and the exchange of good practices with other human rights defenders. Human rights defenders all over the world are often confronted with similar issues and are doing similar work, Ashah illustrates:
"In Uganda, I am doing GBV work, somebody in Indonesia could also be doing GBV work but maybe they are doing advocacy in a different way. If they post on the Equitas Community, then maybe I will learn a best lesson and… bring that experience back to Uganda."
There is still a lot of work to be done in Uganda, and across the world, to eliminate GBV and combat the prejudices that subjugate women. Evidenced though the work of Ashah and other human rights educators on the Equitas Community, human rights education is one of the first steps for achieving this goal and ensuring sustainable results.