October 31, 2014
Maison d'Haïti, a Montreal organization dedicated to the education and integration of immigrants and immigrant families, hosted over fifty members of the Haitian community last Saturday, October 25. Parents, community workers and representatives of youth protection services and other organizations working with children were invited to speak about the issues involved in their work with families. This day of discussions was the result of a "Young Women, Young Leaders" project initiated by Equitas in partnership with the group "Femmes d'abord" of the Réseau des jeunes parents of Maison d'Haiti.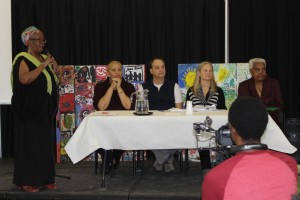 The event provided a great opportunity to exchange on many issues:
Cultural heritage in the education of children from the Haitian community;
The history of the youth protection services in the province of Quebec (Commission de protection des droits de la jeunesse.)
The process from reporting  a situation to the Commission to the possible placement of a child;
Discrimination and racial profiling;
The role of the social workers and the educators in rehabilitation;
The mental health of families.
The event, whose theme was "From dialogue to action for stronger cooperation", was skilfully facilitated by Maguy Métellus. Participants had the opportunity to express their views and identify solutions to problems through a variety of means: group discussions, poems, a video of testimonies of young mothers, some comedy sketches and panel discussions. The children of the participants were also invited to share their views about the family.
Congratulations to the Maison d'Haiti and to the women of "Femmes d'abord" for this wonderful success!