NEW!

Equitas Shares it # 27
OPENING UP DIALOGUE ON SHRINKING SPACE
In November 2018, members of Equitas' Community participated in an online conversation on shrinking space. Civic space is shrinking, limiting civil society from networking, making connections, organizing, and creating a positive environment for civic engagement and human rights to thrive. During the 2018 International Human Rights Training Program Regional Thematic Session, participants identified several barriers they face in their Human Rights Education work that contribute to shrinking space and strategies to address them. In addition to this discussion, alumni were asked questions to further our understanding of the main challenges that human rights educators face, as well as concrete and realistic strategies to address the issue of shrinking space for human rights and human rights education. The following summary directly synthesizes the statements of participants.
>> Download the activity: Opening Up Dialogue on Shrinking Space
---
Equitas Shares it # 26
UNDERSTANDING ACCESSIBILITY – A FEW DEFINITIONS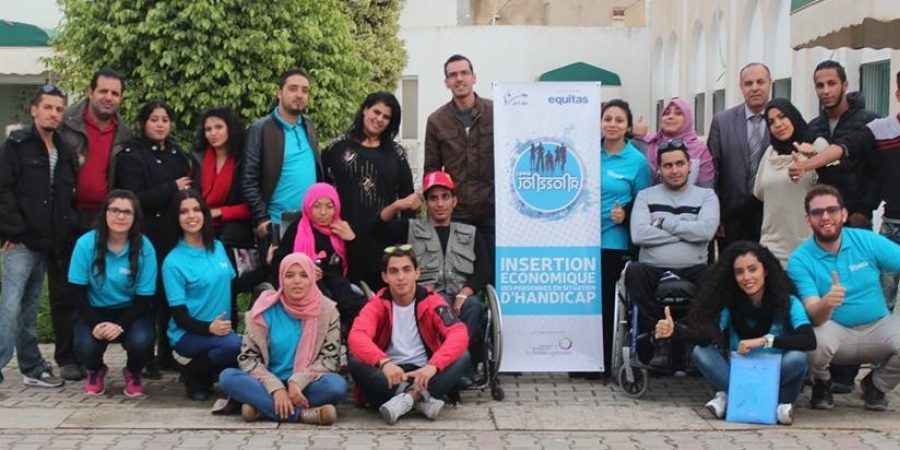 Since 1992, the United Nations International Day of Persons with Disabilities (IDPD) has been annually observed on 3 December around the world. In order to mark this day, Equitas would like to share a Reference Sheet from the work we are doing in our program Rawabet in the Middle East. This program aims to empower youth, women and marginalized groups – in particular persons with disabilities – to thrive in the digital era and use technologies to promote social and economic rights in Jordan, Tunisia, Egypt and Morocco.
>> Download the activity: Understanding Accessibility – A few definitions
---
Equitas Shares it # 25
HOW TO ASSESS THE IMPACT OF VIOLENCE ON WOMEN'S PARTICIPTATION

In order to mark the International Day for the Elimination of Violence Against Women, we would like to share with you an activity that explores the impact of violence on women's participation in decision-making. This activity has been modified from the one included in the educational tool Action Guide – Ushiriki Nguvu Yetu used in Equitas' program in Tanzania.
Since 2014, Equitas has been working in partnership with TUSONGE Community Development Organization in Tanzania.
The work carried out by Equitas and TUSONGE is part of the Strengthening Human Rights Education project, financed in large part by Global Affairs Canada. As part of the project we have trained 35 community-based organizations in the Kilimanjaro and Arusha regions on how to implement the educational tool Action Guide – Ushiriki Nguvu Yetu, with the objective of creating a safer and more inclusive communities, where human rights are more respected.
During the implementation of the Action Guide, these community-based organizations have engaged with local community members who became active change agents, carrying out human rights actions that were aimed to address specific issues affecting the community life, which was jointly identified by the community members involved in the project.
---
Equitas Shares it # 24
TIPS FOR ENGAGING WOMEN IN CONFLICT MITIGATION

The escalation of conflict around the world poses a serious challenge to human rights. Sustainable peace requires equal participation of all citizens in their communities. Women's participation is essential and has been shown to contribute to more peaceful societies. Women are amongst the most vulnerable victims in conflict situations, yet they are also pivotal for mitigating conflict and building lasting peace.
To celebrate International Day of Peace, here are Equitas' tips for engaging women in conflict mitigation.
>> Download the activity : TIPS FOR ENGAGING WOMEN IN CONFLICT MITIGATION
---
Equitas Shares it # 23

PLAY IT FAIR! DAY ACTIVITY
Play it Fair! is a program that promotes positive values and behaviours in children, such as cooperation and respect, through games and discussions developed by Equitas. Each year, 70,000 children across Canada participate in Play it Fair!
Since 2009, hundreds of organizations have celebrated Play it Fair! Day on August 12, International Youth Day, across Canada. Play it Fair! Day is a chance for children and staff to join in activities that highlight positive values, children's rights and children's participation through games, group discussions and child-led community action projects. It is also a good opportunity for organizations to promote their program by inviting parents, members of the community or local press to see what they have been doing.
In this Equitas Shares It! we are taking the opportunity to share with you a sample activity for you to celebrate Play it Fair! Day with children in your community.
>> Download the activity : Play it Fair! Day activity
---
Equitas Shares it # 22

HOW TO DEFINE THE CONCEPT OF TORTURE
For the International Day in Support of Victims of Torture (June 26), it is important to understand the concept of torture. There is a big difference between what we call "torture" in everyday life and what it is according to the United Nations Convention against Torture (CAT). This activity helps participants understand what is and is not covered within the scope of the Convention.
>> Download the activity : How to Define the Concept of Torture. (in French, English translation available soon)
---
Equitas Shares it # 21
PROMOTING RESPECT AND NON-DISCRIMINATION FOR LGBTI PEOPLE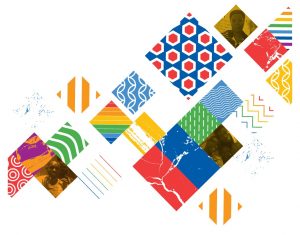 The introduction of the Universal Declaration of Human Rights is very clear: "All human beings are born free and equal in dignity and rights." There is no exemption allowing for the denial of rights to some people based on their sexual orientation or gender identity. Unfortunately, discrimination, stigmatization, exclusion, and acts of violence against lesbian, gay, bisexual, transgender, queer, and intersex people (LGBTQI) are systematic and widespread in many countries around the world.

We are therefore taking May 17th, the International Day Against Homophobia and Transphobia, as an opportunity to share with you one of the activities in our Together for Equality Toolkit. This tool was developed within the framework of "Consolidating the Movement in Struggle Against Homophobia and for the Respect of the Rights of LGBTI People in Haiti," a project funded by the European Union and launched in partnership with Kouraj, the American Jewish World Service (AJWS), and the Union of People in the Fight Against Discrimination and Stigmatization. You can use this activity with a small group of people to promote and protect human rights for all, regardless of sexual orientation and gender identity.
>> Download the activity : One Flag, Six Colours.
---
Equitas Shares it # 20
HOW TO USE WORDS TO PROMOTE GENDER EQUALITY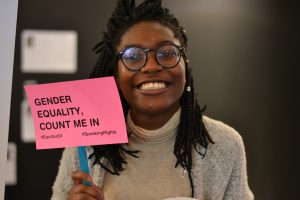 How does the language we use in everyday conversations convey gender biases or contribute to gender equality? As a human rights education organization, Equitas aims to think critically about the language we use and be intentional with it. Using inclusive language enables us to contribute to building a society where women and men, girls and boys or any person whose appearance or behavior fails to conform to traditional male and female gender norms have equal rights, responsibilities and opportunities.
For women's day, we are posting our Gender Lexicon to share the terminology we use in our programs and practice, and to build awareness about the social implications involved in the use of language for gender and gender identity.
>> Download Equitas' Gender Lexicon
---
Equitas Shares it # 19
HOW DOES HUMAN RIGHTS EDUCATION CONTRIBUTE TO CONFLICT TRANSFORMATION?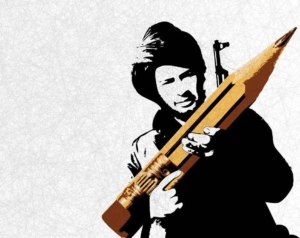 The escalation of conflict in all regions of the world poses a serious challenge to human rights. How can our work as human rights educators contribute to transforming conflicts leading to more peaceful societies where human rights are promoted and respected?
Equitas has been exploring this topic and recently hosted an online conversation with human rights educators from around the globe to discuss ways in which HRE contributes to conflict transformation. We explored our understanding of conflict and conflict transformation, and ways in which HRE can contribute to transforming conflict. In this Equitas Shares It! we share lessons learned from the online conversation, as well as reflections from the Equitas team based on our own programming.
>> Download How does human rights education contribute to conflict transformation?
---
Equitas Shares it # 18
Tips for an efficient group discussion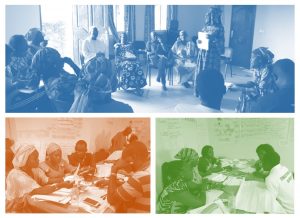 Group discussion – or debrief – is a moment for group members to share thoughts and reflect on what happened during the activity, in order to draw life lessons. This technique allows put into practice the participatory approach in their personal lives as well as in their HRE work.
In this Equitas shares it!, explore what elements constitute efficient group discussions and how to facilitate them.
>> Download the tips sheet: Tips for an efficient group discussion.
---
Equitas Shares it # 17
THE 6 KEY ELEMENTS OF THE CITIZEN ENGAGEMENT APPROACH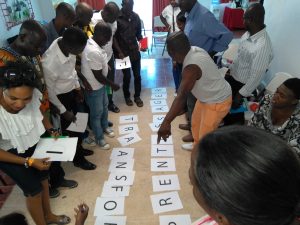 Citizen engagement is the active participation of community members in the social, economic and political life of her/his community. Engaged citizens strengthen their capacity to act as individuals, but also contribute to a more effective, durable and inclusive community development.
Since the earthquake in Haiti in January 2010, Equitas' program for the promotion of engaged citizenship, with the contribution of 12 Haitian organisations, has striven to increase citizen engagement, strengthen inclusion and responsibility and to create open discussions about the challenges faced by their communities.
Through an engaged citizenship approach, communities' members to become involved citizens that are ready to act in favour of lasting social change.

>> Download the 6 Key Elements of the Citizen Engagement Approach.
---
Equitas Shares it # 16
THE ROLE OF HUMAN RIGHTS EDUCATION IN THE PREVENTION OF TORTURE
The Universal Declaration of Human Rights and the Convention Against Torture prohibit the use of torture in any context. In this Equitas Shares It!, you will discover the specific role that human rights education plays in the prevention of torture

>> Download the activity : The role of human rights education (HRE) in the prevention of torture.
---
Equitas Shares it # 15
THINKING ABOUT HUMAN RIGHTS

Education is central to the protection and promotion of human rights. An attitude of respect for the rights of others on the part of a majority of the population is the best guarantee that rights will be respected. Human rights education aims at building a culture of human rights in the minds of all people. The essence of the challenge in every region of the world is to embed a culture of human rights through human rights education.
A starting point for human rights education is the Universal Declaration of Human Rights (UDHR). The UDHR has symbolic, moral and practical significance as the constitution of the whole human rights movement, and its simplicity of language and vision are accessible to people of all ages and conditions.
In the following activity, participants reflect on their personal notions of human rights and link what any individual or group needs to live well and with dignity.

>> Download the "Thinking about Human Rights" activity.
---
Equitas Shares it # 14
6 TOOLS TO BUILD A COLLECTIVE MEMORY OF YOUTH PROJECTS AND PROGRAMS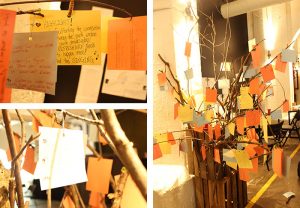 Building a collective memory is a way to record youths' journeys of personal transformation while participating in projects and programs. By building a collective memory, youth are given the opportunity to reflect on their learning, share their stories, and celebrate their accomplishments with their peers. This not only reinforces youth's self-esteem, but, when shared with the public, it can also showcase the great work that your program is doing. We suggest reviewing the collective memory at regular intervals during a project or program to support youth to reflect on their personal and collective journeys. It is also a useful tool to gather periodic feedback from youth that can then be used to adjust program content or delivery.

>> Download the 6 techniques to build a collective memory
---
Equitas Shares it # 13
EARTH DAY
On April 22nd, 2017, we celebrate Earth Day. A healthy environment is vital for the enjoyment of a wide range of human rights, including the right to life, health, food, water and sanitation.
To mark this day we are sharing three activities we developed for the David Suzuki Foundation's Suzuki Superhero Challenge 2016. These activities are for children to connect with nature, get outside, and learn about environmental issues. They focus on the right to clean water, the right to clean air and the right to nutritious food.

» Download the activities
For more ideas to celebrate Earth Day, learn about nature, and play outdoors check out Canada's Earth Day website
---
Equitas Shares it #12
ACCESSIBILITY, PARTICIPATION, AND INCLUSION
The UN Convention on the Rights of Persons with Disabilities (UNCRPD) outlines the rights of persons living with disabilities. The information below is designed to help ensure that everyone is included and can participate in your meeting, activity, training or workshop.
Inclusion is recognizing that each person is a full member of society and of the group, and has the right to participate. This resource provides human rights educators with tips for inclusion. These have been developed drawing on the social model of disability, which focuses on building positive attitudes and minimizing or removing barriers that prevent group members with disabilities from accessing the same opportunities as others.
The participation of persons with disabilities should be an ongoing and flexible process. It is not a question of whether they can participate, but how we ensure that it happens!
---
Equitas Shares it #11
IHRTP 2010-2015 Review Report

This review report was written as part of the Equitas program Strengthening Human Rights Education Globally (SHREG), 2013-2019
The purpose of the 2015 Review was to ensure that the IHRTP is at the forefront of human rights education (HRE) and continues to meet the needs of human rights educators from different regions of the world. Equitas gathered appropriate and valid information from a variety of sources (including participants, the 2015 IHRTP facilitation team, Equitas staff members, resource people, board members, different reports) to inform revisions to the IHRTP for the next five years as well as the follow-up strategy.
The review was carried out in two phases. Phase 1 focused on analysing the profile of IHRTP applicants and participants over the last five years. Phase 2 involved conducting an analysis of the human rights situation globally as well as an overview of other human rights education programs currently being offered. The contribution of the IHRTP to the global human rights education movement was explored within this context.

» Download the report
---
Equitas Shares it #10
Welcoming Refugee Children and Youth: An Activity and Action Guide

Canada has a long history of welcoming people from around the world who have moved here for many different reasons. Most recently, as a result of the conflict in Syria, Canada has seen a dramatic rise in the number of Syrian refugees resettling within the country. This has led to a significant increase in the number of refugee children and youth participating in schools, community centres, and recreational programs across the country.
In the new year, Equitas will launch Welcoming Refugee Children and Youth: An Activity and Action Guide, a new resource developed to respond to growing interest and needs expressed by Equitas partners across Canada for more educational tools designed to build more welcoming and inclusive spaces for refugee children and youth. The following are 2 sample activities from the Guide primarily developed for groups who work with refugee children, but can also be used with all newcomer and non-newcomer children and youth in your programs who together help build welcoming and inclusive spaces for all:

Make sure to check out our website again in the next few weeks for the full Guide!
---
Equitas Shares it #9
Engaging Decision Makers
In this activity, participants identify the actors that have an influence on the issue they are addressing through a community action project. The activity can be facilitated with young people and is used in many of Equitas' programs, including Speaking Rights and Young Women, Young Leaders. To support the activity, we have included a list of tips for engaging decision-makers from the compendium Youth Participation in the Middle East and North Africa.

» Download the activity.
---
Equitas Shares it #8
A five-step process to designing an evaluation in human rights education
Evaluation is sometimes described as a total experience because ideally it is part of our human rights education (HRE) work from the very beginning to the very end. Included as part of all the phases of a project, evaluation should reflect the totality of everything that we do in a Human Rights Education project. As such, evaluation needs to be developed in line with each specific training session. Evaluation should be inspired by the HRE activity itself and enhance our capacity to achieve our goals.
There is no single format for effective evaluation. In fact, the art of evaluation is choosing a process that both gives you the information you need and is, at the same time, feasible for you and your group or organization to carry out. Equitas operates a model in designing and implementing an effective evaluation process for human rights training that encompasses five basic steps:
---
Equitas Shares it #7
Equitas' approach to HRE for social change
For Equitas, human rights education (HRE) is a process of transformation that begins with the individual and branches out to encompass the society at large. Ultimately, human rights education inspires people to take control of their own lives and the decisions that affect them. Our approach to HRE involves the dynamic interplay of the different paradigms described in the resource below. Taken together, they enable people to expand their views of themselves, of others, and of the world and to take action for social change in their societies that are consistent with human rights values and standards.
» Download the infographic

If you have any questions, thoughts or feedback about this resource, we would love to hear from you! Email Heather de Lagran: hdelagran@equitas.org
---
Equitas Shares it #6
Youth Participation in the Middle East and North Africa
Participation is a fundamental right recognized in the Universal Declaration of Human Rights. In the document below, read about the concept of youth participation in the context the Equitas Mosharka project (2012-2015) in the Middle East and North Africa. You will also find the lessons learned and the good practice stemming from the project. Finally, we can read an example of a good practice in action from the Mosharka project.

Download the section of the publication on lessons learned and good practices that presents Youth Participation in the Middle East and North Africa. »
» Download this section in Arabic
---
Equitas Shares it #5
Guidelines for working with children and youth
Equitas is committed to protecting children's rights regardless of sex, social status, language, religion, political beliefs, civil status, disability, sexual orientation, ethnic or nation origin. As such, we would like to share our Guidelines for working with children and youth. The purpose of the Guidelines is to provide Equitas staff, board, volunteers and interns, as well as partners, with clear guidance on what we expect of each other in terms of behaviour, as well as providing examples of acceptable and unacceptable conduct when interacting with children in our work.
Equitas' work with children is underpinned by the United Nations Convention on the Rights of the Child (CRC), which states:
Children should be protected from all forms of physical and mental violence, injury, abuse, neglect, maltreatment and exploitation, including sexual abuse (Article 19).
Children have the right to participate and be heard in matters that concern them (Article 12).
The Guidelines were developed with contributions from Equitas staff, partners and board members and in consultation with Tara Collins, assistant Professor at the School of Child and Youth Care at Ryerson University.

» Download the Guidelines for working with children and youth
---
Equitas Shares it #4
Picture it! Metaphors
In this activity, participants create visual metaphors in order to share a personal change they have experienced or something they are proud of having achieved. A visual metaphor is a representation of a person, place, thing, idea or experience by way of an image that suggests a particular association.Visual metaphors encourage critical reflection and can generate insight into an experience, change or achievement. They help participants explore and capture the many dimensions of change.

» Download the activity sheet.
---
Equitas Shares it #3
Gathering information from children and youth
The challenge of gathering information from children and youth themselves about their participation in decision making led to the development of an effective process that enabled us to do just that! The tool we are sharing consists of a series of activities used to gather information, from children themselves, about their participation in their community. The data collected through this tool can be used as baseline about children's participation (from the perspective of boys and girls) as well as a starting point for their participation in the community.
Download the Gauging children's participation through participation activity

Download the Community Mapping Template
---
Equitas Shares it #2
How to engage young women in decision making
There are many factors that influence young women's participation, but the three in particular we feel should be taken into consideration are motivation, capacity and opportunity. The experience of our Young Women Young Leaders program enabled us to develop this tip sheet.
» Download the tip sheet
---
Equitas Shares it #1
How to encourage youth to participate in decision-making
This article on children and youth participation in decision-making is based upon different experiences in our programming and also draws from an online conversation with human rights educators who had many great ideas on engaging youth in decision making.
» Learn how to get youth to participate in decision making