ALBERTO ROQUE GUERRA – Cuba
This story is part of the series We are human rights changemakers to celebrate Equitas' 50th anniversary (#Equitas50). All through 2017, we invite you to discover stories of 50 inspiring human rights changemakers. These are but a few of the hundreds who have changed lives around the world through human rights education with Equitas' support.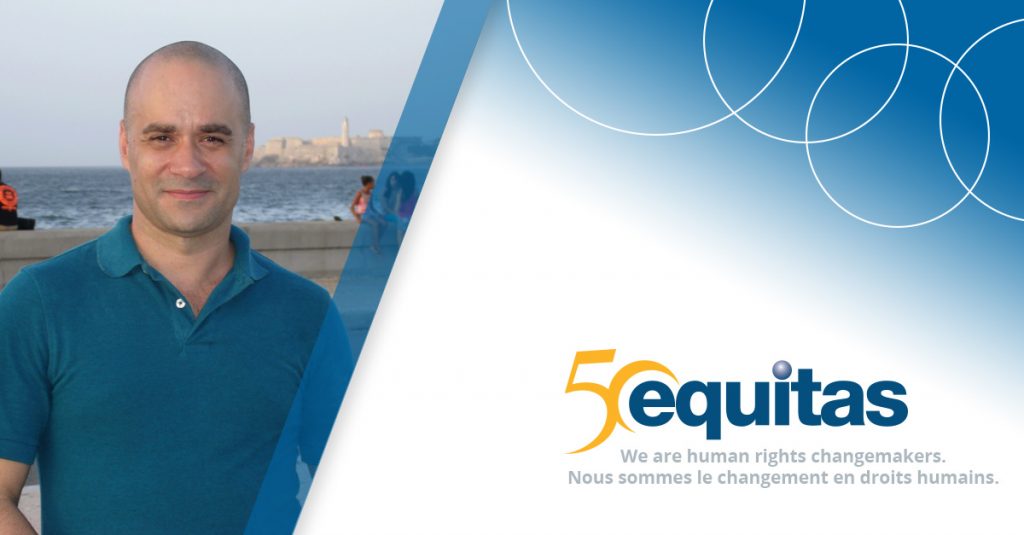 Alberto Roque Guerra is a medical doctor who lives and works in Havana, Cuba. He has been an advocate for gender and equality in Cuba since 2003. In that year, Mariela Castro, daughter of Cuban President Raul Castro, invited Dr. Roque and his partner to meet with her to discuss issues relating to gays and lesbians. She asked them to develop programs on Sex Education and Sexual Diversity. They brought those programs to her and have been involved in working on those issues ever since.
Alberto is a member of Cuba's Multidisciplinary Association for Sexuality Studies, the Cuban Society of Internal Medicine, the Latin American Studies Association and The World Professional Association for Transgender Health. His scholarly and advocacy work on gender and sexuality has been presented in Italy, Canada, Peru, Ecuador, Mexico, Venezuela, Nicaragua, Sweden, Great Britain, Germany, Serbia, France, the United States, Guatemala, Brazil and Denmark.
In 2008, he was working with The National Centre for Sex Education in Cuba. They encouraged him to apply to Equitas' International Human Rights Training Program (IHRTP), in Montreal, Canada. He was selected and stayed in Montreal for three weeks, learning about the participatory approach for use in training future human rights advocates.
"For me, this kind of knowledge was new. In the field of medicine, we speak about human rights, but this was a different perspective – more focused on the diseases, prevention, and the fact that the body is something that has rights. I was not only involved in providing medical health care, but found myself fighting against miscommunication and against social challenges that were affecting the transgender community. It is the same problem in many countries of the world. This is a global problem."
He returned to Cuba, but was not able to put his new-found knowledge into practice right away. His Centre was in the process of being restored and he did not have the space in which to train people.
In 2009, Dr. Roque was a participant in the Encuentro Latinoamericano de Participantes en el Programa Internacional de Capacitación en Derechos Humanos [Latin American Meeting of Participants in the International Human Rights Training Program] in Quito, Ecuador, where he continued to gain new perspectives and techniques, as well as make connections with like-minded people.
"When I was finally able to begin the training programs in Cuba in 2010, I found it was very deep inside me. As a result of my training in Canada, I found this to be a very easy-going, fluid process. I was able to replicate what I had learned and do it with people who were active and were interested in learning about sexual rights and human rights."
As a result, he formed a new group called Hombres por la Diversidad (Men for Diversity), which does advocacy work to promote respect for sexual orientation and gender identity in Cuba. He is also a founding member of Cuba's Anti-Homophobia Movement.
In 2012, sexual orientation was included in the Communist Party of Cuba's "Working Objectives" policy. Most recently, sexual orientation was inserted into the "Labor Act" – passed by the Cuban Parliament – which now considers gender and sexual orientation to be causes of discrimination.
Trans identities (transsexuality, transgender) remain pathologized even though in 2010 the Cuban Multidisciplinary Society for Study of Sexuality declared that trans identities are not mental disorders.
Thanks to Alberto's efforts, Cuba has come a long way in recent years with regard to the rights of the transgender community in Cuba. But there are still many challenges.
"We need to be included in the law with regard to equality in marriage. We need all the military branches here to include these rights in their policies. They haven't yet. And we need more organizations that can promote these rights. It may take many years but we are very optimistic about it."
---
Alberto Roque Guerra – Cuba
Medical Doctor, Freyre de Andrade General Hospital
Equitas' International Human Rights Training Program (IHRTP) Alumnus, 2008
Participant, Latin American Meeting of Participants in the International Human Rights Training Program, Quito, Ecuador, 2009
---
Story prepared by Eileen O'Hara, Past into Print.
Equitas' International Human Rights Training Program is undertaken in part with the financial support of the Government of Canada provided through Global Affairs Canada.
Did you like this story? Give us your support! Even the smallest donation contributes to big impact in Canada and around the world.