GEORGE MWAI GICHUKI – Kenya
This story is part of the series We are human rights changemakers to celebrate Equitas' 50th anniversary (#Equitas50). All through 2017, we invite you to discover stories of 50 inspiring human rights changemakers. These are but a few of the hundreds who have changed lives around the world through human rights education with Equitas' support.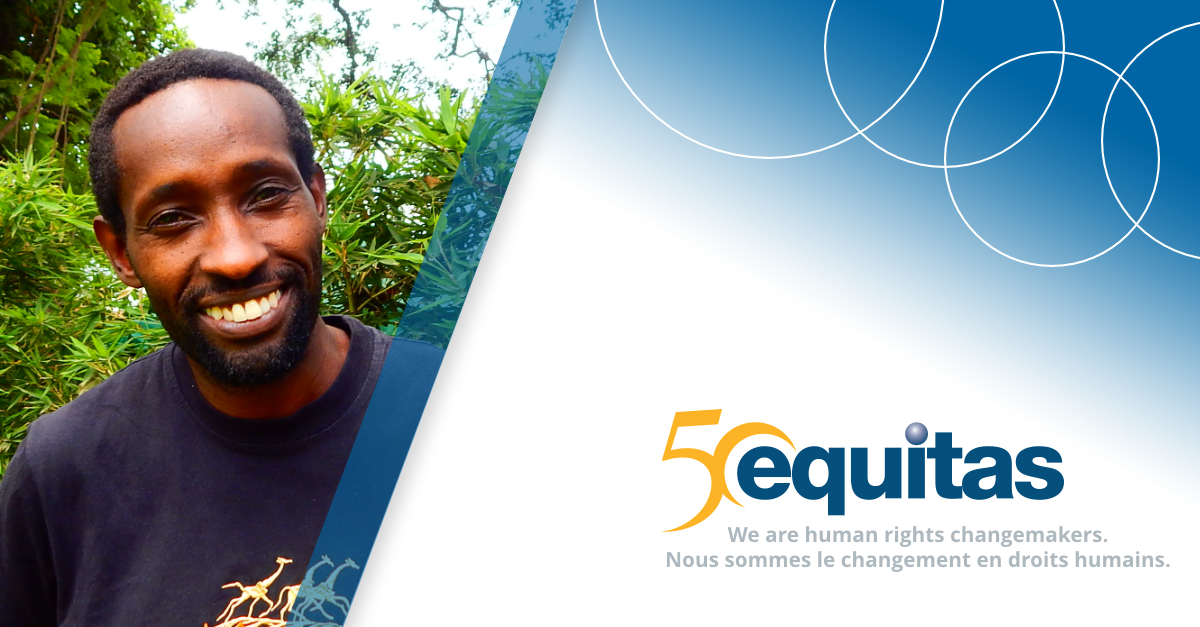 The path to Kenya's independence began with a Mau Mau rebellion in the 1950s. In 1952, Kenya's leaders declared a state of emergency and began arresting many Kenyan independence "rebels." The colonial leaders' brutal response included mass killings and relocating entire families of suspected rebels to concentration camps.
George Gichuki's grandfather was among those slaughtered, leaving his grandmother displaced and grieving. As a child, George listened to her stories and mostly recalls feeling sorry for her loss.  But it was this backdrop of Kenya's road to independence and personal loss which fueled George's passion for human rights. By the time he was 25 years old, his grandmother's stories had taken on a different meaning. He understood his grandfather's struggles were for freedom but also to regain respect and dignity for all Kenyans.
Many Kenyans call for restitution or reparation. George feels the fight goes to address deeper human rights issues.
As part of his agricultural degree studies, received from Bukura Agricultural College, George focused on developing strong communication skills to work with communities. He first applied these skills by working with children and then with imprisoned individuals. In 2008, he participated in his first of five Equitas trainings, where he learned how to use a participatory approach to human rights education effectively.
That approach shifted everything for him.
Today, he's a program manager in charge of capacity support with a grant-making entity called UHAI EASHRI, an East African Sexual Health and Rights Initiative. UHAI EASHRI's mission is resourcing the struggle for equality, justice, and dignity for Africa's sex workers as well as sexual and gender minorities.
There is an emerging trend in East African law further criminalizing homosexuality and sex work. Anti-gay groups and religious fundamentalists aim to counter the work of the sex workers and LGBTQI (Lesbian, Gay, Bisexual, Transgender, Queer and Intersex) rights groups.
"I have a case in Uganda where the president stated that [being] homosexual is a medical condition and he instituted a commission of medical doctors to evaluate his claim," George explains. The commission then backed up the president's false claim. A February 2015 case reported an instance of forced anal examinations conducted on two men who were then arrested for "unnatural offences."
In Kenya, addressing issues in a confrontational way did nothing to improve human rights. That's where specialized training from Equitas came into play. "I've embraced more subtle ways of introducing diversity into a conversation," George explains. Using participatory communication skills that he learned in 2008 through Equitas' International Human Rights Training Program (IHRTP) in Montreal, Canada, George focuses on building bridges of understanding as a way of challenging social norms, which he feels ultimately oppress people.
"I've learned that in all our struggles when people shared their lived realities, an influential thread of learning helps change people's viewpoints and perspectives." 
From George's perspective, the Equitas training is unique in how it invites all participants to actively engage in the learning process by encouraging them to bring their individual experiences into the classroom. This participatory approach makes collective experiences central to learning. He explained, "For me, the difference is you're valued before you come to training, then during training, your experiences become useful, and, after completing training, you're engaged in an evaluation process to assess what worked for you."
When working with community groups, George employs this method to challenge the status quo, thus encouraging reflection and thoughtful debate.
Culture — and perspective of culture — plays a huge role in how sexual minorities and gender are viewed. Although Kenya's constitution changed in 2010 to include gender equality, the reality remains quite different. Violence, denial of health care, loss of jobs, and expulsion from families are the norm. Discrimination runs rampant.
If someone stated, "It's not that way due to our culture," George would ask, "What else haven't women done in the past as part of our culture that they're doing now?" Slowly, most participants discovered that roles evolve. As people softened their positions, a seed of awareness was planted, and it began to take root.
"If we're able to shift toward acceptance and appreciation about a person's abilities and capabilities beyond their gender, we'll have made a massive shift in our country." 
Once, he was leading a group of fellows from a Pan-African organization whose focus was social movements. Included in the group were activists from LGBTQI community, the arts, and labour groups, along with other human rights activists. Most of the group had little to no experience with members of the LGBTQI community. Consequently, there was tension and unease.
George said, "We had discussions and reflection, challenging our biases. For me, one success was when a group member, initially leery of the LGBTQI activists, started appreciating that indeed many of our collective struggles are the same. The climax of this training came later when one activist organized a public protest against rising food prices. He invited one of the LGBTQI activists to participate. I feel like that was one of my best moments!"
George's dream is to "develop a broad-based organization whose work is overall human rights, so they win back dignity, respect, and what has been lost, not for just one group but all of us". George's grandparents would be proud.
---
GEORGE MWAI GICHUKI – Kenya 
Program Manager at UHAI EASHRI
Equitas' International Human Rights Training Program Alumnus, 2008
Facilitator, East Africa Human Rights Program, 2009
Coach, East Africa Human Rights Program, 2016
---
– Story prepared by Deborah Kevin, Our Tales UnTold, www.OurTalesUnTold.com
Equitas' International Human Rights Training Program is undertaken in part with the financial support of the Government of Canada provided through Global Affairs Canada.
Did you like this story? Give us your support! Even the smallest donation contributes to big impact in Canada and around the world.