November 14, 2014
Youth have lots of ideas, but often lack the space and resources to present them and put them into action.  Therefore, it is important to involve youth at different levels of decision-making.  At the last International Human Rights Training Program (IHRTP) in Montreal, we initiated this conversation by discussing barriers to youth participation and also creative strategies to overcome the barriers.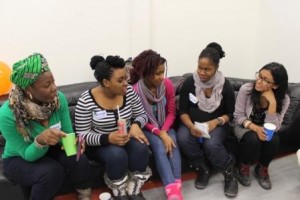 Equitas is now looking to further develop this knowledge.  Over the next two weeks, we will explore what elements need to be present for youth to participate and we will ask you to share best practices in youth participation in decision making.  If you're an IHRTP alumni, join the conversation on the Equitas Community  (if you forgot your username or password send an email to community.equitas@gmail.com). If you're not an alumni, you can still participate by posting your comments on www.facebook.com/equitas or by sending it to community.equitas@gmail.com
Throughout this online conversation, you are invited to comment and respond to other members' postings by providing examples, opinions and ideas as well as any resource or tool you think will help us better understand this topic. By the end of the conversation, our goal is to have a number of concrete good practices of Youth Participation in Decision-Making and useful resources that we can share with the community.
To assist us in exploring this topic, the following human rights educators will provide their insights, experiences and comments to enrich the conversation:
Bassinga Solange, Burkina Faso, Coalition au Burkina Faso pour les droits de l'enfant
Borso Tall, Senegal, teacher
Jules Akeze, Cameroon, École instrument pour la Paix- Maroua,
Michael Reuben, Tanzania, Community Engagement Coordinator, Mkombozi
Omaid  Sharifi, Afghanistan, A Voice Against Corruption
Richard Ombono, Cameroon, Coalition Camerounaise des ONG pour les Droits de l'Enfant (COCADE)
Rifat Demalija, Albania, youth worker and human rights educator
Sally Salem, Egypt, youth trainer, Misriyati Project
Tyler Kretzschmar, Canada, program coordinator involved in youth Programs, Equitas
Maria Ximena Ortiz, Colombia, program coordinator, Ocasa,
Please join the conversation!