For the 31st year in a row, Equitas welcomed 127 human rights defenders and educators from over 60 countries to its one of a kind training program. The International Human Rights Training Program (IHRTP) took place from June 6 to June 25 at John Abbott College in Ste-Anne-de-Bellevue. The participants, courageous and dynamic individuals working in often dangerous circumstances on some of the most difficult issues in their countries attend the program in order to enhance the knowledge, skills and attitudes necessary to bring about positive change in their communities. Participants are now safely back home, anxious to put their learning into practice.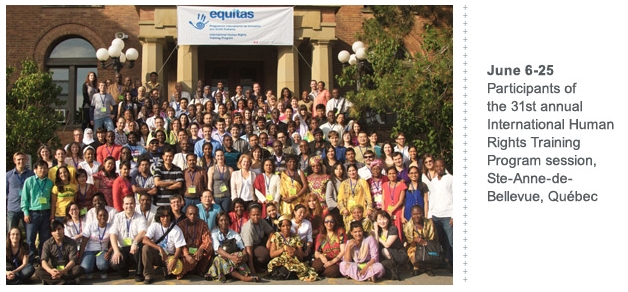 A participant from Tanzania states "I hereby join my fellow participants to thank the IHRTP Team for making the 2010 human rights training program successful. I also extend special thanks to our facilitators for sharing with us knowledge and a blend of experience during the entire period of the program. Finally, I thank my dear participants for sharing with me best practices, human rights problems, challenges and solutions during the program".
A participant from Togo states "I send my greetings to the Equitas team and to my fellow participants. Today, I feel better equipped to work more effectively for the rights of women and girls in Togo. The stay and the exchanges with the Equitas team and the participants opened up to me a whole new world of collaboration and exchange in a surprising simplicity but containing a deep understanding of education about human values.".
Find out more about the IHRTP ›