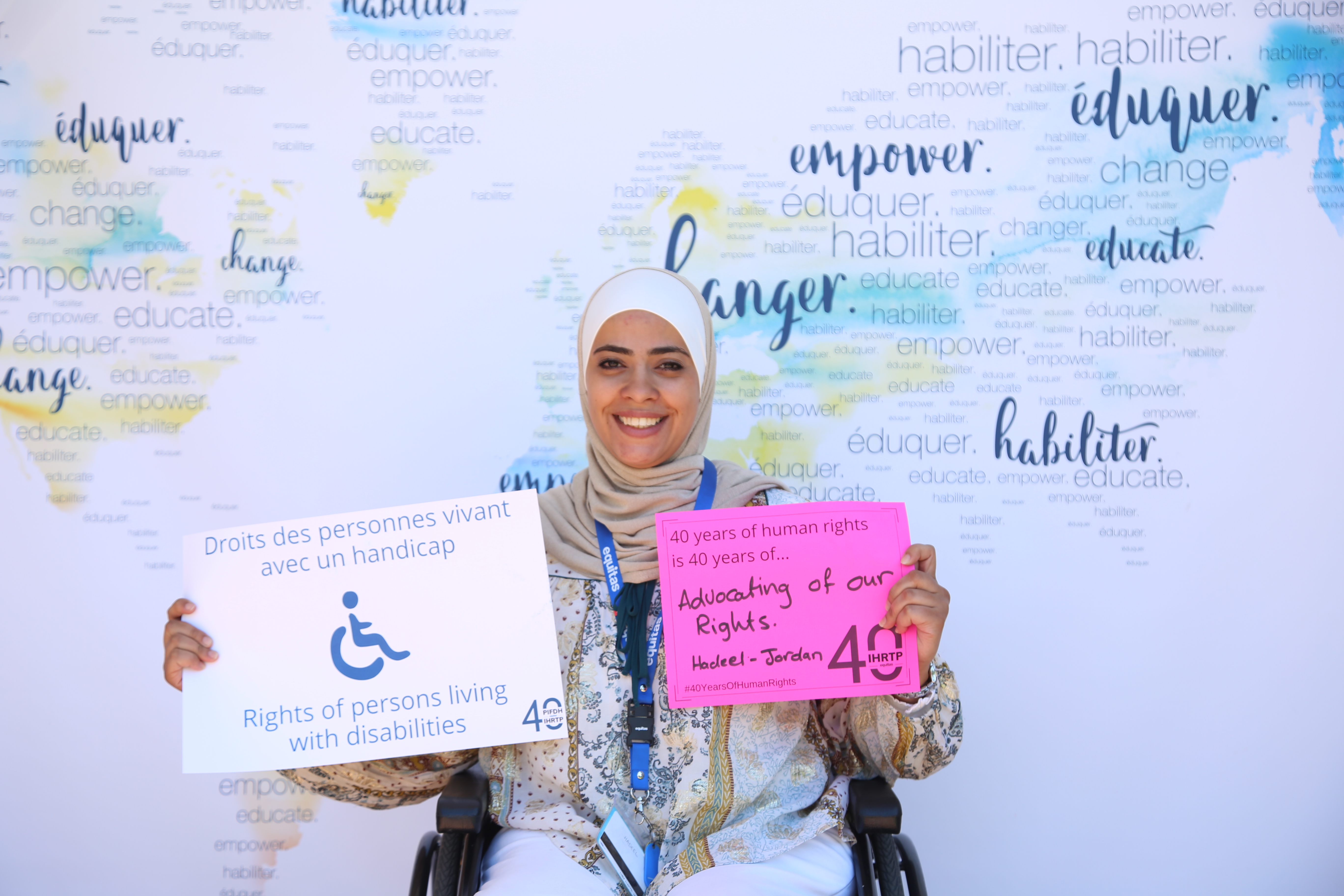 For over seven years now, Hadeel Abu Soufeh has been hard at work in the fight for the rights of people living with disabilities. At only 29 years old, the young woman has already brought a great deal of breakthrough changes to Jordanian institutions and helped make the country a more accessible place.
As a person living with a disability in Jordan, Hadeel has often fallen victim to discrimination and stereotype. When she was still a university student, this empowered her to advocate for universal accessibility and to make a change in her environment. This mentality pushed her to participate in Equitas' International Human Rights Training Program (IHRTP), a three-week intensive program which equips human rights defenders with the tools to take on human rights education more efficiently.
"I think it's important to advocate for these rights because we face many challenges in Jordan. One of the main things that people with disabilities face is the culture and stereotype that people with disabilities have to stay at home and they cannot do anything. As a woman, and as a woman living with a disability, we face a compound discrimination. So I felt that awareness was something very important for the community and individuals themselves, and there are many initiatives that started to advocate for our rights, but we have a bigger challenge in how to make our rights mainstream."
She believes that making the rights of people living with disabilities, as well as the rights of people from vulnerable groups, mainstream and well-shared is the best way to make them better respected in Jordanian society. This would also be the first step for the government and other organizations to be more effective in implementing plans of actions and other initiatives helping people living with disabilities. In her home country, she recalled a major "lack of accessibility and reasonable accommodations" – especially during the month of Ramadan – which prompted her to start Sar Waqtha (It's Time), a campaign at her university promoting the rights of people living with disabilities.
"At the University of Jordan, there were no accessible bathrooms, and now, we have 21 of them on campus. There are ramps everywhere so that we can go into the buildings without any help from others, accessible computer labs with screen readers and an audio library for people with visual disabilities, where people volunteer to record audiobooks for them. We have elevators and sign language interpreters for more programs. Lately, we also added TacTiles, and this is the only project in Jordan, which are different tiles – straight and dot tiles – that indicate whether there is danger ahead and create a safe passage for students with visual disabilities."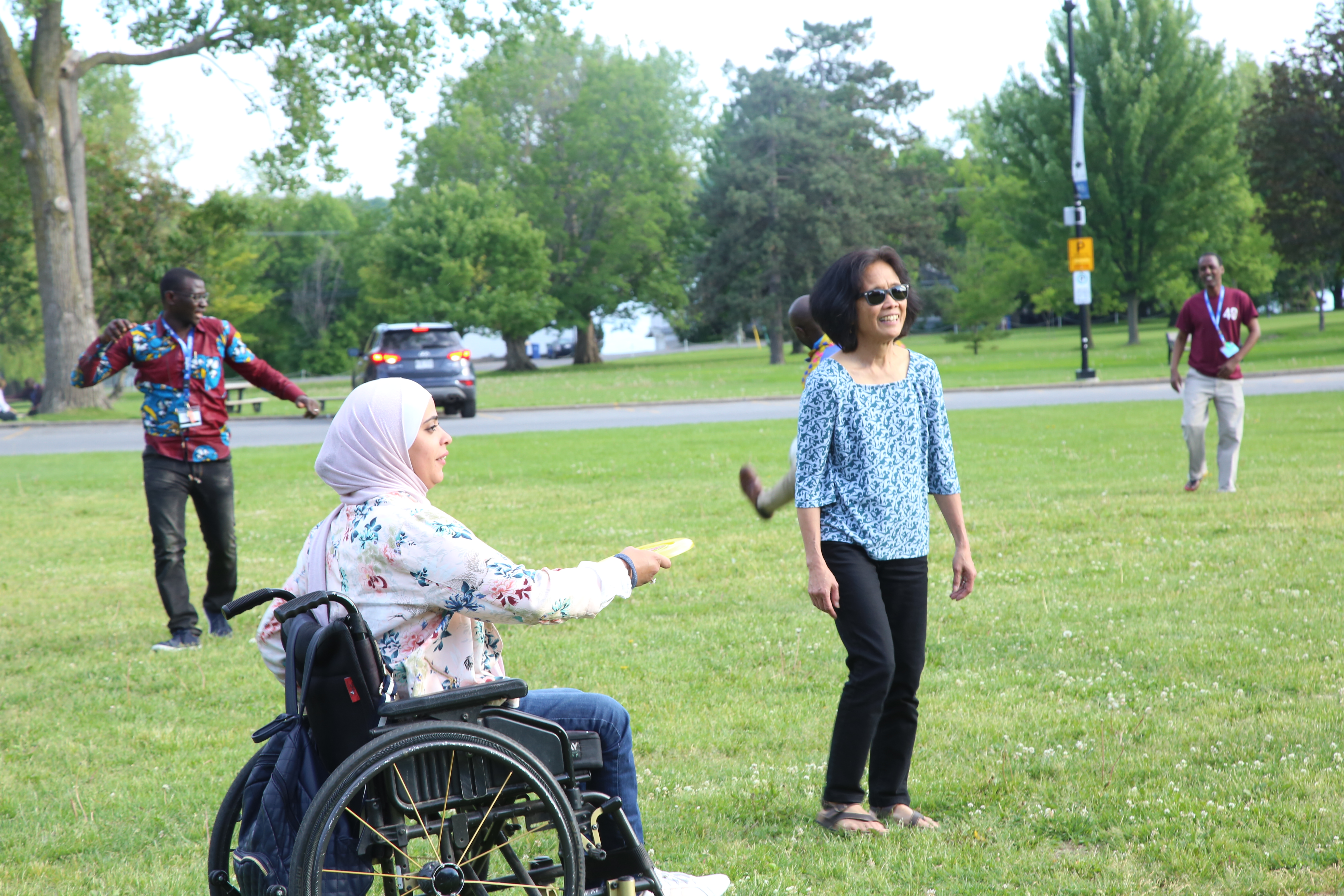 As a way to incite people living with disabilities to "break the stereotype and encourage them to go out and interact with other people," she collaborated on projects such as the Masar initiative, where organized outings in touristic areas help build a sense of community within the people who participate, and the Cumestair project, which invites people living with disabilities to take part in volunteering activities. Her most recent project uses social media to promote technological tools that help people living with disabilities become more independent in their everyday life, including devices that help people with reduced mobility get dressed on their own. 
On top of her initiatives in accessibility and awareness in her country, she has collaborated with civil society and non-governmental organizations in the inclusion of people living with disabilities. For instance, she is on the advisory committee of Equitas' Rawabet program in Jordan, a capacity-building initiative that works to empower youth. In this project, she works on the inclusion of people living with a disability by conducting training on mainstreaming and how to use the human rights-based approach to help this group.
"My role is to focus on youth with disabilities and how we can engage them in the program, and how to achieve better accessibility. I raise awareness about how to make your projects inclusive and friendly for all people, not just people with disabilities – to leave no one behind."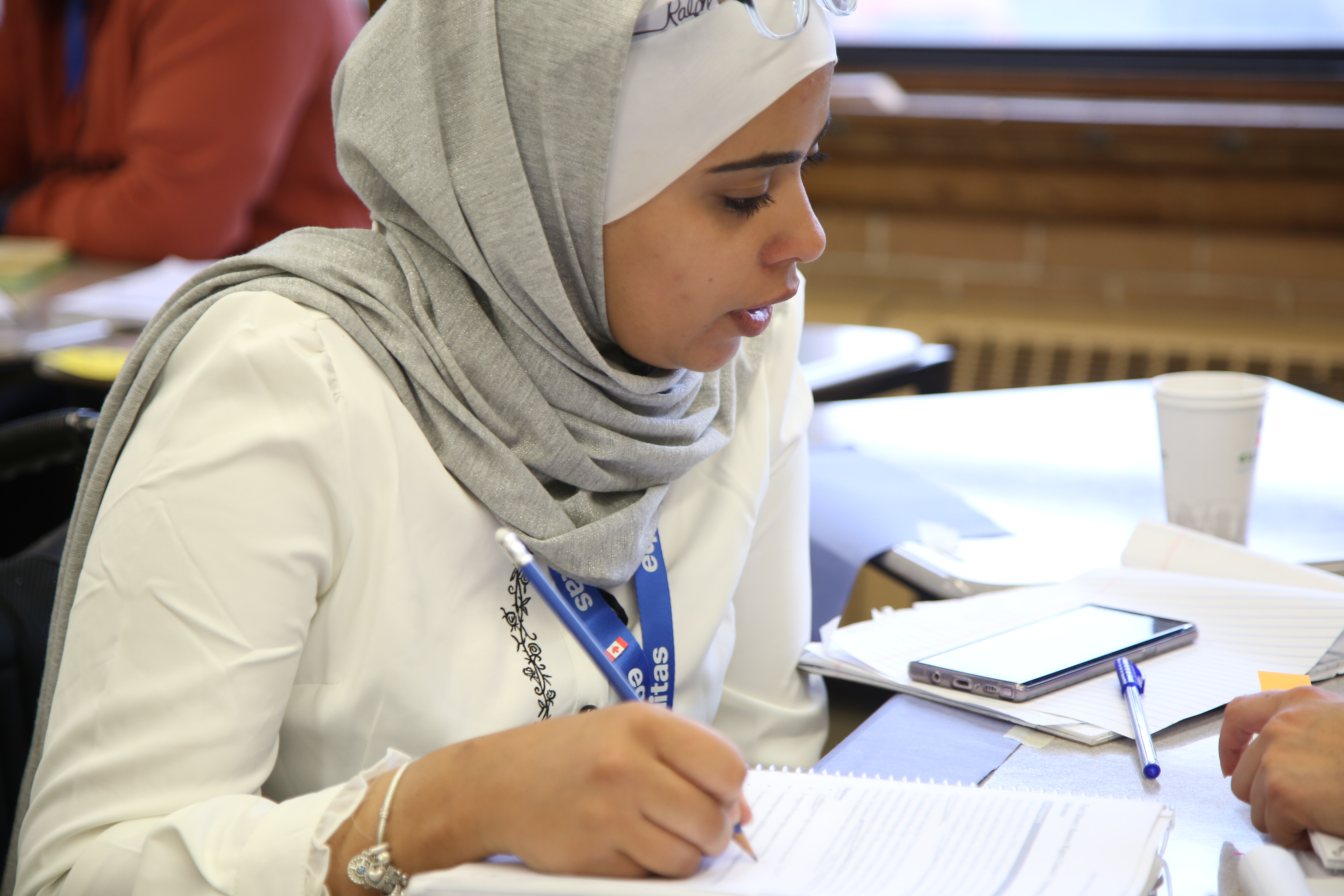 Despite her experience in working for human rights, Hadeel was most impressed by how much there was still to learn when she arrived at Equitas' International Human Rights Training Program. "For me when I first started the IHRTP, I thought I had a lot of information about human rights, but I was shocked that there was a lot that was more advanced for me. I was starting to think 'How can I transfer this information, how can I translate it to Arabic, and how do I make it fit into my training curriculum.'"
She also believes her experience has been enriched by the people she met and the sharing of experiences. By learning more about a diversity of countries, cultures, and backgrounds, and by seeing how much they all had in common, she learned to look at human rights more broadly instead of focusing on her own experience.
"I felt like I was a student coming here, and I was going to my lectures, but the way of learning is completely different. It's more of a dialogue, it goes two ways."
Because of her experience, Hadeel is motivated to fully implement a human rights-based approach to training in her organization and initiatives as a better way to promote the rights of people living with disabilities. In her field, most staff members favor a charity-based approach, which is neither lasting nor empowering. Because of a resistance to changing mentalities, one of her main challenges is using new methods in training her staff and colleagues and convincing them to use new approaches in their work. Equipped with the knowledge she gained from the IHRTP, she hopes to continue building on the capacities of marginalized groups in Jordan and to inspire greater change in Jordan.
By Elyette Levy, Communications intern at Equitas