This article was first published in the Winter 2016 edition of the B.A.S.E. Daycare Program Newspaper, Touching B.A.S.E. You can download a PDF copy of the newspaper here. – Teenagers engaging with younger students through games that explore learning about rights and values is an exciting initiative happening in B.A.S.E. daycares. This school year, 22 Secondary IV students from Vincent Massey Collegiate (VMC) in Rosemount are participating in the two-part Supporting Children as Leaders through Play it Fair Program. The program is spearheaded by the B.A.S.E. Daycare program, the EMSB Spiritual Care and Community Involvement Service and Equitas–the International Centre for Human Rights Education. Equitas received a $30,000 from the Canada Post Community Foundation to put this new project into place.
The vision of Canada Post Community Foundation for Children is to help ensure every child in Canada is happy, healthy and part of a community that supports and cares for them. Its mission is to have a positive effect in the lives of children in the communities Canada Post serves by supporting registered charities, school programs or local initiatives that benefit children. It has granted more than $4 million to over 300 community organizations across Canada.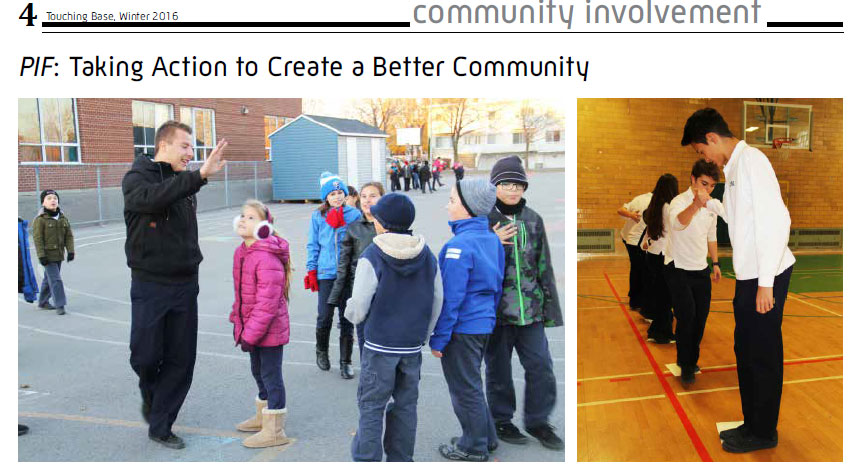 More than 200 children aged five to 12 participating in the B.A.S.E. afterschool program at four elementary schools—Dante, Gerald McShane, Michelangelo International and Pierre Elliott Trudeau—are benefitting from the program. During the first part of the project (October 2015—January 2016), the VMC students take on a leadership role as they lead weekly activities and group discussions that promote cooperation, inclusion, respect for diversity, respect, fairness, responsibility and acceptance. The B.A.S.E. Daycare educators, who received the Play it Fair! training last year, are supporting the VMC students as they facilitate the weekly activities.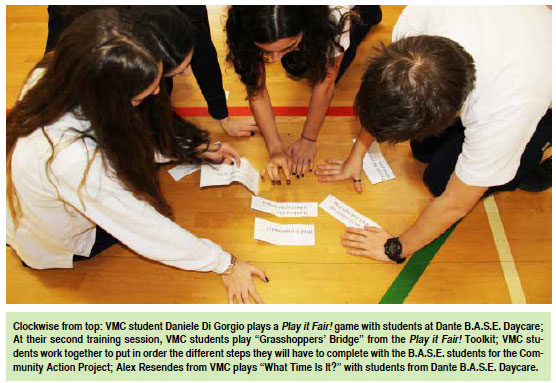 The second part of the program (February—April 2016) continues to build the self-confidence, sense of belonging, and concrete leadership skills within B.A.S.E. and VMC students so they can all actively participate in their community. Each participating B.A.S.E. daycare will receive a $750 grant to support a child-led Community Action Project (CAP). This CAP is a concrete opportunity for children to put their knowledge and skills into practice and lead a project that has a positive impact on their school. The VMC students will be mentoring the B.A.S.E. students as they plan, execute and present their CAP.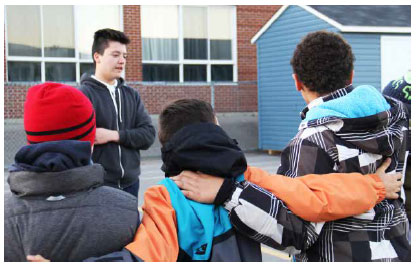 The VMC students received four hours of training in order to pioneer this project. During the first workshop, which was held in September, the VMC students experimented with the Play it Fair! games. They then learned how to establish a community action project during their second workshop in January. The high school students were provided with a detailed outline to guide them while facilitating the program with B.A.S.E. students. All trainings were offered by a representative from Equitas and a representative from the B.A.S.E. Daycare Program. VMC's Spiritual Care and Guidance and Community Involvement Animator, Rocco Speranza, is helping coordinate the partnership. A Rewarding Experience The hours the VMC students spend running the program in the B.A.S.E. daycares will count towards their community service hours and a Play it Fair! Leader certification. The benefits of the program become a two-way street: B.A.S.E. students soak up knowledge about important values from fellow youth, while the high school students learn more about themselves through leading activities.
Dylan Huemer, volunteering at Michelangelo International with Grades 2 and 3 students, says, "It builds up your confidence to have a lot of kids looking up to you." Emily Degni, volunteering with Grade 5 students at Michelangelo International, enjoyed learning about the students, but also about herself: "I learned that I'm not as shy as I thought I would be and I just had to be myself." "The most rewarding part for me is seeing the students smiling and having fun," said Kayla Iasenza, VMC student volunteering at Pierre Elliott Trudeau with Pre-K and Kindergarten students.
She also enjoyed watching the students become more "able to open up around their friends and answer questions" related to the values they had learned through the games. B.A.S.E. educators are enjoying the experience of working with the VMC students.
"I get to witness firsthand how a teenager interacts with younger children and what new experiences he brings them," said Immacolata Sansalone from Gerald McShane about Jeremy Iavarone, the VMC student working with her daycare group.
Maria Santino, daycare educator at Dante, raves about her VMC students, Alex Resendes and Adriano Barbieri.
"I've really enjoyed seeing them lead the children. They are respectful, responsible and wellrounded individuals."
Everyone is responsible Collaborating with Equitas in this project is just one of the ways that the EMSB B.A.S.E. Program and the Spiritual and Community Animation Service supports the social and emotional development of the children and youth they serve, equipping them with the knowledge, skills and opportunities to become leaders in their communities. The Play it Fair! program has been present in B.A.S.E. daycares since 2012. "Everyone is responsible for taking on a leadership role when educating youth about human rights and values," said Jennifer De Freitas, B.A.S.E. Project Development Officer. "We are extremely delighted to have EMSB high school students facilitate Play it Fair! activities with the children. It is very empowering to see teenagers teaching our youth." "We are thrilled to receive the support of the Canada Post Community Foundation for this project that will empower young Montrealers to become leaders in making their schools and neighbourhoods better places to be," said Ian Hamilton, Equitas Executive Director. Developed in Montreal, Equitas' award-winning Play it Fair! program now reaches over 100,000 children a year in 34 communities across Canada. "The work of the Spiritual and Community Animator promotes and develops the values of cooperation, inclusion, leadership, respect for diversity, acceptance, anti‐bullying and peaceful conflict resolution," said Frank Lofeodo, Consultant for Guidance and Spiritual and Community Animation. "Developing these values is the inner quest of high school students within the context of community. This is putting spirituality into action; becoming the best person we can be. We are very pleased to have our students taking part in Play it Fair! activities." The four B.A.S.E. daycares will be showcasing their Community Action Projects during a Supporting Children as Leaders through Play it Fair Program celebration on Friday, May 6, 2016 at Dante Elementary School.