On December 10, 1948, the United Nations General Assembly proclaimed the Universal Declaration of Human Rights (UDHR), a document that outlines basic human rights and freedoms that are to be afforded to all. It was drafted by a diverse group of people from varied backgrounds. One of its co-drafters, John P. Humphrey, also co-founded Equitas back in 1967. The human rights outlined in the Declaration are what Equitas fights to protect everyday through its human rights education programs and partnerships across the world!
On November 21, Equitas will host a fundraising event, Freedom and Equality for All, to celebrate the 70th anniversary of the Declaration and to further underline its contribution to creating a just world, and we'd like you to join! The event brings together over 200 Montrealers including young professionals and leaders from the business, public, non-profit and academic sectors—all committed to being part of positive change! Enjoy an elegant evening in one of Montreal's beautiful historic spaces, Le Salon 1861, with a cocktail reception, delicious bouchées, fine wine and musical entertainment. For more information and/or if you'd like to join us, click here.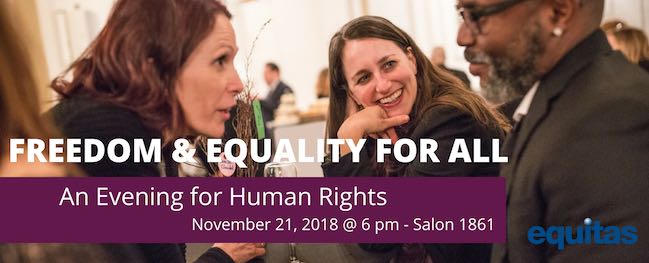 Did you know that the UDHR holds the Guinness World Record as the world's most translated document? It exists in over 500 languages! To celebrate the anniversary and to help broadcast its universal principles, the United Nations is inviting everyone to record themselves reading an article of the Declaration in their mother tongue. Help spread the word about fundamental human rights and celebrate diversity by participating here!

The Declaration has helped lift the dignity of millions through its core principles over the past 70 years. While the fight for an inherently just world is ongoing, this document is reflective of what we can accomplish if we all do our part in standing up for human rights. Equitas exists to do just that: stand up for human rights. Right now, we're in the process of launching Put the World to Rights! an online, introductory course about human rights that anyone can participate in. It will be available on the Declaration's 70th anniversary, December 10.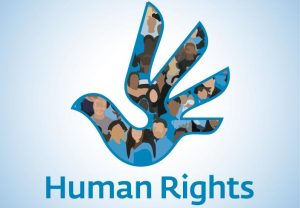 The course includes five modules:
1. What are Human Rights? – You will explore what human rights are and learn about the Declaration of Human Rights.
2. The Underlying Principles of Human Rights – You will reflect on the underlying principles of human rights such as human dignity, equality, non-discrimination, universality, and responsibility.
3. The International Human Rights System – You will discover the historical and cultural foundations of human rights and learn about the international human rights system as it exists today.
4. Current Human Rights Issues – You will learn about some current human rights issues in the world and use a human rights lens to analyze an issue in your community!
5. Human Rights in Action – You will learn about inspirational people in human rights, and you will reflect on your goals and learning needs as well as what you can offer fellow learners!
Each module takes about two hours to complete but can be done at your own pace.
If human rights are something you believe in and you're looking to make a difference in simple ways, show your support by attending our Freedom and Equality for All event, recording yourself reading an article from the Declaration, or taking our online course about human rights! These are all small steps that contribute to the ongoing fight for a just world.
"Never doubt that a small group of thoughtful, committed citizens can change the world; indeed, it's the only thing that ever has." – Margaret Mead.