November 20, 2014
Equitas – International Centre for Human Rights Education is proud to celebrate National Child Day with its Play it Fair! postcard campaign which saw the participation of thousands of youth across the country and helped to increase their knowledge of human rights, respect for diversity and skills needed to resolve conflicts peacefully.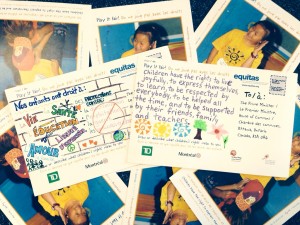 The campaign, which is aimed primarily at 6 to 12 year-olds, includes educational activities on children's rights and culminates with sending a postcard to the Prime Minister of Canada. The postcard can also be sent to a Member of Parliament or other public decision-maker. The aim is to encourage young people to think about their rights, to share their ideas and to be heard in accordance with Article 12 of the Convention on the Rights of the Child which states that every child has the right to express opinions and that adults should take these into consideration. Since May 2014, Equitas has distributed more than 10,000 postcards to primary and secondary schools, summer camps, after-school centers, community organizations and citizens across Canada.
"We are very pleased with the success of this campaign which encourages youth participation and strengthens positive values and fundamental principles of the Convention on the Rights of the Child, a treaty adopted by the United Nations exactly 25 years ago today, "said Ian Hamilton, Executive Director of Equitas. He added that the postcard campaign is a good example of the success of Play it Fair!, a program launched in Montreal in 2005, which has already reached more than 500,000 children and has been implemented in more than 500 school programs and summer camps across Canada.
Equitas receives the 2014 Rights and Freedoms Award In recognition of the excellence of its education programs for children and youth in Montreal, the Commission des droits de la personne et des droits de la jeunesse du Québec today presents the 2014 Rights and Freedoms Award to Equitas. This award recognizes the contribution of Equitas' Play it Fair! and Speaking Rightsprograms, for 6-12 year-olds and 13-18 year-olds respectively, to the promotion of human rights, non-discrimination and peaceful conflict resolution. The Award will be presented at Montreal City Hall on the occasion of the 25th anniversary of the Convention on the Rights of the Child.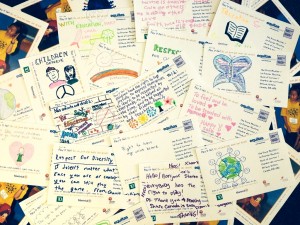 About Equitas Equitas – International Centre for Human Rights Education was founded in Montreal in 1967 by a group of leading academics and social activists – including John P. Humphrey, one of the drafters of the Universal Declaration of Human Rights; and Thérèse Casgrain who campaigned for women's rights and for the right of women to vote in Quebec. It is a non-profit organization dedicated to advancing equality, social justice and respect for human dignity through transformative human rights education programs in Canada and around the world. Equitas provides the tools necessary to shape attitudes and positive behaviours thus contributing to lasting social change. Its human rights education programs have a measurable impact and employ a methodology whose innovation is recognized by the High Commissioner for Human Rights of the UN.
Our partners
The success of Equitas' Play it Fair! and Speaking Rights programs is made possible through the generous support of many partners, including TD Bank, TELUS, the City of Montreal, the Foundation of Greater Montreal and the Quebec Ministry of Immigration, Diversity and Inclusion.