November 21, 2014
Cynthia Silvestriadis, a dedicated educator who's been promoting children's rights through the Play it Fair! program at the Dawson Community College Centre in Montreal just received a Peace medal (Youth Peacemaker category) from the YMCAs of Quebec Foundation.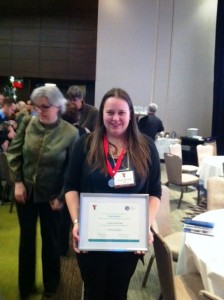 These medals are awarded every year to celebrate ordinary people or groups from Quebec who demonstrate a vision, creativity and an extraordinary commitment to making our communities more peaceful and just.
Cynthia herself attented the Play it Fair! program when she was a child! Today she teaches children key concepts about conflict resolution, leadership and to address issues like discrimination, exclusion and bullying. Congratulations Cynthia for being such an inspiring human rights educator!