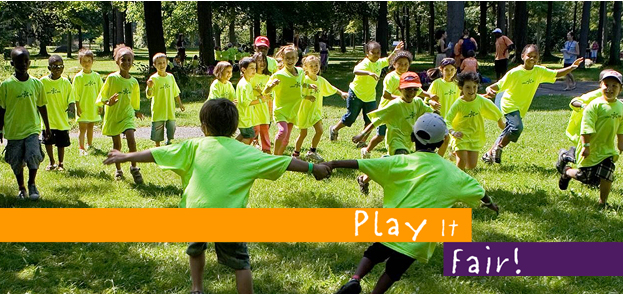 Play It Fair! is an innovative program implemented in day camps and after school programs across Canada that increases children aged 6-12 understanding of human rights, respect for diversity and peaceful conflict resolution.
The Play It Fair! Toolkit contains interactive age appropriate activities and games that reinforce the positive values and fundamental principles of human dignity and equality set out in the Universal Declaration of Human Rights.
The games and activities in the toolkit provide a starting point for children to discuss issues in their lives and work together to find ways to promote inclusion, respect, fairness, acceptance and cooperation. This unique approach succeeds because the children are having so much fun that they don't even realize they are learning!
Initially piloted in Montreal in 2005, the Play it Fair! program has since reached over 500,000 children and is now implemented in over 550 summer camps, class rooms and after-school programs across Canada. 
Play it Fair! was first piloted within schools in 2011 and is now being used by over 170 schools and across 8 school boards to support the development of Social, emotional and physical competencies amongst children and as a key component of school-based anti-bullying strategies.
Equitas is a key partner of the Canadian School Boards Association.
To learn more about how you can get Play it Fair! in your school please contact agreenblatt@equitas.org.
-
The tools and approaches of Play It Fair! are appropriate for use in diverse communities and within a variety of settings (e.g. summer camps, after school programs and classrooms). Equitas works with its local partners across Canada to adapt the program to meet their particular needs.
The success of Play It Fair! inspired Equitas to develop its Speaking Rights program for youth aged 13-17 and to initiate Play It Fair! International.
Play It Fair! Success Stories
Since the launch of Play It Fair!, our partners have reported important changes in the behaviour of children, changes in the approach used by directors and child care workers running the program as well as the integration of the Play It Fair! approach into other areas of their work with children.
Recognition
•Tri-Cities awar (2015) for Play it Fair! BC
•Trailblazer award (2014) from the Canadian Coalition for the Rights of the Child
•Awarded the Prix de la citoyenneté (Ann Greenup) in May 2009, recognizing exceptional efforts in the struggle against racism in Québec
• Awarded Honorable mention, Award of Excellence in Anti-Racism in Canada in April 2008 by the Canadian Race Relations Foundation
• Recognized as a best practice in A Compendium of Good Practice: Human Rights Education in the School Systems of Europe, Central Asia and North America by the Council of Europe, OSCE ODIHR, UN OHCHR and UNESCO and the Good Ideas in Integration on the Cities in Migration website.
From Partners:
"There have been changes since we started using the Toolkit. There are far fewer issues that we have to intervene in. When we started using the Toolkit our book recording all discipline incidents was reduced by half! We want to continue with this so that the number of incidents keeps declining. I think our kids are now more sensitive to human rights and peaceful conflict resolution."
"(The games) give the children the ability to express themselves. It shows them that their voice counts."
"I want to engage these children in ways that empower them to grow. I see the training and Toolkit as a way to help me do that."
From children:
"I take more care of others and others take more care of me."
"We learned how to resolve conflicts while at the same time having fun."
"I find that it's really… it's like something happened and everyone changed all at once."
This program is made possible thanks to the active participation of Equitas partners across Canada and the generous financial support of the City of Montreal, le Ministère d`Immigration, Diversité et Inclusion Québec, The TD Bank Group, The Canada Post Community Foundation,  and the MK Social Justice Fund at the Foundation of Greater Montreal.