Equitas is thrilled to announce the launch of its new Guide, Building Inclusive Communities – An action guide for young people.
This
G
uide is an important component of Equitas' human rights education programming across Canada which aims to increase participation and leadership of all young people and to promote respect for diversity and inclusion.
You can access an example of activity extracted from the guide here.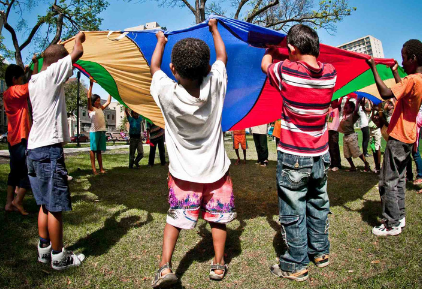 During the month of October, Equitas will be offering training to children and youth serving organizations across Canada on using the Building Inclusive Communities Guide through a three-part virtual training series. 
What is the Building Inclusive Communities 
G
uide
?
The Building Inclusive Communities Guide is a human rights education tool designed to engage diverse young people in actions aimed at building inclusive and rights-respecting communities, using a children's rights-based approach (CRBA).  
The guide offers participatory and empowering activities and projects that are designed to enable young people to build knowledge of children's rights and children's rights values and participate in community life and decision-making processes. It compliments the work of children and youth-serving organizations across Canada to contribute to inclusive and rights-respecting communities, by providing guidance on how to integrate a children's rights-based approach into their work. 
What is an inclusive and right
s
 respecti
ng
 community?
Inclusive and rights-respecting communities are communities where all people, without distinction, feel like they belong, feel respected and feel happy. They are also communities where young people can share their ideas and opinions, practise their culture, express their identity, and actively participate in making decisions that affect their lives.  
Who this guide is for?
This guide is for frontline educators, teachers, program coordinators, managers, administrators, and anyone else working with young people aged 6-14 years old in community-based organizations, recreational programs, and schools. 
The Guide will be distributed in phases to implementing partners across Canada after a training.