To mark the International Day Against Homophobia and Transphobia held every May 17, Equitas and Kouraj – a Haitian organization fighting for the rights of LGBTI people – invite all Haitians to support the Together for Equality national campaign.
Thirty civil society organizations and government institutions have joined this national campaign to denounce all forms of discrimination based on sexual orientation and gender identity. Each and every person is encouraged to speak out in support of a right they believe is especially important. Police officer Belval states firmly:
"LGBTI people have the right to file complaints and to receive the help and support they need."
Priska, a nurse, is just as adamant:
"LGBTI people must have equal access to health care."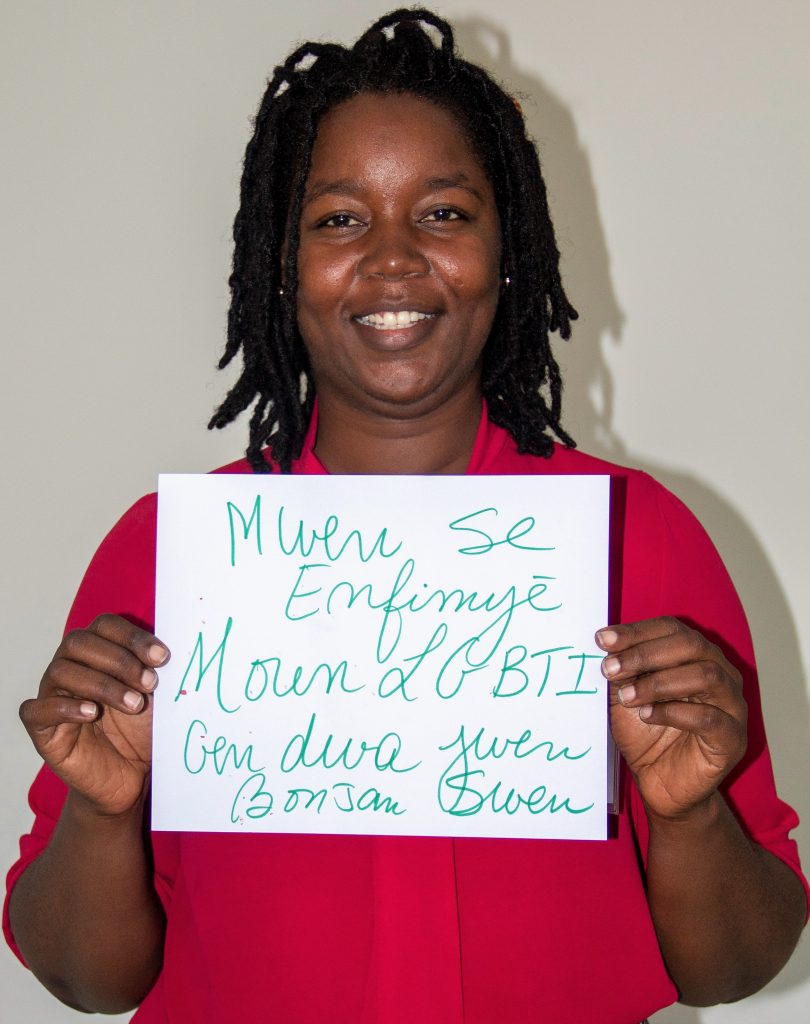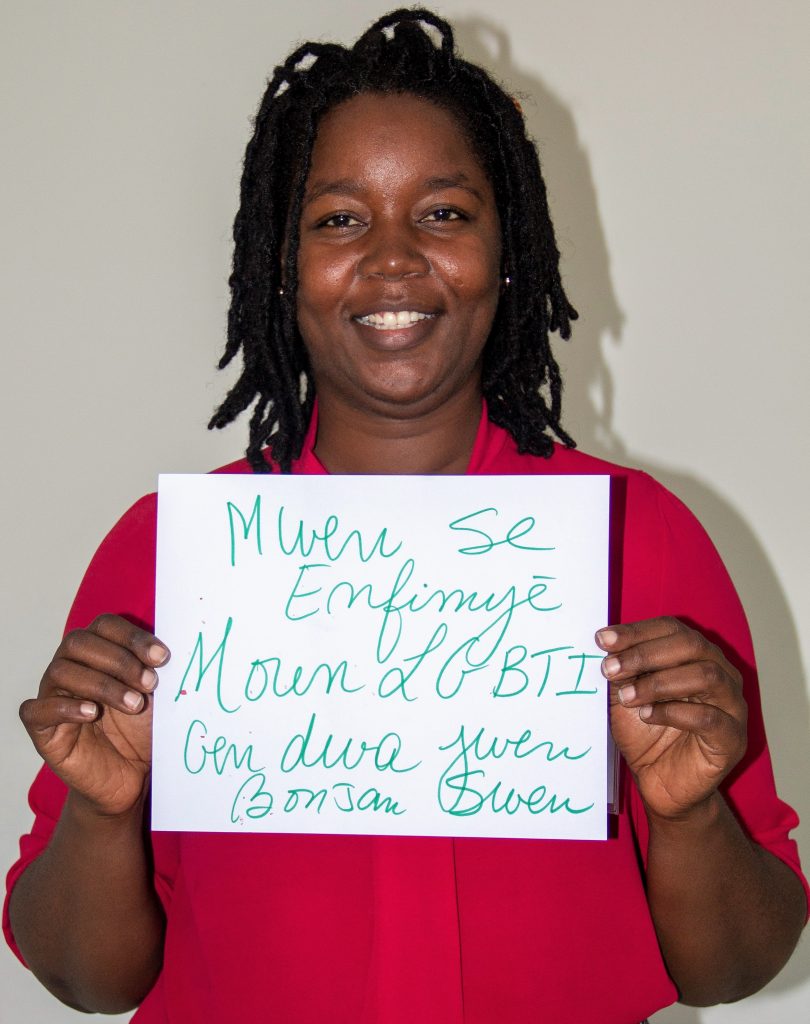 Several hundred people have already signed on to this campaign that affects everyone, no matter their background.
Haiti's ombudsman Renan Hédouville (Protecteur du citoyen) is the campaign's official spokesperson. As he recently stated at the National Dialogue to Promote Non-Discrimination, organized by Equitas and its partners:
"Members of the LGBTI community are full-fledged citizens. The fight led by human rights defenders to protect the physical, moral and psychological integrity of minority groups is also our fight at the Ombudsman's Office (Office de la Protection du citoyen)."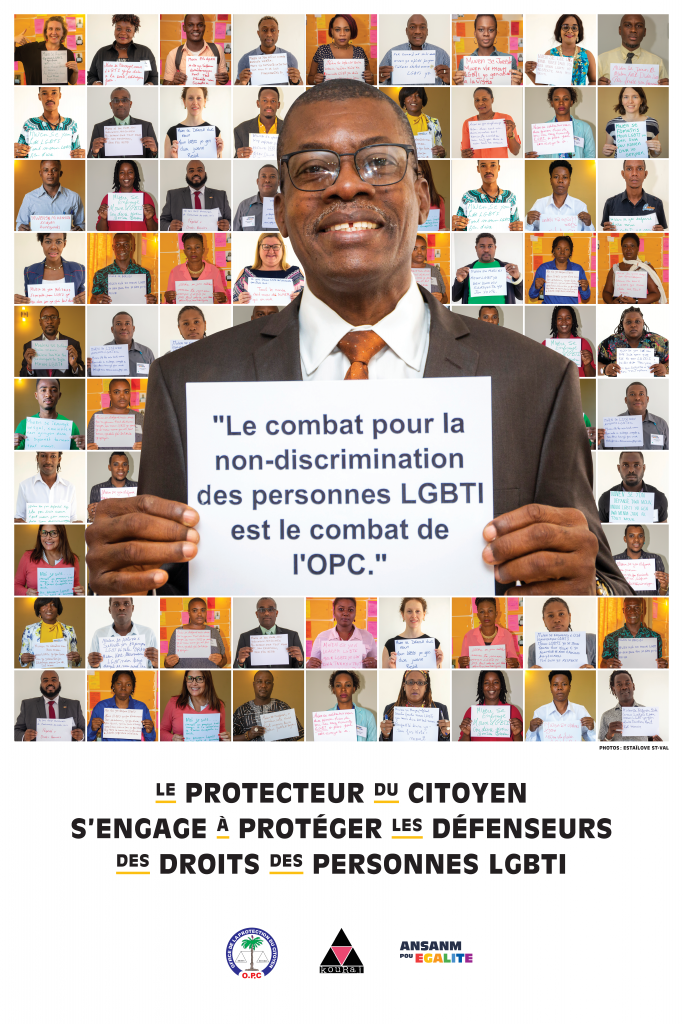 The Ombudsman's Office (Office de la Protection du citoyen) is therefore very proud to be an active partner in the campaign's various awareness and promotional activities.
Organizations that defend LGBTI people's rights in Haiti often endure regular intimidation and violence. For this reason, supporting the Together for Equality campaign is a bold step showing a firm commitment to promote equality, non-discrimination and the universality of human rights, which are basic principles enshrined in the Universal Declaration of Human Rights. As Ian Hamilton, Executive Director at Equitas, points out:
"The courage, solidarity and commitment shown by Haitian organizations defending the rights of LGBTI people are a source of inspiration for human rights organizations the world over."
The work is not made easy for these organizations because homophobia itself poses a number of challenges to promoting the campaign. For example, the campaign posters are sometimes ripped down or vandalized. The groups involved need to be incredibly patient and perseverant as they work together to promote human rights education.
As Kouraj's President Charlot Jeudi explains, the International Day Against Homophobia and Transphobia is celebrated in over 100 countries. It represents a unique opportunity to mobilize like-minded people and groups from all walks of life:
"Fighting homophobia is an issue for the whole of society. It concerns everyone. May 17 is an opportunity to bring this issue out in the open and denounce violence."
Hétéra, coordinator of the May 17 activities, adds:
"May 17th is an internationally recognized date that we need to acknowledge in Haiti. As a trans person, it's a very important date for me and provides an opportunity to say no to homophobia and transphobia."
With this in mind, a number of special activities will be organized on May 17 in many different towns and cities in Haiti. Human rights educators trained by Equitas will have a chance to address the issue of LGBTI people's rights with both urban and rural community members and encourage them to be part of the Together for Equality campaign.