This year, Equitas had the opportunity to innovate and held its

annual

EquiTalks

: Building

Connected Communities

events online

.

Presented in collaboration with Dignity Network Canada, the

EquiTalks

brought together

more than 350 participants from 30 different countries

,

offering

an international dimension to this event

series, contributing to

it

s

success due to its increased accessibility.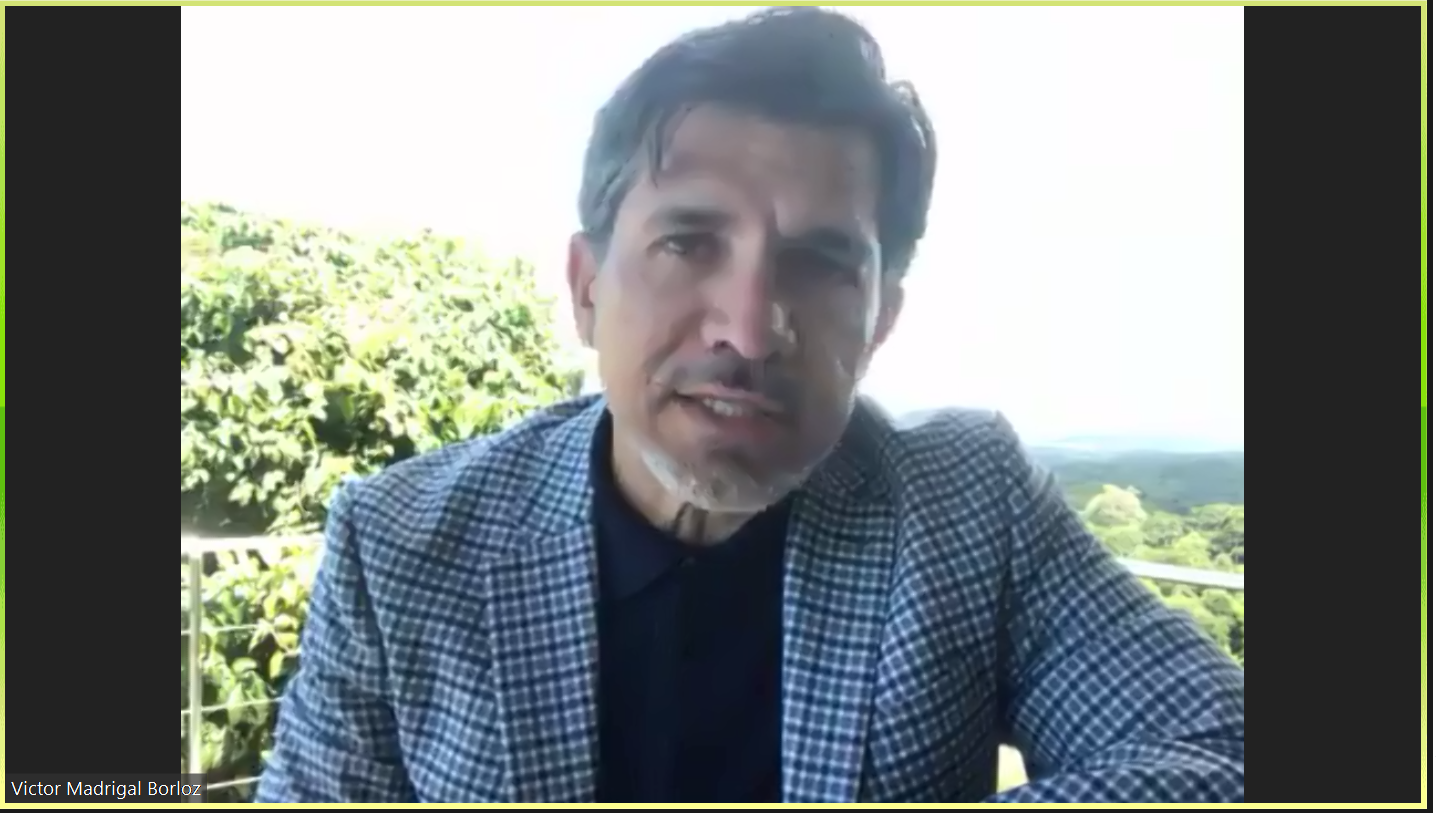 Two panel discussions were held on October 21 and 22 with our guest of honor: Victor Madrigal Borloz, the United Nations Independent Expert on Sexual Orientation and Gender Identity.
The October 21 event on The impacts and challenges of LGBTQ2I human rights defenders in Canada and internationally attracted nearly 200 participants from around the world, mostly from civil society, but also from the academic, public and corporate sectors. It also provided an opportunity to officially launch the new Act Together for Inclusion Fund (ACTIF) in collaboration with Dignity Network Canada and with the presence of Canada's Minister of International Development, the Honourable Karina Gould. Moderated by Equitas' Anne Delorme, the panel featured:
Diane Labelle,

an expert and researcher on Aboriginal education, LGBTQ2I and Two-Spirit identities

Solange Musanganya

,

co-coordinator of the Queer African Youth Network, based in Burkina Faso

Janik Bastien Charlebois,

Professor of Sociology at UQAM, specializing in intersex studies

The Honourable Karina Gould, Minister of International Development
The event ended with a touching tribute from Hétéra Estimphil, president of Kouraj in Haiti, in honor of Charlot Jeudy, Haitian LGBTQI human rights defender, partner and friend of Equitas, who passed away last year.

---
The October 22 panel discussion on Canada's Role in Supporting LGBTQI Refugees and newcomers brought together nearly 150 participants and resulted in a very interesting discussion among our panelists on the impacts of the COVID-19 pandemic on LGBTQI displaced persons and refugees. They also provided ideas for solutions to be considered in Canada to ensure the safety, equity and protection of these individuals. Moderated by Dr. Sharalyn Jordan, the panel featured the following panelists:
Kimahli Powell,

Executive Director

of Rainbow Railroad

Debbie Douglas,

Executive Director of the Ontario Council of Agencies Serving Immigrants (OCASI)

Deon Mejri,

co-chair of the Board of

É

gides, the International Francophone Alliance for Equality and Diversities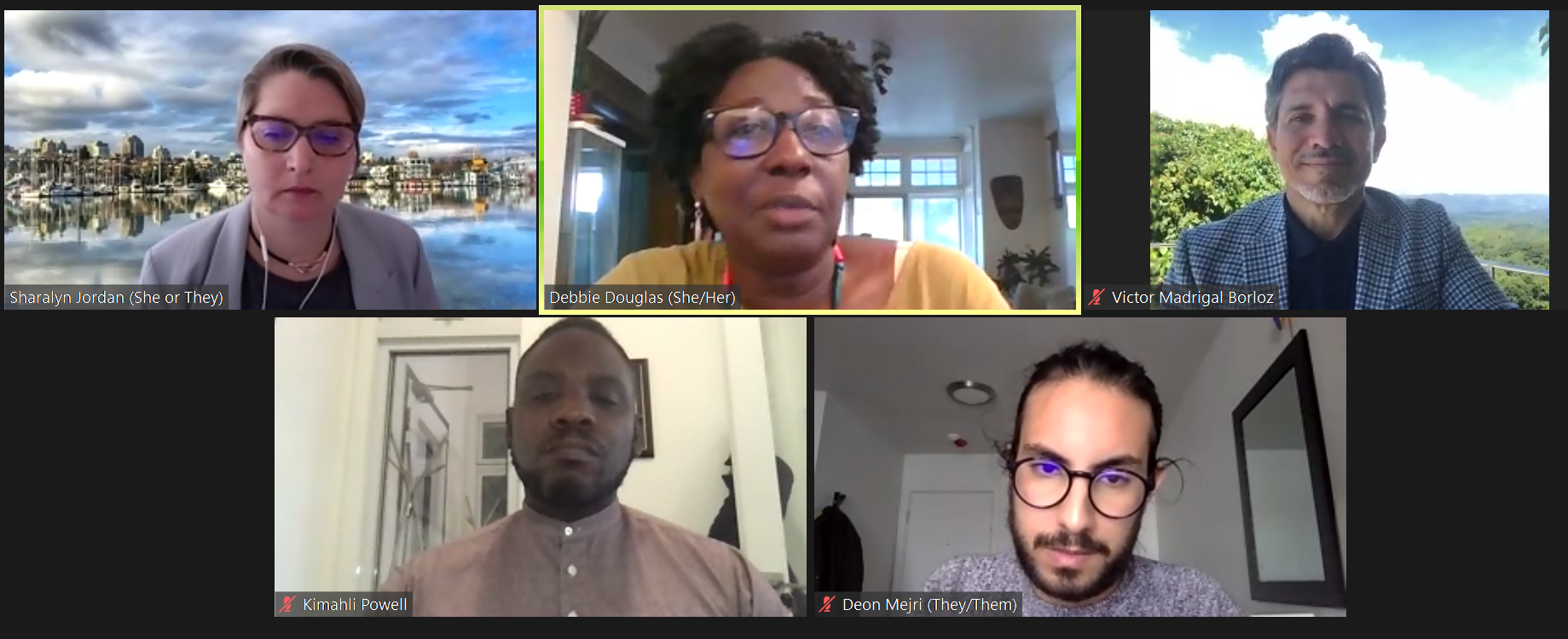 ---
Each of these events was followed by a virtual networking where audience members were was invited to exchange views on their personal experiences and concerns about LGBTQ2I rights. This gave participants the opportunity to interact more closely with each other, with the panelists and Equitas staff, to share their thoughts on the event and topics discussed.
During the EquiTalks, Victor Madrigal Borloz and the panelists put forward several issues facing LGBTQ2I communities, as well as ideas for actions and solutions. More specifically, they underlined the importance of taking into account the intersectionality of discrimination, particularly as it relates to Indigenous identities, supporting local movements for the decolonization of communities, paying attention to the very different realities of gender identities, especially for intersex people, while emphasizing research as a central element in the advancement of these issues. Among the many strategic points raised by the Independent Expert, one that we, at Equitas, are mindful of is the risk that currently hangs over the human rights movement, the shrinking spaces for civil society and support for human rights defenders and their organizations. This is true not only for LGBTQ2I human rights defenders, but for the movement as a whole.
As Victor Madrigal Borloz so eloquently expressed, what has been built over the past decades can be compromised if we do not act! This is a central issue for Equitas and we continue to work to create spaces to strengthen the human rights movement.
In the context of his virtual visit to Canada, the Independent expert also participated in two important meetings organized by Equitas and Dignity Network Canada. Complementary to the EquiTalks, these meetings provided an opportunity to deepen exchanges on issues related to sexual orientation and gender identity, strengthening dialogue and exploring spaces for collaboration between the Independent Expert, the Government of Canada and Canadian civil society. The first meeting was organized with representatives of Canadian civil society organizations who are members of Dignity Network Canada, working on various issues related to sexual orientation and gender identity, such as conversion therapy, migration, discrimination based on religion, etc.
The second meeting was organized by the Office of Human Rights, Freedoms and Inclusion, in close collaboration with Equitas and Dignity Network Canada. It allowed for a rich dialogue between Victor Madrigal Borloz and representatives from several federal government departments. The meeting provided an opportunity to learn more about the role and mandate of the UN Independent Expert, in order to strengthen the dialogue on potential areas for learning and action within the Canadian government to better advance the rights of LGBTQ2I people in Canada and around the world. There was high-level representation from Global Affairs Canada, Canadian Heritage, Immigration, Refugees and Citizenship Canada, Justice Canada and the Canadian Human Rights Commission. Key members of Canadian civil society were also invited to participate. The meeting was a unique space for cross-sectoral collaboration and to deepen the understanding of the Government of Canada's actions for the promotion and protection of the rights of LGBTQ2I people. Discussions that took place touched on many themes, including conversion therapies and Canada's support for LGBTQ2I individuals seeking resettlement to escape violence and persecution in their country.
During his virtual visit, Equitas also coordinated an interview for Victor Madrigal Borloz with the Canadian Press to discuss Canada's bill to ban conversion therapy. The article was picked up by 27 media outlets in Canada. You can read the Globe and Mail article here.
We hope that the various discussions with our guests and participants will have strengthened the will to contribute and support actions for the respect of the rights of LGBTQ2I communities. The 2021 EquiTalks in March will also take the form of virtual events, so stay tuned: follow us on our Facebook, Twitter, Instagram and LinkedIn accounts so you don't miss out on our news.
We invite you to make a donation to Equitas to continue our human rights education work. Your support is needed to build more inclusive communities and support human rights defenders like the ones you heard during the
EquiTalks
in their work. Every
little bit
counts!
Thanks again to our sponsors

who made this event possible

:
TD Bank, Power Corporation of Canada,

BGIS,

Air Canada, Bell, Fonex, N

ational

and

Fortigo

Freight.