December 4, 2014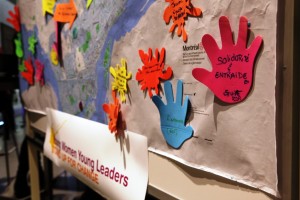 Over 120 persons participated to the Young Women, Young Leaders (YWYL) Forum, yesterday, December 3rd. The event was an opportunity to highlight the ways fifty remarkable young women in Montreal have turned action into change and have been transforming their communities. Fifty diverse women from four communities across Montreal are at the core of YWYL, a program launched by Equitas in 2012. Their energy and enthousiasm has driven this project successfully forward.
The Forum was the culmination of a 2 year program which strengthens young women's active participation in their communities through skills building workshops. The evening was hosted by the Youth Committee of the Montreal Urban Aboriginal Community Strategy NETWORK.
YWYL is an Equitas program that supports community action projects. With a strong network of of community organizations, mentors, municipal leaders and institutional partners, the program creates spaces for meaningful dialogue between young women, female role-models in decision-making roles, civil society organizations, government bodies, and the media. YWYL will equip emerging young women leaders and organizations with the knowledge and skills to promote increased young women's participation and citizenship engagement in their communities.
Watch the new YWYL video released on December 3.
In less than two years, YWYL strenghtened the capacity of 60 young women leaders to take action in their community. Participants learned from each other during 70 leadership workshops; organized 8 community events to raise awareness about barriers to the participation of young women in community life; inspired and engaged more than 800 community members; published 4 resources to increase young women's participation; and strengthened networks and solidarity among organizations working with young women in 4 communities.
YWYL is funded by Status of Women Canada and the TELUS Montreal Community Board.
Watch the videos presented by each group of women: