NAWRES CHRITI – Tunisia
This story is part of the series We are human rights changemakers to celebrate Equitas' 50th anniversary (#Equitas50). All through 2017, we invite you to discover stories of 50 inspiring human rights changemakers. These are but a few of the hundreds who have changed lives around the world through human rights education with Equitas' support.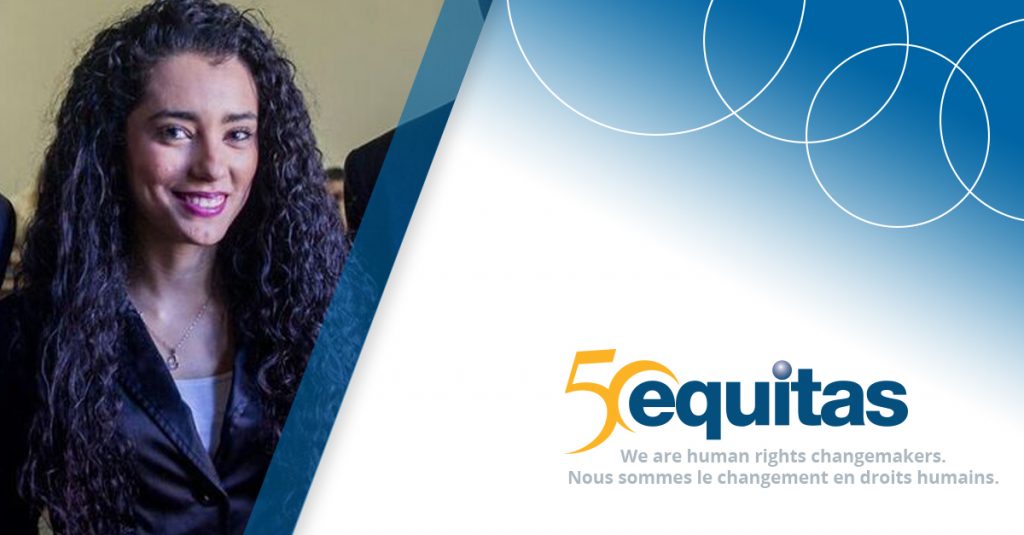 " My dream is to fight against discrimination in the world, against gender inequality, against gender-based violence. " These ideals inspire the work of Nawres Chriti, an enthusiastic young 24-year-old Tunisian. Her work is different from most female students of her age. Between courses in psychology at the Faculty of Social Sciences at the University of Tunis, Nawres teaches human rights to marginalized youth.
" The goal of our training is to break their isolation."
It is the 2011 revolution that inspired her at the beginning of her volunteer involvement with the university. She was inspired by the movement of young students engaged to become active citizens. " We have created a revolution for the country to move towards democracy. But for a true democratic transition, people need to know what a right is, hence the importance of human rights education."
In 2013, Nawres left Tunisia for the first time for Fez, Morocco. Selected along with four other Tunisian youth to participate in the regional gathering of the Equitas Mosharka project, Nawres met with 25 young people from Jordan, Yemen, Morocco and Egypt. This gathering addressed the issue of the socio-economic rights of young people and encouraged them to plan citizen actions for their respective regions. " The Mosharka project is now part of me, " says Nawres proudly. Her working group has become a small family and each member has evolved and gained confidence. And this is what she is trying to develop with the marginalized youth she trains in human rights. " Many young people have abilities but do not know how to direct them or in what context they need to be adapted. "
Together with her colleagues, Nawres has decided to offer human rights training to young people with disabilities based on the knowledge gained through the Mosharka project. " The young people we met on board were afraid to be included with young people without disabilities. For them, the eyes of others are difficult … It was important not to differentiate between the rights of young people with and without disabilities. Rights are for everyone. "
How does Nawres assess the results of her efforts?
" When young people ask to participate in other human rights sessions and trainings and when marginalized youth become trainers themselves."
These trainings therefore do not simply contribute to the reintegration of marginalized young people into Tunisian society; they make it possible to equip young people to become carriers of social change.
" Young people are given the resources they need to implement their own training. Young people, rather shy and withdrawn, become able to speak and to speak publicly about social issues. "
Beyond training on women's rights and other training addressing the reintegration into society of young people criminalized for drug consumption, Nawres is also interested in youth participation in the public sphere. The second phase of the Mosharka project, in which Nawres will take on the role of coordinator for the Tunisian youth team, will aim to equip young leaders to take their place in local and national politics. And through her extensive involvement, Nawres is working on the subject of her bachelor's thesis. There is a bright future for this young woman!
Story also available in Arabic >>
---
NAWRES CHRITI – Tunisia
Student in Psychology, Faculty of Social Sciences, Tunis University
Co-coordinator of Equitas' project Joussour
Youth leader in Equitas' project Mosharka, 2013-2016
---
Story prepared by Paule Portugais-Poirier, communications intern, Equitas.
Did you like this story? Give us your support! Even the smallest donation contributes to big impact in Tunisia and around the world.