HENRI TIPHAGNE – India
This story is part of the series We are human rights changemakers to celebrate Equitas' 50th anniversary (#Equitas50). All through 2017, we invite you to discover stories of 50 inspiring human rights changemakers. These are but a few of the hundreds who have changed lives around the world through human rights education with Equitas' support.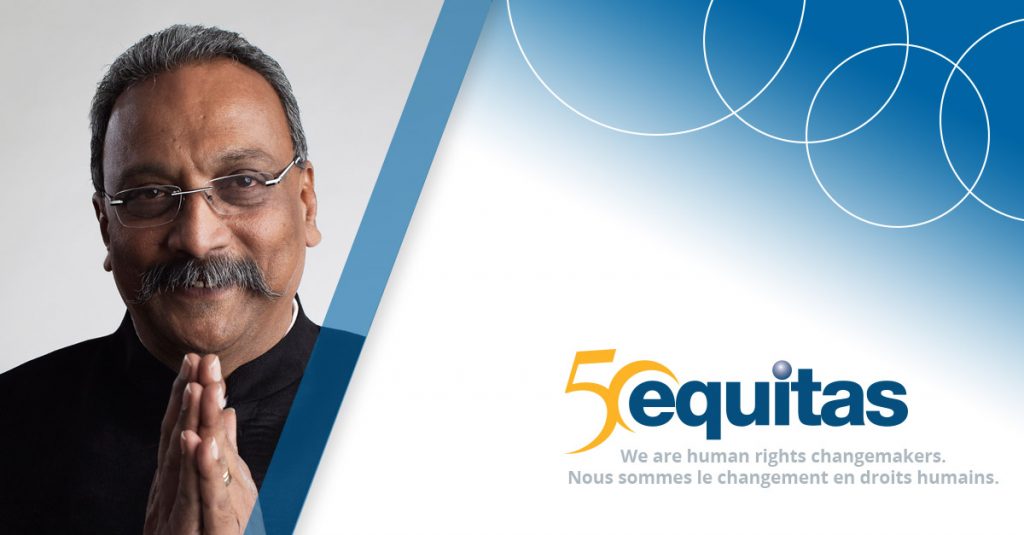 Henri Tiphagne has been a high-profile voice for human rights in India for the past 36 years. A role one might say he was destined to play. As an attorney, the Executive Director of People's Watch for the past 21 years and participant on numerous national and international human rights commissions, he has lived the cause of human rights on a daily basis. Nearly from birth, Henri has been aware of the issues of human rights and the plight of its defenders. "Generally, my engagement in society was engineered by my mother who was from France, came to India in the year 1934, and was working for the poorest of the poor, people with leprosy, throughout her life in India." She taught Henri the importance of treating others equally and the most effective way of doing it – through direct action. Something that he has never forgotten.
However, Henri didn't become a human rights defender just because of his upbringing, his life's work was a deliberate choice. While at university, he discovered greater focus as well as his helpmate for life, Cynthia. University also helped Henri "to look at the causes of poverty, the causes of [the] widening gap between the rich and the poor in our country, and [it] forced one to commit oneself into concrete actions to address these issues." He became involved in the All India Catholic University Federation (AICUF), where Cynthia was a member. Human rights work is definitely a family affair as their daughters wholeheartedly support their parents' work both personally and professionally.
Through his organization People's Watch, Henri provides legal representation to those affected by cast-based discrimination and human rights violations in India. He also offers training for teachers as well as mentoring around school human rights education programmes. Since 1997, they have reached around 500,000 children in 18 Indian states!
And there is plenty of work still to do. Henri sees the primary issue in India as being "the right to the freedom of expression. Particularly the freedom to dissent, the freedom to protest and the freedom to differ to the strong opinions of the government in power today." Without this right, the work of defenders is in serious jeopardy. He also sees an obligation by the older generation to support future defenders, to "give them the space and give them the capability and the recognition for what they are undertaking." His advice to these up and coming defenders?
"Get engaged to do it…There is not a day that you can spare when you are young" and start "in the location where you are, today, don't postpone it for tomorrow."
Henri has contributed to Equitas' International Human Rights Training Program (IHRTP), in Montreal, Canada, as a speaker and resource person and has sent several of his own staff and colleagues to be trained. His admiration for the work of Equitas is enormous. "I am an admirer of IHRTP – particularly of the pedagogy of the methodology used in the trainings. And the way their manuals and their resource books are developed every year, which for me is a model that I use whenever I go on human rights trainings." He is one of Equitas' best supporters adding, "Training doesn't bring knowledge alone. Equitas' training brings in new attitudes of interpersonal relationships that we treat every individual as being equal to you and me. I think that is the call of human rights. That call is being represented by Equitas. It's a very special organization."
In April 2016, Henri became the first Indian to receive Amnesty International Germany's prestigious Human Rights Award. But true to form he is genuinely modest about the accomplishment saying "they were looking for somebody who is a symbol of this fight – not the person who succeeded in this fight" humorously adding, "I believe it was because of my height that I got it and there are many people who are shorter than me who could not fall into the eyes of Amnesty International."
But for Henri what's most important is the people. "We are able to hold their hands enter their hearts and be as close as possible to people who need human rights. And that I think is at the core of human rights – that's what brings us satisfaction – to me, to my family, to my wife, and definitely to my colleagues and their own families because that is all what we always hold is most important in the human rights."
---
HENRI TIPHAGNE – India  
Executive Director, People's Watch
Speaker and resource person, Equitas' International Human Rights Training Program (IHRTP), 2015 
---
Story prepared by Terri S. Blanchette, TimeSorters LLC. www.timesorters.com
Equitas' International Human Rights Training Program is undertaken in part with the financial support of the Government of Canada provided through Global Affairs Canada.
Did you like this story? Give us your support! Even the smallest donation contributes to big impact in Canada and around the world. See how >