March 18, 2015
At Equitas, we are thankful for our many sponsors and partner organizations. They allow us to continue building a culture of human rights at home and abroad. TD Bank has been a supporter of Equitas since 2006, sponsoring our Play it Fair! program, which is run in day camps and after-school programs across Canada.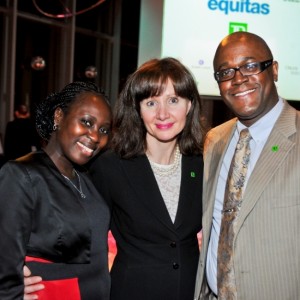 This partnership is mutually beneficial and built upon a set of shared values.  In particular, TD is a leader in the field of diversity which they promote in their workplaces, and through their community involvement. With 90,000 employees worldwide, TD believes it is their corporate responsibility to use their position to have a positive impact on society.
Equitas spoke with TD District Vice-President for Laval-North Shore, Annick Laberge, to hear why she thinks the Equitas and TD partnership is so valuable. Laberge attended Equitas' annual gala on February 12, 2015, held at the Cirque du Soleil headquarters. She addressed the crowd and spoke about the partnership. She believes that organizations like Equitas are necessary to build a better future for upcoming generations.
Equitas: How does Equitas' work fall in line with the values at TD?
Annick Laberge:  At TD, we focus on some of the same key pillars which are LGBT rights, women in leadership, rights for people with disabilities, aboriginal people, visible minorities and of course anything that has to do with respect in the workplace and personal life. These are our core values; the respect that we have for our employees, and that we have for our customers and communities. Practically everyone working at the bank will at some point participate in an event, in a fundraising activity, will lead a committee, or will be involved in the community.
E.:  Inclusion and respect for diversity are among the values promoted by the Play it Fair! program. Why do you think it is important to support the promotion of these values?
A.L.: This program is fantastic. It's a great way for TD, through Equitas and through this program, to encourage young generations to live and feel the importance of what it means to respect human rights, to be respectful within a group, and within a community. By supporting this program, we give a chance to the youth to prepare for their futures, feeling what it is to be respectful in an academic or professional environment.
E.: Do you yourself have any personal experience with the positive influence diversity has in the workplace?
A.L.:  I worked in Toronto for three years from 2010-2013. I was leading a team of about 45 people, and out of the 45 people most of them came from China, Eastern Europe, South America; all very diverse communities with different values. This mix, this fantastic team worked so well together and one of the reasons why is because we all respected our differences, and we made sure to balance the best values we each had. In Canada, we are in an environment where diversity is growing, so I feel it's a very rich environment when we can benefit from so many different cultures and values. It is very important to instill these values in young children.
E.: You were one of our guests of honour at our annual gala this year. What did you think of the evening?
A.L.: It was my first experience, I thought it was amazing! It is a very strong organization with fantastic leadership. We need organizations like Equitas in the community we're currently living in and I say TD is very proud to support Equitas. Our partnership has been going on for several years. We're looking forward to many more years supporting Equitas, and participating in their activities and events.
By Casandra De Masi, intern and web editor at Equitas