April 13, 2015
Since 2007, Public Relations Without Borders (PRWB) has been helping development organizations leverage the use of public relations to effect social and economic change. PRWB was founded in Montreal by senior public relations professionals who want to share their expertise with populations in developing countries who would not normally have access to this kind of service. They do so in collaboration with partner organizations such as Equitas.
PRWB is active in many areas: fighting gender-based violence, supporting the development of educational services and local economic development, among others. PRWB President Guy Versailles believes that many human rights organizations in developing countries are suffering from a lack of proper communications skills.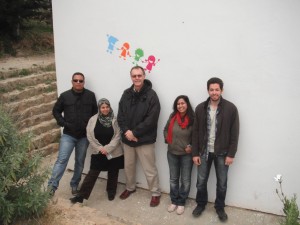 "How should we talk to our members, how should we speak to the government?" he said. "We take these communication tools for granted, but a lot of organizations in many countries just don't have this knowledge."
PRWB works with Equitas and Equitas' partner organizations, sharing its knowledge in communications to help them meet their specific objectives. The partnership allows PRWB to connect on the ground with organizations they otherwise would not have contact with.
In return, Equitas benefits from a large network of public relations professionals. Together they carefully pick which person to send to a certain area based on their expertise. Each mission is unique.
Unlike large NGOs, PRWB focuses on smaller, non-urgent issues at a community level. For example, Versailles headed a mission to Tunisia in 2011. He visited the country for two weeks to help an organization called "Un Enfant, des Sourires" (One Child, Many Smiles), a charity that sponsors five schools in an impoverished region of Tunisia. The organization helps the children by providing them with clothes, school supplies, and organizing events. Their main goal is to give children the tools they need to stay in school as long as possible. When Versailles arrived, he realized that the group was inundated with requests from the community. They were being asked to help with so many different initiatives that they were losing sight of their primary goals.
"I worked with them to perform an exercise having to do with mission, vision, and values. Simply put, 'Who are we? What do we want to do fundamentally? What are our values? And what is our vision for the next five years?'"
Within a week, UEDS formed a plan that clearly laid out which projects to align themselves with, while staying in line within their own mission.
Providing the right tools
PRWB provides organizations with the tools they need to carry out their own change.
"We are not spearheading a revolution. We visit a place, attack a precise problem, help them solve it, and the rest is up to them," he said.
This is very similar to the way Equitas approaches sustainable human rights education; by providing human rights leaders in communities with the training they need to enact change in their own community.
PRWB recently worked with Equitas on Mosharka. This is a three-year project put into place by Equitas. It touches five countries in the Middle East and North Africa, and aims to build the vital role played by the youth in these countries. This includes integrating youth as more active participants in the advancement of democracy, equality, and human rights.
The training involves at least 200 youth per country, working towards a common and inclusive regional agenda.
Equitas reached out to PRWB to strengthen the communications strategies between the five countries involved.
"I think the added value is that they bring with them an expertise that many organizations and NGOs don't have, in particular connecting to the media," said Equitas' Director of programs, Frédéric Hareau.
PRWB's Louis Moubarak brought his expertise to the table in Jordan by suggesting strategies and tools that could be used to maximize the impact in each region. This included developing an online newsletter to reach out to stakeholders.
"It definitely helped in terms of strengthening the discussion and the work among the project partners," Hareau said.
"It has also pushed our partners to think differently. They really reflected on their own practice in communicating, and it pushed them to change things."
By Casandra De Masi, web editor and intern at Equitas
Did you like this story? Follow us for more! Equitas provides individuals the necessary tools to shape attitudes and positive behaviours. Give us your support! Even the smallest donation contributes to fulfilling Equitas' mission. See how.