AMPARITA STA. MARIA – Philippines
This story is part of the series We are human rights changemakers to celebrate Equitas' 50th anniversary. All through 2017, we invite you to discover stories of 50 inspiring human rights changemakers. These are but a few of the hundreds who have changed lives around the world through human rights education with Equitas' support.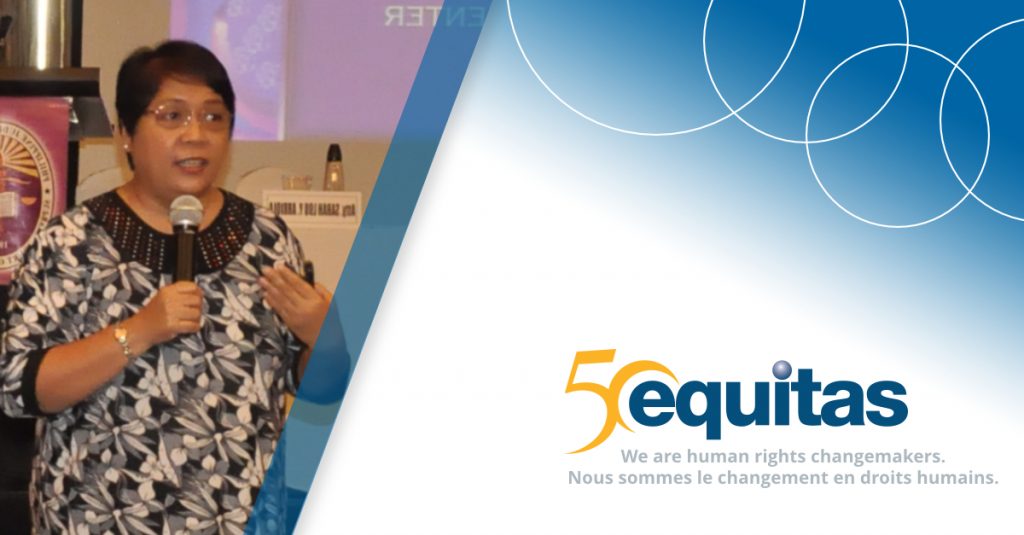 When Amparita Sta. Maria began her walk down her chosen path of public service, she did not have human rights in mind. In her own words, "she wasn't even a woman's advocate."  Armed with a law degree obtained with honours, a six-year stint with the Philippine Supreme Court and brief assignments in the government and corporate arenas, she landed on the doorstep of the Ateneo Human Rights Center (AHRC) willing to do any job, as long as she could serve. As it turns out, Amparita's goal and Ateneo's mission were a perfect fit. Today, she serves as the Director of the Ateneo Graduate Legal Studies Institute and the Urduja Women's Desk of the AHRC.
The Ateneo Human Rights Center, housed in the School of Law at the Ateneo de Manila University, was founded in 1986 as one of the first university-based, non-government institutions to provide protection and promotion of human rights in the Philippines and Southeast Asia. Amparita's arrival and initial assignments as a teacher and volunteer lawyer preceded what would become a rewarding partnership between the AHRC and Equitas (then known as the Canadian Human Rights Foundation).
"After AHRC participated in Equitas' International Human Rights Training Program (IHRTP), in Montreal, Canada, our first collaboration was a workshop and trainings that brought many regional non-governmental organizations (NGOs) together around migrant workers' issues, particularly women migrant workers.  Equitas' support positioned AHRC within the network of NGOs, helped us develop a specific direction towards advocacy for migrant workers, and gave us credibility in our law reform efforts," Amparita said.
Migrant workers at risk
According to the United Nations Department of Economic and Social Affairs, Southeast Asian states provided approximately 14 million migrant workers in 2013; six million of those workers migrated within Southeast Asia. Women ages 20 to 64 make up 48% of that number. The Philippines is considered a "sending" country, along with Indonesia and Thailand. Singapore, Malaysia and Brunei receive migrant workers; Thailand and Malaysia send and receive workers. While the financial economies of countries benefit financially from migrant workers who send their pay back home, the challenges that migrant workers face are often unevenly addressed, especially in countries where there are no supporting human rights organizations.
"Migrant workers fare better in destination countries where NGOs and other civic groups are active," said Amparita. "Those countries are more tolerable to advocacy efforts behind the scenes and in the public. Where there is no environment for cultivating an empowering approach, migrant workers suffer." 
That suffering often includes low pay, poor working conditions, stress, depression, language and cultural barriers, separation from families, occupational risks, and inaccessibility to healthcare. Typically, male workers are largely employed as construction and manufacturing labour, jobs that are considered "3D" – dirty, dangerous and difficult. Women are slotted into low-skilled domestic and care jobs and, along with child workers, are vulnerable to economic exploitation, and physical, sexual and psychological abuse.
Amparita has authored and co-authored numerous research studies, briefs and books to bring awareness to the plight of migrant workers as well as many other human rights issues. Her work has been used to assess the effectiveness and enforcement of existing laws, frame discussions and shape policies within the government, and develop strategies for action within the AHRC and the network of NGOs. She and her fellow attorneys meet with legislators, file petitions and appear before the Supreme Court of the Philippines to protect the legal rights of the people.
Facing a difficult 

time
A recent change in the administration of the Philippines has, however, hampered the work of the human rights movement, and shifted the focus away from migrant workers and women's and children's rights. Since Rodrigo Duterte was sworn in as president in June 2016, his "fight on crime" has resulted in the killing of more than 2,400 alleged drug dealers and drug users. Numbers of high-ranking public servants have also been accused of being drug lords. Human rights organizations have condemned the killings and have come out against the call to lower the minimum age for criminal liability from fifteen to nine years of age and the restoration of the death penalty.
Human rights groups are, as Amparita describes it, "embattled." "It is not a good time for us in the sense that it's like all the work is being questioned," she said.  "We have been issuing statements and trying to grapple with what is happening. It seems there is a sudden erosion of the norms that have been long established." 
Amparita and the Ateneo team are coming up with strategies that go beyond denouncing current and proposed government actions. In addition to issuing statements, they are using research to identify and persuade members of the Congress to direct their attention to the issues that should receive attention.
In the midst of the current difficult environment, Amparita continues her fight for those who cannot effectively fight for themselves. As a Professional Lecturer in International Human Rights Law at the Philippine Judicial Academy, a faculty member of the Ateneo Law School and a volunteer lawyer for the AHRC, she trains judges, court lawyers and personnel in human rights, women's rights and gender sensitivity, and lectures on those topics and on other emerging human rights and gender-related issues.
Within academia, Amparita ensures the law school curriculum includes human rights course electives. She and other instructors integrate current and emerging issues in core subjects such as family and criminal law. Although most of the students decide to pursue corporate law, there are those interested in human rights law. "Our goal is to do our best to prepare them for the ongoing fight for human rights."
---
AMPARITA STA. MARIA – Philippines 
Director of the Ateneo Graduate Legal Studies, The Urduja Women's Desk of the Ateneo Human Rights Center 
IHRTP Alumni, 1993 (14th Annual Human Rights Training Programm International Cooperative Course – 1993) 
---
Story prepared by Terry Baugh Bessard, HighStar Communications. www.highstarcom.com
Equitas' International Human Rights Training Program is undertaken in part with the financial support of the Government of Canada provided through Global Affairs Canada.
Did you like this story? Give us your support! Even the smallest donation contributes to big impact in Canada and around the world.