The peace agreement between the Colombian government and the FARC in November 2016 presents an opportunity to advance human rights and democratic practices in Colombia.
Equitas is convinced that human rights and citizenship education programs can contribute to the sustainable transformation of Colombian communities into more peaceful and inclusive ones by promoting and forging attitudes, behaviours and ways of thinking based on the principles and values ​​of equality, inclusion, non-discrimination, fairness, cooperation and respect for diversity.
What we do
Currently, the project is active in the communities of Usme and Ciudad Bolivar in Bogota and Soacha in Cundinamarca. Through human rights education, we:
equip civil society organizations (CSOs) and community leaders with human rights knowledge, skills and tools

to address barriers to the participation of youth, women and children in decision-making processes that concern them;

strengthen and provide inclusive spaces for civil society, community leaders and government authorities to work collaboratively and promote the participation and inclusion of youth, women and children

in their communities

;

enhance the capacity of youth, women and children to engage with decision-makers

to better access the services and support systems provided by community and government institutions.
2,000 community members have benefited from 10 Community Action Projects to promote greater participation, inclusion and non-discrimination of women, children and youth.
"Equitas methodologies enable the creation of participation spaces that are positive. In my community, there is a lot of resentment and we need tools for people to express their feelings (…) in a non-confrontational way."

"The first step is for communities to realize that they can take action to change things. Once these actions have started, then it is important to involve local government authorities and explore ways of collaboration and support."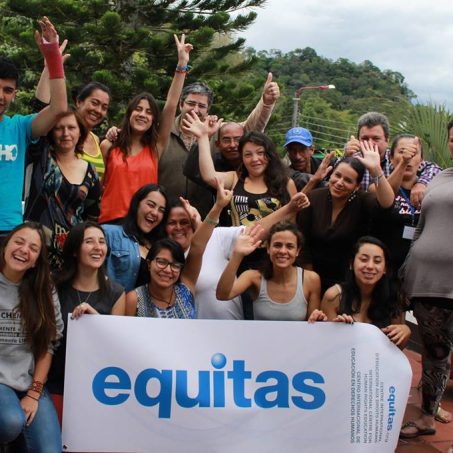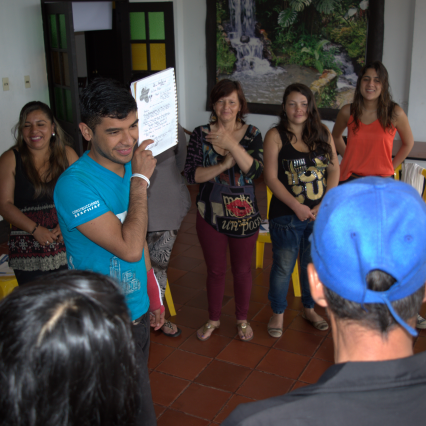 25 community leaders and representatives of civil society organizations have been trained in human rights education in the communities of Usme, Ciudad Bolivar and Soacha.
They have:
acquired knowledge, skills and tools to design, deliver and evaluate human rights education activities using gender and human rights based approaches.
gained confidence in their capacity to lead actions that engage community members in collaborative actions for positive social change (peaceful conflict resolution, opening spaces for dialogue, inclusion and non-discrimination).
Equitas works in Colombia with the NGO TECHO Colombia.

Our current project is undertaken as part of Strengthening Human Rights Education Globally, with the support from the Government of Canada through Global Affairs Canada (GAC).