Today, 81 Human Rights Defenders from 49 countries completed their training at the 35th edition of the International Human Rights Training Program (IHRTP).They now join a community of more than 3,500 alumni in 100 countries that Equitas – International Centre for Human Rights Education has trained over the years.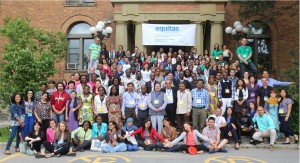 The IHRTP is a three-week program with a global reputation for lasting and measurable results. From June 8-27, it allowed the participants to improve their skills and become better equipped to shape attitudes and positive behaviours in their community, thus contributing to social change.
The IHRTP was undertaken with the financial support of the Government of Canada provided through the Department of Foreign Affairs, Trade and Development Canada (DFATD), as well as generous support from Aimia. The participants were hosted and trained at John Abbott College in Ste-Anne-de-Bellevue.
Congratulations to our new alumni!