Building Colombia's historical memory through human rights education
After 50 years of conflict, the long-awaited peace accord between the Colombian government and the Revolutionary Armed Forces of Colombia (FARC) wasn't ratified. On October 2, citizens who voted "No" to the referendum won by 0.4 percentage points. The small difference of around 60,000 votes shows the polarization of the population around the terms of the accord. However, both the government and the FARC have expressed their intention to maintain the bilateral ceasefire and review the agreement with the support of additional key actors, such as the political opposition and victims—a response to citizen demands for more inclusive negotiation. The upshot is that community organizations and civil society groups in Colombia and abroad have been working for peace in this country even before the accord, and will continue to do so long after.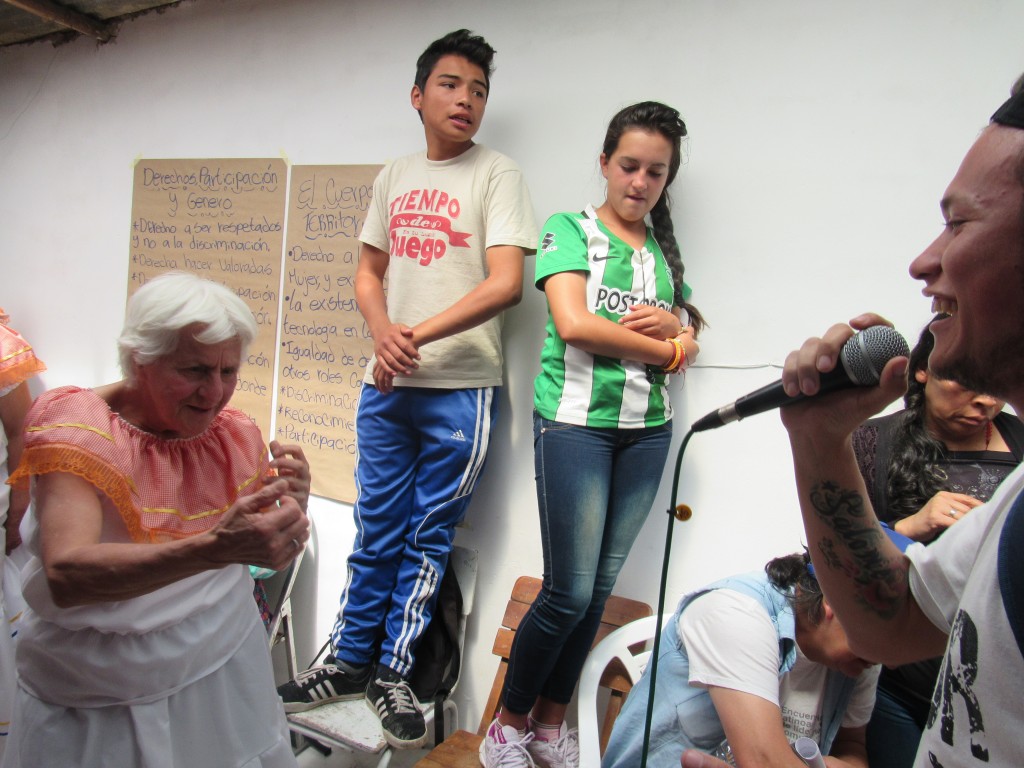 Participants – Equitas community project, 2016
As the Colombian government works with the opposition and the FARC to review the proposed agreement, the sustainable success of peace building efforts hinges upon construction from the base, inclusive development and on peace leading to a society where all citizens enjoy their human rights. Women, children and youth, as well as ethnic minorities (Indigenous and afro-Colombians) have disproportionately suffered human rights violations, including gender-based violence, forced displacement and disappearances. That's why Equitas, with the financial support of Global Affairs Canada and in partnership with Techo Colombia, is implementing the project Colombia al Derecho (Colombia up-right) to strengthen the capacity of civil society organizations and communities to lift the barriers to the participation of women, children and youth and develop a culture of inclusion and human rights. That's also why Equitas is proud to highlight the work of Adriana Correa, because she is an Equitas alumna doing exactly that. *** When Canada's Minister of Foreign Affairs Stéphane Dion speaks about the hard work it takes to maintain peace, he is talking about the hard work of people like Correa. In her words:
"We really have to build a new culture of human rights and of peace." Correa says. "In a country that has been fighting for 50 years, we are used to solving our problems violently."
Here's her bio, in short: Correa lives in Bogotá, she grew up there. Her father was a lawyer, "very humanitarian," she says. Correa has a Master's degree in philosophy. She focused her studies in ethics and human rights. In 2012, she participated in Equitas' International Human Rights Education Training Program (IHRTP). She came back to the IHRTP to facilitate courses in 2015. Oh, and she's been working for the Centro Nacional de Memoria Histórica (CNMH)—the National Centre of Historical Memory—since 2013. Bio over. The CNMH collects stories and conducts research about the Colombian conflict to ensure a record of these times, to ensure that lessons learned from this conflict help prevent ones in the future.
"The people need to know what happened, why this conflict was so long—has been so long," says Correa over the phone, in a brief minute away from her work helping communities tell their stories of trauma.
And while the truth doesn't bring back loved ones or repair homes, for many Colombians it's the best they can hope for. Telling their stories is the beginning of the path to reconciliation. "In a country like Colombia where justice is very limited," Correa says, "within a transitional justice system the access to truth is at least kind of a reparation." Correa was interviewed as part of Equitas' upcoming 50th anniversary story series. In that, she shared how Equitas' training and adopting a human rights based approach helped her work.
"We weren't starting with people's experiences and adapting to what they needed," she said. "Today, we start with the people, with how they want their stories to be told—not what we want them to say."
The stories the CNMH finds are one aspect of their truth-spreading mission. The other is to truly foster a general respect for human rights and democracy. Without that, Correa is afraid that this peace process will become like other ones in the past: unsuccessful. That concern is particularly pressing as the peace process develops after the failed referendum. For this process to fail would be catastrophic—Correa knows education and respect for rights is the solution.
"Education in human rights will be a core issue for the next years to change the way we have been dealing with each other," she says.
That, together with Correa's view that international support will solidify peace, is why Equitas is involved in Colombia. And we're not going to change our work after the referendum, regardless of political outcomes, because we think human rights education can play a key role in the peace building process by contributing to the way communities participate and relate to one another.
A little more about Equitas' work in Colombia Colombia al Derecho, our project in Colombi­a, is implemented in three communities: Usme and Ciudad Bolivar in Bogota, and Soacha in Cundinamarca. It's been active since 2014. In all three communities, we're working to include and empower women, children, the disabled, the elderly, and LGBTQI people in the broader conversation, and to recognize their potential as agents of change. A local leader in Ciudad Bolivar said, after participating in our project: "I feel more capable of engaging with key actors to express issues that affect my community." One local leader in Usme praised the program saying that since in her community there is long-standing resentment as a consequence of years of conflict and violence, community leaders need tools and techniques like those provided by Equitas to engage community members in dialogue in a collaborative and non-confrontational way.
Strengthening the capacity of community leaders and their organizations through human rights education activities will be crucial to continue building peace at the community level. After all, if citizens don't engage in their own communities, and don't feel like they have a voice, they won't recognize or support initiatives that improve their communities or enhance their voices—especially if those initiatives were developed without community members, in a top-down approach. So we work to empower and include citizens in their own governance and development. Correa and the CNMH train communities on how to run their own radio stations, or to write articles, or to know their rights so they know when they're being violated. The goal is the same.
"We have to change the whole culture of violence in a country," Correa says, "and it's really really complicated."
But one story at a time, Equitas alumna Correa is solidifying human rights in Colombia and building the blocks for long-term peace. By Carl Bindman, Equitas Communications intern, Fall 2016 +++
Did you like this story? Follow us for more! Equitas provides individuals and communities the necessary tools to shape attitudes and positive behaviours. Give us your support! Even the smallest donation contributes to big impact in Canada and around the world. See how >