March 2, 2005
Equitas was happy to welcome Marino Alvarado during his visit to our Montreal office last Thursday. Mr. Alvarado was recently awarded the 6th annual Human Rights Award from the Embassy of Canada in Venezuela, in partnership with the Center for Peace and Human Rights of the Universidad Central de Venezuela. The Award was established in 2009 to recognize individuals, NGOs and public or private institutions in Venezuela that have made extraordinary Contributions to the promotion, spread or defense of human rights.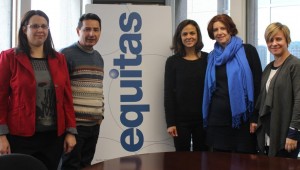 Mr. Alvarado is a law graduate of the Universidad Central de Venezuela. He also has a Specialty Diploma in International Economic Rights. He is being awarded for his work as a coordinator at Venezuelan NGO Provea. In this role, he has made large contributions to civil, political, economic, social and cultural rights in his home country.
Provea is one of Venezuela's most respected, credible, and effective human rights organizations. They seek to promote the values outlined in the Universal Declaration of Human Rights in order to shape a better democratic society based on solidarity, participation and social and economic equality.