Hon. Stéphane Dion recognizes Equitas' work advancing inclusion and respect for diversity.
We're very excited to share that Equitas was directly referenced by Canada's Minister of Foreign Affairs at the United Nations as an example of Canada's commitment to inclusion.
The Hon. Stéphane Dion was giving his closing remarks at the High-Level Panel on Inclusion and Diversity on September 21 when he spoke of us.
"Canada is sponsoring a reconciliation effort by Equitas International Centre for Human Rights Education in Sri Lanka, where communities are still trying to recover after the civil war." Minister Dion said. "We will help bring together people of different faiths to prevent inter-religious conflict."
Equitas has been working in Sri Lanka since 2014, part of a long term, multi-stage project to empower and educate communities towards lasting peace. To read more about our work in Sri Lanka, click here.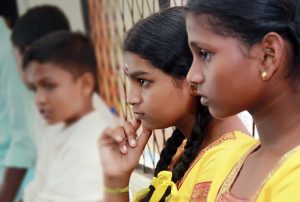 "It's wonderful to see Equitas highlighted on an international stage like the United Nations," said Equitas Executive Director Ian Hamilton in response to the news. "With the Canadian government's ongoing support, we will continue to empower communities in Sri Lanka to grow closer, together."
Equitas has a deep historical connection to the United Nations. We were co-founded in Montreal by John Humphrey, an author of the U.N. Declaration of Human Rights.
"50 years have gone by since then," Hamilton said, "and it's a privilege to be recognized for all the progress we've made."