Just before the end of the school year, Equitas local partners across Canada celebrated the amazing work done by children and youth to promote important human rights values in their communities (cooperation, respect, fairness, inclusion, respect for diversity, responsibility, and acceptance).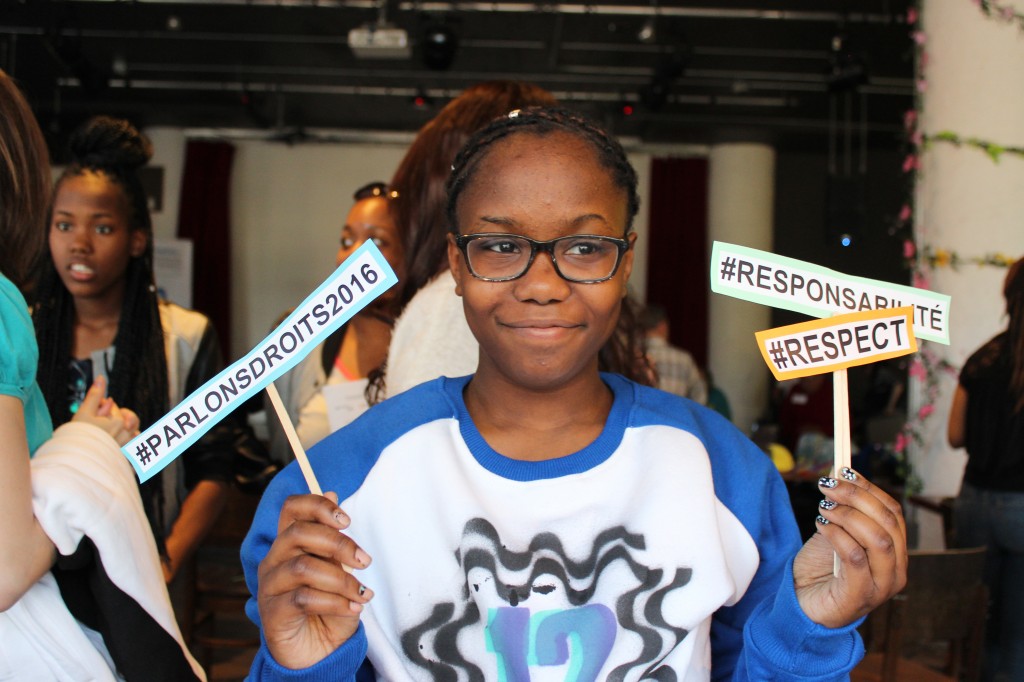 On April 27th, 2016 Young Women Spoke Up! in Winnipeg. This was a proud moment to celebrate the 4 Community Action Projects led by the Young Women, Young Leaders of four amazing community based organizations. The space at the Graffiti Arts Programming Gallery was abuzz with the energy of young women's participation, showcasing: a live magazine, an original hip-hop song, a poster campaign and a community celebration. These youth-led Community Action Projects addressed the issues the young women participants identified as priority issues: mental health of young women, creating a sense of belonging, the right to express oneself, and fostering a welcoming environment for Syrian refugees. The young women were joined by members of the community to celebrate their achievements! With special thanks to : Ma Mawi Wi Chi Itata The Graffiti Gallery The Immigrant Centre Voices: Manitoba's Youth in Care Network  This program was made possible with funding from the Winnipeg Foundation.
—
On May 6, 2016 over 200 children, as well as educators, principals and school board representatives and representatives from TD Bank came together at Dante Elementary School in Montreal to celebrate children and high school led community action projects. The objective was to highlight the collaborative environment and the relationships formed between the daycare educators, high school mentors who helped lead the children in their projects, and elementary school students.
Smiling faces at the #PlayitFair Celebrations this morning! @DanteSchool @EMSBBASE #humanrightsed pic.twitter.com/IwZ17NWuoz

— Equitas (@EquitasIntl) May 6, 2016
Children worked on projects to make their school communities a better place, including the creation of their own story book to promote the right to a clean environment, movie trailers to promote respect for diversity, their own Play it Fair! games to promote teamwork, respect, and anti-bullying in their school and poster campaigns to promote anti-bullying, children's rights, the right to a clean environment and celebrating diversity in their community.
Building self-confidence, belonging and leadership skills among children & youth – #PlayItFair Celebrations! pic.twitter.com/lnA0oLO0w9

— Equitas (@EquitasIntl) May 6, 2016
Community action projects were a new opportunity for children to work collaboratively and take leadership roles to make positive change in their communities.
Dear @JustinTrudeau postcard workshop today with 200 Montreal kids #Playitfair #humanrights pic.twitter.com/8BTnWwV2yq

— Equitas (@EquitasIntl) May 6, 2016
Through their work together with their high school mentors, children learned about their potential to create change together while reinforcing their self-esteem, their decision-making skills and learning to include others, all in all strengthening their capacity to become change makers in their communities. It was amazing to witness what these children accomplished together! This program was made possible with funding from TD and Canada Post Community Foundation. Partners: The EMSB's Spiritual Care and Community Involvement Services English Montreal School Board B.A.S.E Daycare Program Schools: Dante Elementary School B.A.S.E. Daycare Gerald McShane Elementary School B.A.S.E. Daycare Michelangelo International Elementary School B.A.S.E. Daycare Pierre Elliott Trudeau Elementary School B.A.S.E. Daycare Vincent Massey Collegiate
—
On May 10th, 2016 youth spoke up about their Speaking Rights community action projects in Montreal.
Toutes et tous vers une participation égalitaire #Respect #inclusion #ParlonsDroits pic.twitter.com/FUj54rn8LH

— Equitas (@EquitasIntl) May 10, 2016
The energy was unparalleled in Café L'Artère in Montreal as we shared and learned from the more than 50 youth showcasing their community engagement projects: a community garden breaking gender stereotypes, portraits exploring self-identity and expression; videos educating around sexism and hypersexualization; a play to educate that "It's normal to be different"; and the creation of a safe space for support, sharing and empowerment by developing protective factors that can reduce sexual exploitation of girls and young women. The 5 partner organizations shared their lessons learned and celebrated with one another, as well as with more than 50 community members: family, friends, school principals, etc. Anie Samson, Vice-présidente du comité exécutif  et responsable de la sécurité publique et des services aux citoyens of the City of Maontreal and Mayor of the Villeray St-Michel Parc-Extension Burrough celebrated with us and shared: « Congratulations to Equitas for the Community Actions Projects! What beautiful projects!!! »
Félicitations @EquitasIntl pour ses projets d'actions communautaires Montréal2016! Quels beaux projets!!! pic.twitter.com/u1C1gaZreD

— anie samson (@aniesamson) May 10, 2016
Special thanks to : Maison d'Haiti Prevention CDN-NDG Table de concertation Jeunesse de Côte-des-Neiges Youth Fusion James Lyng High School Boys & Girls Club of Dawson Community Center Centre au Puits  This program was made possible with funding from: RBC Foundation, City of Montreal, Ministère de l'Immigration, Diversité et Inclusion, and the George Hogg Family Foundation.
—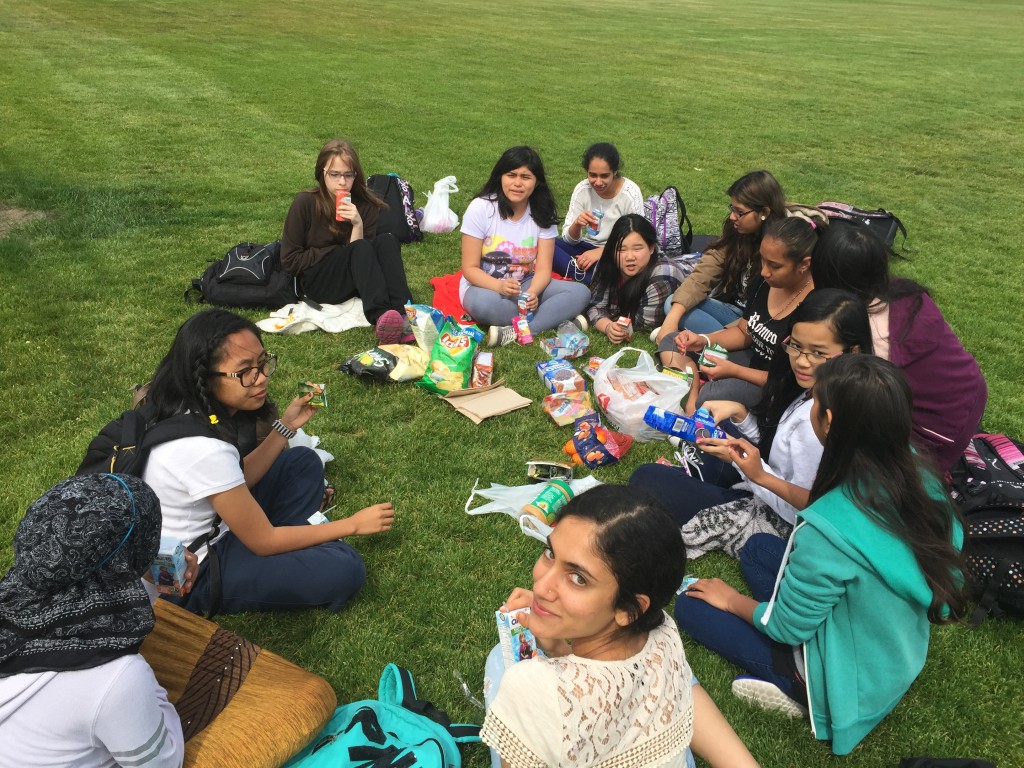 Through a series of Equitas Speaking Rights workshops from April to June 2016, nine girls (in grades 11 and 12) from the Surrey Community Schools Partnership program running out of L.A. Matheson Secondary School, British-Columbia, identified the key reason for youth's involvement in crime: the lack of a sense of belonging among youth, including young women. Their community mapping found a gap in their schools programming regarding safety programs specifically targeting girls. With the help of Equitas, the group of young women decided to develop a mentorship project for 11 girls in their community.
"The [youths'] community action project took a preventative approach to crime and violence by creating a safe environment for females to join. We targeted youth who were at most need of a mentorship type program (those that were more socially excluded)." – Youth Worker, Surrey Community Schools Partnership
Another end of the year success story for Equitas and its community partners in Surrey as the positive results of the program in LA Matheson Secondary School is now going to be implemented permanently into their after-school programming for the years to come! This program was made possible with funding from: BC Ministry of Justice, Coast Capital Saving, Hamber Foundation