Sponsored by Michael Cooper
Music, stories and visuals – from Woody Guthrie and Lead Belly to Pete Seeger, Joan Baez, Bob Dylan, Gordon Lightfoot, Simon and Garfunkel, Peter, Paul and Mary and more!
With Craig Morrison – musician, professor, author and ethnomusicologist (www.craigmorrison.com/) Friday, November 20, 2015 at 7:30 pm Georges Vanier Centre 2450 Workman Street (near Atwater/Notre Dame)
Tickets are $40 and include a free ticket to a concert at Pollack Hall on December 19 or one of Craig's CDs. To buy tickets please call Michael Cooper at 514-934-0410.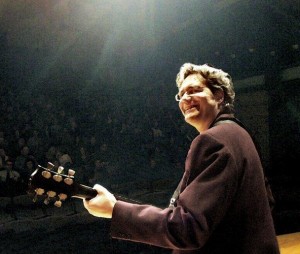 Michael Cooper, Equitas 'friend extraordinaire', is excited to make this concert possible in order to support Equitas. All proceeds will go towards sponsoring a human rights defender to attend Equitas' renowned International Human Rights Training Program (IHRTP) in Montreal in June 2016 Join Michael, Craig and friends for this great evening of music and support a fantastic cause! Equitas thanks Michael Cooper for his incredible ongoing support. If you would like to organize an event to raise money to sponsor a human rights defender, please call Equitas at 514-954-0382 ext 241.