Behind the scenes look at Patrick Camille's work with Equitas in Haiti
With the 36th edition of Equitas' International Human Rights Training Program (IHRTP) just weeks away, it's important to reflect on the rich knowledge and wisdom that this year's six selected facilitators will bring to the experience. Facilitators undertake the task of guiding participants through the three-week educational journey. Highly experienced in the field of human rights and human rights education, facilitators boast diverse backgrounds, coming from all areas of the globe. This year's roster holds facilitators from Egypt, Burkina Faso, Italy, Haiti, and Canada.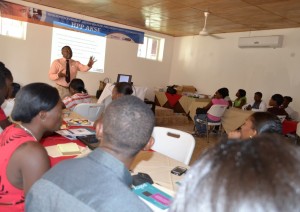 Patrick Camille, this year's facilitator from Haiti, is no stranger to the turbulence that comes with working in the field of human rights. He is heavily sought after as a human rights educator by many NGOs and grassroots organizations in his home country. He trains using the very same methods he learned from Equitas back in the 2002 when he was a participant in the IHRTP. Camille believes that Equitas' participatory approach to education has had an enormous impact on Haiti. The fact that participants are actively involved in their own learning process and incorporating human rights values in their relationship with others is changing the way Haitians see human rights education. The "Je m'engage, ensemble nous batissons" toolkit, developed in full collaboration by Equitas and its partners in Haiti, was adopted specifically for work in the Haitian communities. The toolkit is meant to provide people with the necessary skills and knowledge to foster inclusive development of their communities. It does so by allowing community members to bring their experiences and expertise into the learning process. They are provided with a safe and constructive environment to discuss, question, and reflect on ways to work together to achieve tangible results that benefit community members. This is done through a number of activities and workshops that help people develop a clearer understanding of  their rights, and how they as individuals can be catalysts to the fulfilment of these rights for themselves and for others. Challenges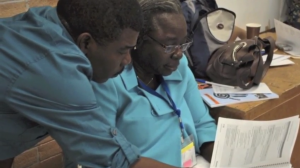 No feat comes without its challenges, and Camille says that human rights workers and educators in Haiti continue to face their share of obstacles. One of the major challenges in the last five years was the 2010 earthquake that rocked Haiti to its core. Camille says that human rights educators and workers in the community definitely felt the impact. "After the earthquake, we were faced with the enormous problem of the right to shelter, we were facing people who lost everything," he said. Citizens also grew demoralized; the aid they were expecting in the reconstruction efforts never fully materialized, creating a sense of helplessness in the community. However, Camille shares Equitas' belief that that citizen engagement has helped Haitians view the reconstruction of their nation from a new perspective. It has empowered the people, and empowerment is contagious in the very best way. "The idea before was that everything that needed to be done in the community had to be done by the authorities or the government," he said. "Today, in the areas where we have implemented citizen engagement programs, we have noticed changes in terms of their responsibility and action in their community." Camille says that a lot more work needs to be done to make sure the program spreads to all corners of Haiti. Spreading the Equitas method Following his training with Equitas in 2002, Camille has gone on to work on a number of different human rights projects in Haiti. He obtained a master's degree in humanitarian action at the University of Geneva, and joined Le Groupe d'Appuie aux Repatries et aux Refugies (GARR) as a legal consultant. Camille has since returned to the IHRTP in 2004 as a co-facilitator and as a facilitator in 2010. Camille continues to collaborate with Equitas on the ground in his home country of Haiti and he is one of the pillars supporting the creation and dissemination of the Citizenship Engagement Program.  As he works at many levels in the community, he continues to bring the Equitas approach along with him. He is currently working with the Futures Group led Health Policy Project Aksyon Kolektif pou Sekirite kont Eksplwatasyon (HPP-AKSE), which is the "collective action for security against exploitation." In partnership with Haiti's Ecole de la Magistrature, HPP-AKSE and Camille are training judges from seven different jurisdictions across the country. The training focuses on the protection of children's rights. It's in response to the lack of knowledge on the laws that protect the well being of children, and how this lack of knowledge can affect judges' work and discretion. He says that all these different people are benefiting from the training he received. It's a chain reaction as the training is passed on, and the knowledge is shared "Today there are more than 50 organizations in Haiti that have benefitted from Equitas' training," Camille said. Despite the promising advances, Camille says the work is far from over. He believes that they're on the right path, and that the program in Haiti is one that needs continued support. "My dream is to see the "Je m'engage, ensemble nous batissons" toolkit integrated into already existing organizations, and that the message of citizen engagement doesn't only reach the human rights workers, but the population of Haiti as a whole."
By Casandra De Masi, web editor and intern at Equitas
Did you like this story? Support us! Equitas works for the advancement of human rights. We equip human rights defenders and educators to build more inclusive communities and to contribute to social and economic development goals.  With your support,  Equitas can contribute to the development of communities through democratic participation. Even the smallest donation contributes to fulfilling Equitas' mission! See how.