"Religion shouldn't be a weapon to destroy human rights and the values in society." This is an essential belief held by young Buddhist Monk, Venerable Weliwitiya Dhamminda.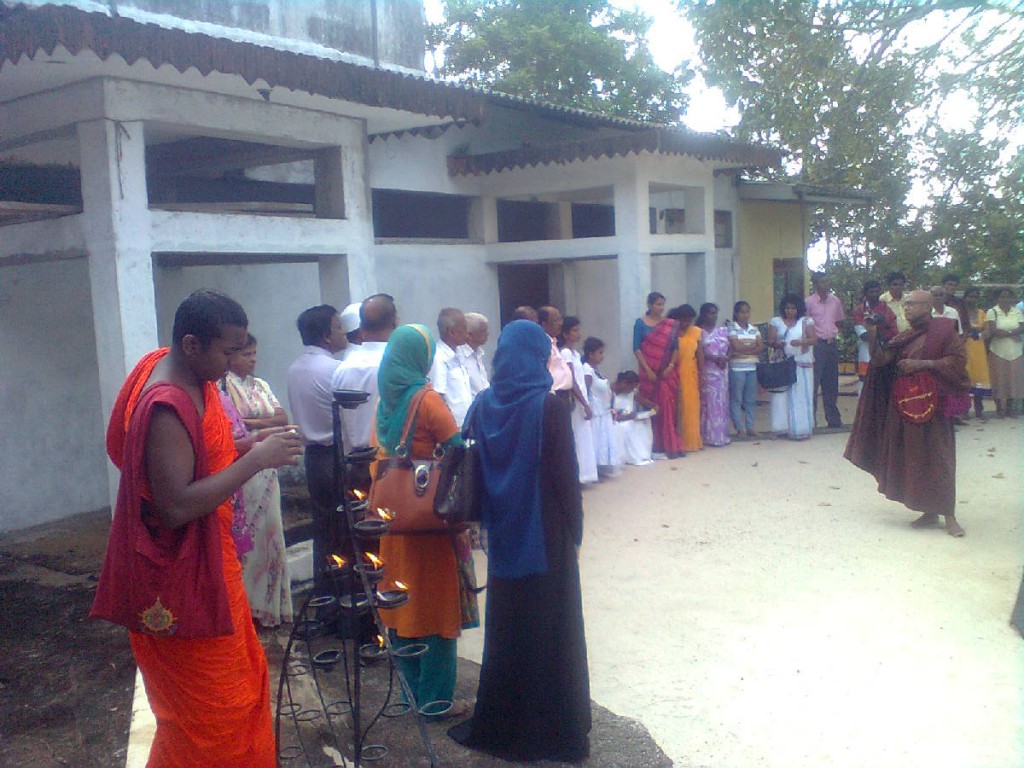 Respect for religious freedom supports a healthy and cohesive society that is open to accepting a culture of human rights.  This is the basis of Equitas' project in South Asia, Promoting Greater Respect for Freedom of Religion and Belief in Sri Lanka. Since November 2014, Equitas and its regional partner, the International Centre for Ethnic Studies (ICES), have trained thirteen men and nine women. The training equipped community members with the ability to discuss possible strategies to enhance freedom of religion and belief in Sri Lanka, with the ultimate goal of combating discrimination based on religion and belief and enhancing respect for human rights of all community members. Human rights education is not a very common practice in Sri Lanka. Venerable Dhamminda participated in the trainings, and strongly believes that it has opened his mind to a whole new way of thinking.
"Before I got the training, I didn't have much awareness about how to deal with people, [how to interact] with different ethnic religious groups," he said. "Now I have more understanding about the Muslim, the Tamil, and the Christian communities, so I think if we can have people who are more understanding of each other, the society will be really nice and beautiful."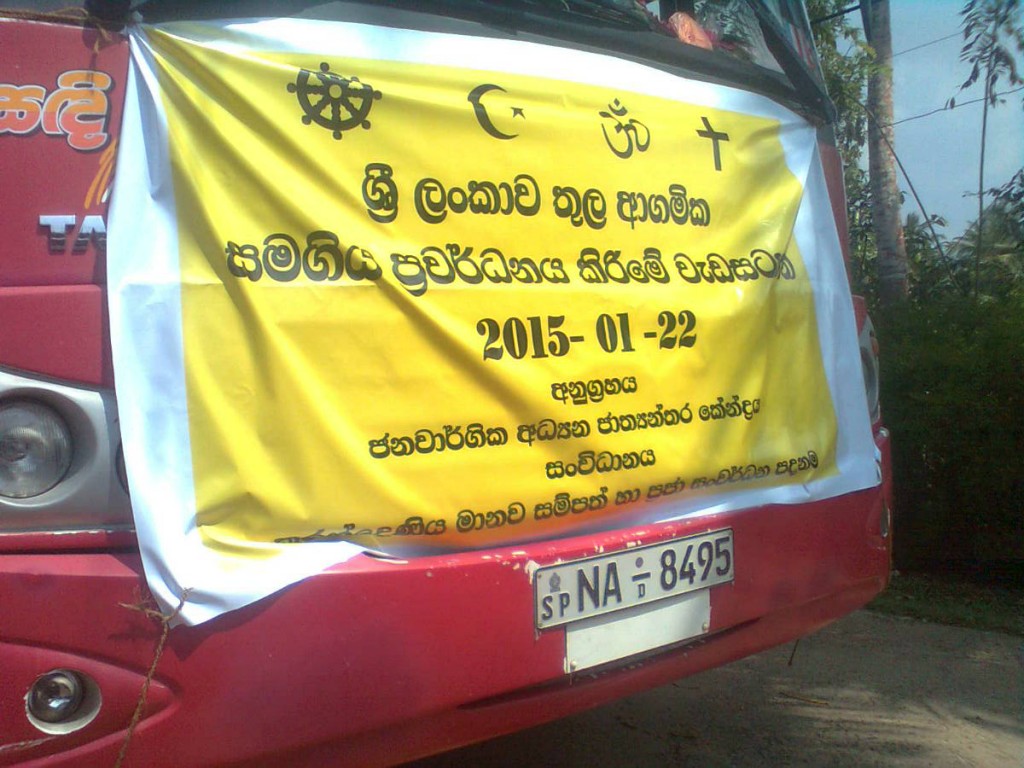 "Promoting Inter Faith Harmony in Sri Lanka" Banner on the bus used by the Galle district group for their follow-up activities on promoting religious harmony.
Creating a dialogue One way to instill tolerance and acceptance in people is through inter-faith dialogue. Knowing how to address religious issues is very important in Venerable Dhamminda's work. As a monk, he has a responsibility to be a speaker in his community. As a leader, he uses the power of words to reach the people and influence harmonious co-existence within the Galle district. He believes that those who belong to a younger generation, like him, must work to find a way to connect with people of older generations. He says that some people hold a traditional way of thinking that is not always based on human rights values and inclusion. This is an issue that Pastor Kingsley Elton knows all too well. An Evangelical pastor, he has been running his ministry in the Galle District for the past 15 years. While he currently resides and works in Dadalla, his time in Gintota proved to be arduous.  He faced his fair share of persecution for his beliefs. According to Pastor Kingsley, Gintota is a generally Buddhist area. He found himself on the receiving end of threats from villagers who wanted him to cease his practice.  Pastor Kingsley emphasizes that a large majority of Buddhists are open to inter-faith dialogue and co-existence. However, one group in particular, the Bodu Bala Sena (BBS), pose an issue for all religious groups in Sri Lanka due to their extremist practices. The BBS are a Sinhalese Buddhist Nationalist movement that many consider to be politically motivated and tumultuous. Despite the obstacles, the pastor says that learning about human rights values through the Equitas and ICES trainings allowed him to integrate these themes within his own workshops. He travels to many districts around Sri Lanka, training pastors and other members of the religious community. Pastor Kingsley communicates with villagers coming from different religious backgrounds, empowering them so that they too can spread the word. Within 2-3 months of travelling between districts, he says he has reached over 200 pastors, engaging them in a dialogue around religious harmony in their own work and personal lives.
"I was a narrow-minded person. But my mind is now open," he said.
Pastor Kingsley says that his biggest challenge is reaching the other "narrow-minded" people, and finding a way to relate to them in order to get his message across. He believes that this mentality is not specific to one religious group. This is why he works with his network of friends, which include diverse religious community leaders, to tap into different communities. Moving Forward The political landscape in Sri Lanka underwent a transformation following the election of a new President in January 2015. Pastor Kingsley says that while the religious climate has improved,  a lot of work still needs to be done.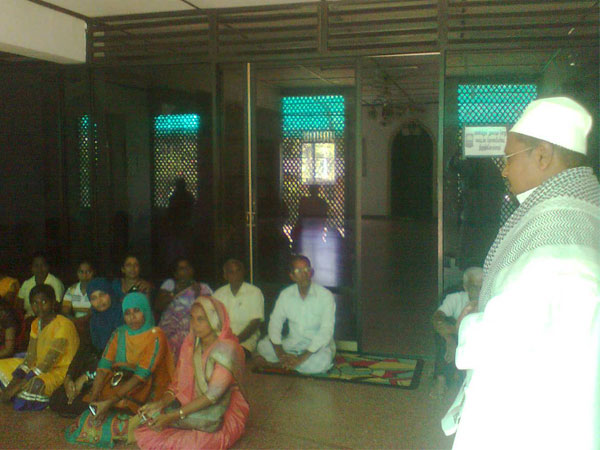 The next step for those who took part in the trainings is to work together to implement a community action plan in their respective districts. Each plan is made up of several activities that will target different stakeholders in the community, including children, teachers, and religious leaders.  All of this is an effort to transfer what they learned into concrete, sustainable action in the community. A national forum will take place in November, with participants coming together and meeting with civil society organizations to discuss their experiences and lessons learned in promoting religious harmony in their communities. By Casandra De Masi  Photos – Images taken during the Galle groups' awareness-raising activity (January 2015) +++
Did you like this story? Follow us for more! Equitas provides individuals the necessary tools to shape attitudes and positive behaviours. Give us your support! Even the smallest donation contributes to fulfilling Equitas' mission. See how >