National Child Day is a chance for children, families and communities to join in activities that highlight positive values, children's rights and participation.  The date marks the occasion when the United Nations adopted the United Nations Convention on the Rights of the Child (UNCRC) What is the Convention on the Rights of the Child? It is an international treaty that recognizes the basic human rights of children and youth. It was adopted by the United Nations (and Canada) on November 20, 1989. Click here for more information about children's rights In Ottawa, on Tuesday, November 20th, Equitas will be celebrating the arrival of the Play it Fair! program in Ottawa.  Already making a difference in the lives of children in 21 communities across Canada, the program is expanding to Ottawa thanks to the generous renewal of support from TD Bank Group. The celebration will be held at  the Taggart Family YMCA-YWCA, 2nd Floor, 180 Argyle Avenue, Ottawa, K2P 1B7 from 3:30 to 5:30 pm. There will be a short presentation about the program, a demonstration of activities with children 10-12 years old, and a small reception. View media release

Are you a Play it Fair! organization ?
Getting involved in National Child Day is as simple as 1-2-3!
1. Flip through the National Child Day booklet of activity ideas
The National Child Day booklet features 5 easy and fun ways to celebrate National Child Day, as well as helpful resources to help you to organize this event. Download the booklet here:  National Child Day Booklet
2. Decide which elements of the day your after-school program or school will take part in and start planning.
3. Host your own National Child Day and have fun!
Do you have questions or comments about the National Child Day booklet or Play it Fair? Please email Ruth Morrison at rmorrison@equitas.org

How Equitas is celebrating 
Play it Fair! Award
On Nov 20, 2012, Equitas will celebrate National Child Day by giving out its annual Play it Fair! Award to an individual (or team) who has shown leadership and creativity in promoting children's rights and participation in their community through Play it Fair! For more information about the Play it Fair! award, click here Last year's recipient was Tom Higashio from Vancouvers' Britannia Centre. Congratulations Tom!

Check out what our partners are doing across Canada!
Chameran Lights Up!   "Lumières sur Chameran"  – On the evening of Saturday, November 17, 450 children, parents and community members joined the 2nd annual candle-light parade through the streets of Chameran neighbourhood in Montreal's St. Laurent borough.  There was free hot chocolate, entertainment and hundreds of bright lights shining to celebrate children's rights. More information here.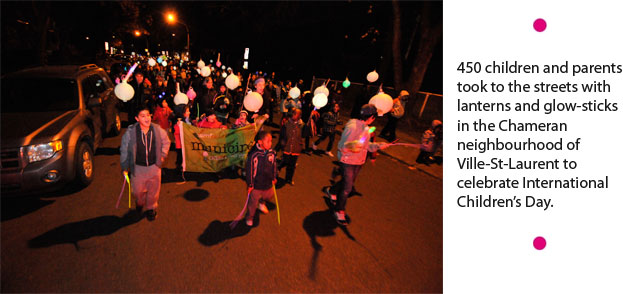 Children at Les Samedis ensoleillés, a community organization in Montreal, will be celebrating National Child Day by learning about their rights through Play it Fair! activities. The City of Surrey, British Columbia, is celebrating National Child Day with their annual Kids Conference! (November 16th  and 17th, 2012). This year's theme is on Our Rights and Our Responsibilities. Partner organizations across the city, such as Equitas, Surrey Public Library, DiverseCITY, Surrey RCMP and Options will lead various workshops during the conference. Equitas' Play it Fair! Toolkit will feature in a workshop led by youth members from the community. Children will learn about their rights and responsibilities through interactive games that will engage them to think about their behaviour, and their relationships with their peers and adults. For more information about the conference, click here. City of New Westminster will be hosting a community event to celebrate children's rights. The theme is "Children Helping Children…Celebrating Children's Rights" Children, families and community members are welcome to participate in a number of activities, including Play it Fair! games and contribute to a community mural on November 17 at Lord Kelvin Elementary; 1010 Hamilton St., New Westminster . For more information, click here. For the first year, Play it Fair! will be a featured resource for over 600 organizations, schools, and municipal agencies participating in National Child Day in Edmonton, Alberta! Children's Rights Awareness Week across Canada – November 18-24, 2012 – This year's theme is "Children Helping Children" The national campaign will engage Canadians across the country in the promotion and protection of children's rights. For more information, check out the Canadian Council of Child and Youth Advocates or the Children's Rights Awareness Week website For more information and resources about National Child Day, take a look at Public Health Agency of Canada's National Child Day page. Click here