September 25, 2014
In search of a better life, young Senegalese regularly board small fishing boats for a perilous journey to seek their fortune abroad through irregular migration. Spain is the usual destination, from where they will join family or friends already living in Europe.
This quest often turns into a nightmare with many lives lost on the way: dehydration, storms and capsizing are among the risks taken by these fearless travelers. Such was the case for the son of Yayi Bayam Diouf, a woman who lives in Pikine, a poor suburb of Dakar, Senegal, where people support themselves primarily through fishing. Yayi's only son was her pride and joy.  Unable to find work in the community, he dreamt of a successful life in Europe. The news was a shock; the boat capsized and her son, and the 80 others on the boat, died at sea.
This story was told by Yayi herself, head held high with a hint of pain in her eyes, during a training session on the rights of women and girls and their civic participation organized by Equitas and its partners in Pikine in early September.
She explained, to the attentive nods of the other participants, that irregular migration is worse in the suburbs, where poverty has destroyed the hopes of young people. Iba Sarr, from the Rencontre africaine pour la défense des droits de l'homme (RADDHO), described how  in the coastal suburbs of Dakar, where he works in partnership with Equitas, young people have little schooling and are faced with only two alternatives: fishing or emigration. Fish stocks have been declining yearly since 2006 and fishing has become less and less of an option: "Most families have lost someone in this way. I remember in particular, one incident where the bodies of 14 people from the same neighbourhood were brought back, leaving the community in shock. "
"Amid the sorrow, something inside of me just clicked"
Yayi began to think. Her son should have been able to make a life for himself in Pikine. She decided to share her suffering and became a voice for all those grieving mothers. Her advocacy has mobilized many women who, together, want to create a more vibrant community where young people can lead fulfilling lives in ways other than through traditional fishing. Thus began the Women's Collective against Illegal Immigration, an organization of 300 women from the district who have organized the profitable cultivation of grains and dyes and mussel farming. They even have their own credit bank. Their work has gradually become an economic powerhouse and a flagship project demonstrating that there is place for innovation in Pikine. By training young girls, in particular in mussel farming, these women also teach the girls entrepreneurship, explain their rights to them and most importantly, make them realize that it is possible for them to set up projects and make a living for themselves.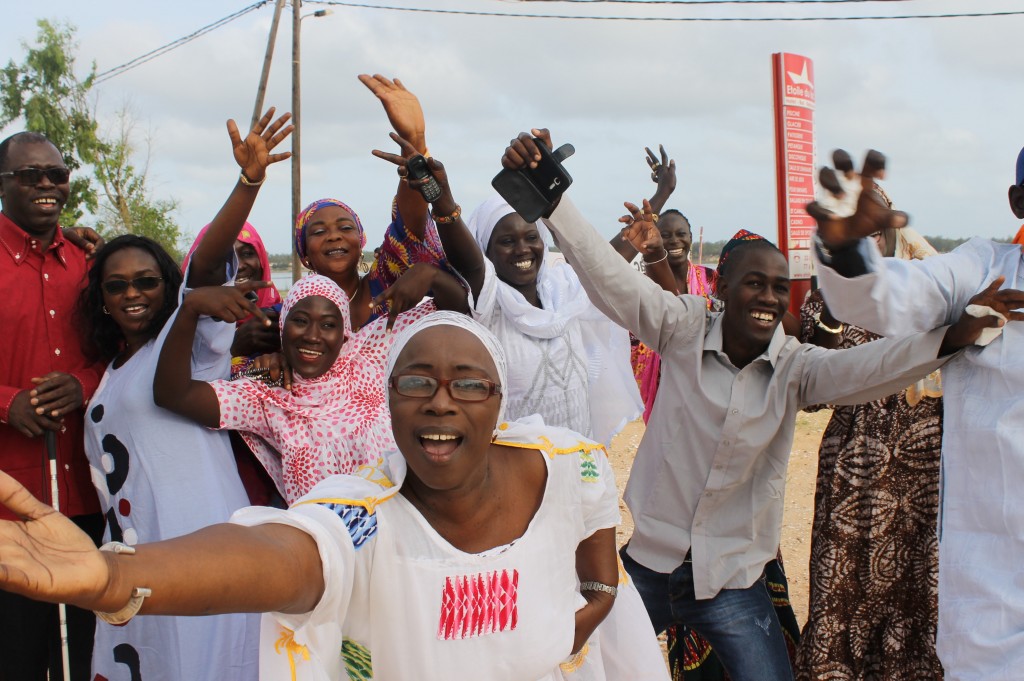 And human rights in all this?
Although Yayi's story is a successful one, it is also fraught with obstacles. In a society where men dominate, an association of women was first viewed with suspicion. Local traditions, dictating that women stay quietly at home, have been shaken up by this strong woman: "The first time I spoke to a high-ranking official, I had to use a thousand and one schemes to meet him, such as get myself invited to dinner by his fourth wife, to whom I had offered jewellery to get in her good graces," says Yayi. The high rate of domestic violence, lack of infrastructure and declining economic activities are all obstacles to the emancipation of Pikine. A good dose of creativity and determination are required to overcome them.
For this woman, who is now an elected member of the district council, human rights education is a natural outcome of her work. Today, she has taken up a new cause, with the help of Equitas and RADDHO, so that women and young people know their rights and that the State meets its obligations. At the end of five days of training, Yayi and members of seven other organizations in Pikine will embark on a major campaign so that youth, especially girls, become full citizens.
By Laura Cliche, a Program Officer at Equitas
This training session on the rights and participation of women and girls, organized by Equitas and its Senegalese partners, was made possible through a financial contribution from the Canadian Department of Foreign Affairs, Trade and Development as well as Aimia. It is part of Equitas' Strengthening Human Rights Education Globally project which aims to build communities that are safer, fairer, more democratic and more respectful of human rights.