JULIENNE LUSENGE – Democratic Republic of the Congo
This story is part of the series We are human rights changemakers to celebrate Equitas' 50th anniversary  (#Equitas50). All through 2017, we invite you to discover stories of 50 inspiring human rights changemakers. These are but a few of the hundreds who have changed lives around the world through human rights education with Equitas' support.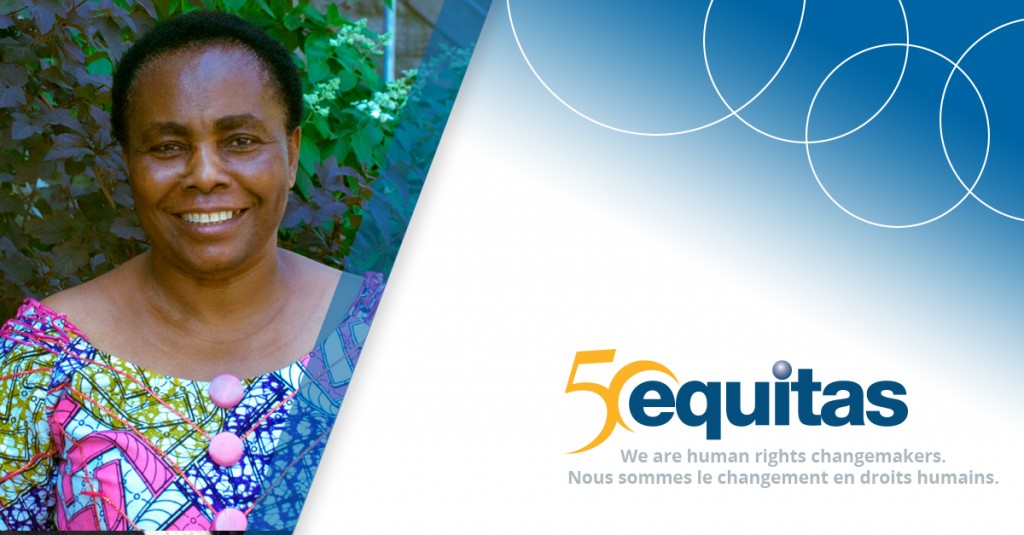 Julienne Lusenge first became aware of the suffering of victims of sexual violence in 2003, when she closely followed the case of a 3-year-old girl who was raped and murdered by 4 civilian adults. Her country, the Democratic Republic of the Congo (DRC), has experienced armed conflict for more than two decades. It is in this context that Julienne decided to dedicate her life to the assistance of women and children victims of forced displacement and serious violations of human rights, particularly sexual violence. Rape is used as a weapon of war and wars have exacerbated sexual violence in Congolese society. All armed groups commit rape, including individuals in security services and United Nations peacekeepers.
Her approach to fighting sexual violence: assist victims and raise awareness of the risks and consequences of violence, put an end to impunity for sexual crimes.
She connects with the public on the radio. She has joined a small group of journalists to break the isolation of remote populations that are often forgotten by the state. On the airwaves, Julienne promotes public awareness of human rights and particularly women's rights. Radio helps inform war-torn communities and victims of sexual abuse of where to seek help. " It is also a way to be able to shout 'No!' to war, " says Julienne. Through her radio shows she exposes the lack of services available to women who have suffered sexual abuse and who have been abandoned by their family and their community, which is unfortunately common.
In 2000 in Bunia, Julienne, in collaboration with 7 other journalists of radio CANDIP (Centre d'animation et de diffusion pédagogique) created the organization SOFEPADI (Solidarité féminine pour la paix et le développement intégral). Julienne is currently SOFEPADI's president and is working towards the organization's objective of reintegrating survivors of sexual violence into society. It organizes, among other things, training for survivors on different themes: leadership, legal protections for women, and conflict resolution. " But training is not just for women. We also promote gender equality among traditional leaders, judges, police officers and youth. The results of these training sessions are clear to Julienne. She already perceives a change of attitude towards the victims of sexual violence and a reduction of stigma:
" When people realize that all women are at risk for sexual assault, survivors are less likely to be left on their own."
According to Julienne, human rights education for Congolese women is also a " tool for transformation ", because it allows them to become agents of change, rather than only being victims. Julienne, affectionately nicknamed "Mother Julienne", is extremely proud of the women she supports in their legal proceedings. Through training provided by SOFEPADI, women survivors of sexual violence raise their voices to challenge judicial decisions that affect them, directly before judges. " They become aware of their rights and fight to defend them, regardless of where they come from and their level of education. "
Julienne participated in Equitas' International Human Rights Training Program (IHRTP) in Montreal, Canada, in 2005. It was an incredible feat for her to get a visa and to travel from a country at war. Since that training, she has helped several of her Congolese colleagues attend the IHRTP in Montreal.
"The training gave me more energy and knowledge to continue my work. The concepts of international law have improved my understanding of pleading. I will never forget the chapter that explains how all rights are interrelated."
When she goes to give a speech before the United Nations about the situation of Congolese women in the context of war or even give a conference at the World Social Forum, Julienne knows how to make use of the concepts learned during her experience at the IHRTP. Her incredible presence also resonates with her message for the return to peace in her country and the inclusion of women in this process.
Thanks to SOFEPADI and to the hospital it founded, more than 4,355 survivors of sexual violence have benefited from holistic care, have received training, and have become activists from 2010 to 2016.  When her colleague was physically assaulted and she and her family had to be relocated three times for their safety, Julienne continues the fight to give a voice to Congolese women and battle impunity of the sexual crimes that they experience.
---
JULIENNE LUSENGE – Democratic Republic of the Congo
President, SOFEPADI – Solidarité féminine pour la paix et le développement intégral
Equitas' International Human Rights Training Program (IHRTP) Alumnus, 2005
---
Story prepared by Paule Portugais-Poirier, Communications intern, Equitas.
Equitas' International Human Rights Training Program is undertaken in part with the financial support of the Government of Canada provided through Global Affairs Canada.
Did you like this story? Give us your support! Even the smallest donation contributes to big impact in Canada and around the world.