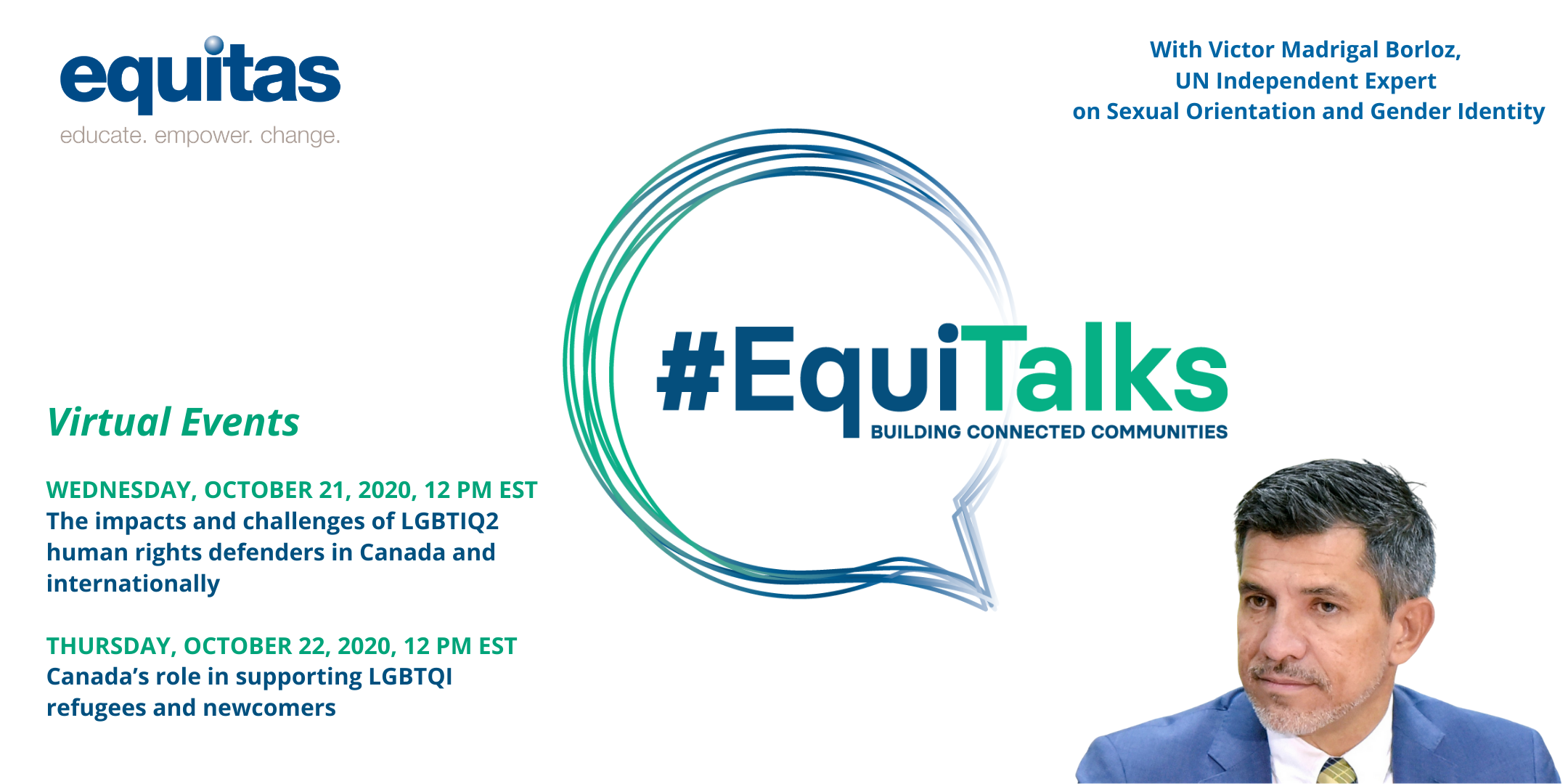 Equitas is pleased to invite you to two online panel discussions with Victor Madrigal Borloz, United Nations Independent Expert on Sexual Orientation and Gender Identity.
Our guest of honour
As a UN Independent Expert, Victor Madrigal Borloz assesses the implementation of international human rights law, raises awareness, and provides advisory services and capacity-building to help address violence and discrimination against persons on the basis of their sexual orientation or gender identity.
"There are 2 billion people that live in environments where homosexuality has been criminalized, and whoever is born an LGBT person will be born a criminal, due to factors that are not under her or his control and have to do simply with who they are and who they love. My dream is to see a world free of criminalization of same-sex relations by 2030."– Victor Madrigal Borloz
#EquiTalks
These inspiring talks will focus on important issues faced by LGBTQ2I communities in Canada and around the world and how we can all contribute to building more equitable and inclusive communities. A diverse panel of Canadian activists working to promote and protect the rights of LGBTQ2I communities will engage with Victor Madrigal Borloz. The events will conclude with a Q&A session with the audience, followed by an optional virtual networking event.
JOIN US FOR :
With your support, Equitas strives to build more inclusive communities, all while amplifying the voices of human rights defenders.

But there is still so much to do. 
To support these events and Equitas' mission of advancing equality, we invite you to donate according to your ability to give. Donations of $20 or more will be eligible for a tax receipt.
All voluntary contributions from the event will go to support Equitas' human rights education in Canada and across the globe.
Equitas notes the limitations of the LGBTQ2I acronym to denote the vast experiences of diverse sexual orientations, gender identities and gender expressions and uses it in its broadest, most inclusive sense.  We acknowledge and support everyone's right to use the words or phrases to describe themselves that feel right to them.
About Equitas
Equitas is Canada's most recognized and active human rights education organization. We work for the advancement of equality, social justice and respect for human dignity through transformative education programs. We empower people to address inequities and discrimination, and to work to build safer and more inclusive communities.
About the 
EquiTalks
The EquiTalks are brought to you by The Ready Commitment, a multi-year program of TD Bank Group that aims to help individuals and communities prosper. As part of this program, TD funds Equitas' events and programs with youth across Canada in order to build a more inclusive and sustainable tomorrow.
Contact
For more information, please visit www.equitas.org or contact Laetitia Viard (lviard@equitas.org), at 514 954-0382, ext. 224