Equitas' engagement in Asia began when human rights defenders and educators began attending the annual International Human Rights Training Program (IHRTP) in the nineties.Since 1994, there have been over 300 participants from over 20 different countries in Asia. Activities in the region began in 1996 and, with the help of a series of alumni meetings, Asia quickly developed as one of the most active regions for Equitas programming. Historically, Equitas programs have also had a strong focus in Indonesia dating back to some of our first activities with the National Commission for Human Rights (Komnas Ham) in 1997. Equitas programs in Asia have focused on the following issues:
Legal Protection of Women Migrant Workers
Building Capacity for Monitoring and Advocacy
Protection of Minority Rights and Defending Diversity in South Asia
Training of Trainers and human rights educators
Creation and Strengthening of independent National Human Rights Institutions
Human Rights Training for Government Officials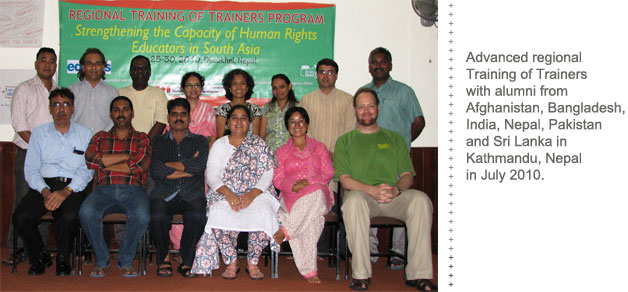 Visit the National Human Rights Institutions page for more information.
Visit the Migrant Workers page for more information.
Some Results
In the Philippines, Rowena Legaspi, Director of the Children's Legal Rights and Development Center, who attended the IHRTP in 2002, credits her participation in the IHRTP on developing her knowledge and skills as a human rights educator. She put them to use as her organization spearheaded a campaign to pass the Juvenile Justice Bill in 2006. Rowena is also working with other Filipino alumni as part of the Pinoy IHRTP Alumni network that designs and delivers an annual National Human Rights Training Program drawing on the IHRTP's participatory methodology and their common experience of the training program in Montreal.
In Bangladesh, IHRTP participants from the Community Development Centre (CODEC) in Chittagong began transforming their education programs, incorporating knowledge and methods learned in Montreal. The human rights awareness of the people, local authorities and law enforcement officials in coastal villages increased dramatically. These traditionally marginalized communities have been mobilized and empowered to claim their rights.
Current Activities
South Asia: As part of the Global Human Rights Education Program, Equitas is working with alumni of the IHRTP from South Asia (Nepal, India, Bangladesh, Sri Lanka, Afghanistan and Pakistan) to reinforce their capacity to design and deliver effective human rights education programs. Two Sub-regional Human Rights Training Sessions are planned before 2013. They will be designed and delivered by IHRTP alumni with coaching and support from Equitas. Preparatory activities include a regional Training of Trainers workshop (Kathmandu, August, 2010), local human rights education activities carried out by participants in the ToT and a series of planning and evaluation meetings.
Indonesia: Visit the Indonesia page to find out more about our current activities as part of the Global Human Rights Education Program, working with government officials and new programming for children.
Resources
Human Rights Education and Promotion: Building the Capacity of the National Human Rights Commission Training of Trainers II (PDF 1.33 MB)
17-21 May 2006
Kathmandu, Nepal
National Human Rights Institutions at Work: Asia-Pacific Workshop on Women's Economic, Social and Cultural Rights (4)  (PDF 2.05 MB)
22-27 January 2006
Manila, the Philippines