Equitas alumnae have vision of strong, active, influential up-and-coming generation in the Middle-East and North Africa.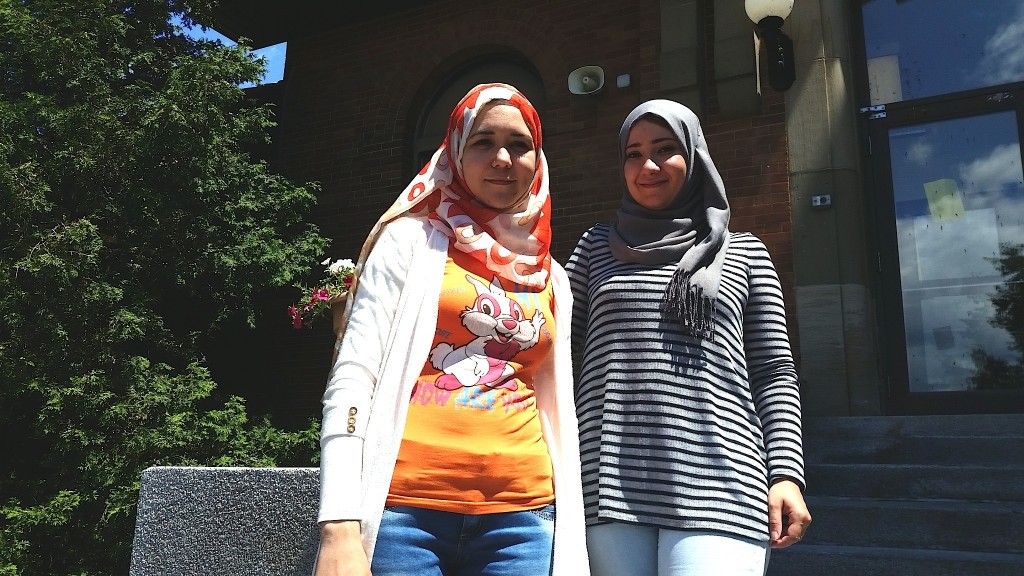 Tasneem Alhmooze and Maria Difallah at the 2015 Equitas International Human Rights Training Program in Montreal, Canada.
Youth are the future of our global society. They are often looked to as those who will build a better tomorrow. It takes the right tools to build something new, and this cannot be fulfilled if those bestowed with the task do not have access to the necessary means to make it happen. This concept of community and youth involvement is something that International Human Rights Training Program alumnae Tasneem Alhmooze of Jordan and Maria Difallah of Algeria both place a large emphasis on in their work within their respective organizations. Tasneem works with the Arab Network for Human Rights & Citizenship Education (ANHRE) in Jordan, a regional partner in Equitas' Mosharka project in Middle East and North Africa. —— RELATED: Tasneem is a participant at the Regional Youth Forum Mosharka: Let's Work Together organized by Equitas and its partners (Amman, Jordan – September 1-2-3, 2015). Read about it here > —— In her work with ANHRE on the Mosharka project, Tasneem applies the Equitas participatory approach to conduct workshops with youth focused on the topics of democratic citizenship and human rights education. They encourage community leadership, and help connect youth with local organizations in which they can become active, contributing members.

Tasneem says the results are palpable, and that if youth have the proper guidance and confidence building opportunities, they will step up and deliver. In the city of Madaba, trainings have spurred many innovative youth initiatives. One of those initiatives is focused on the right to choose a field of study when pursing higher education.
"We didn't know that this was such a problem, and they said all the youth are suffering from this problem because they have to choose something they don't want to do because they want to obey their father, their mother, or their community in general," Tasneem explained.
Supported by ANHRE, youth in the city of Madaba began offering counseling services in about 20 schools. They spread the word about the importance of choosing and paving one's own path. Over 1,600 students have been reached, and youth are currently working on a scripted film that can be used in the campaign. ——
RELATED
:
L'éducation pour promouvoir les droits de la personne en Jordanie (Le Devoir, June 26, 2015).

Read more on Tasneem and her work here (in French) >
  ——  
Maria Difallah's organization, Sétif Empower Youth Association (SEYA), focuses on very similar issues. SEYA, which was created by Maria three years ago, focuses on providing training and workshops for youth on leadership, education, and entrepreneurship. Maria, who recently graduated from medical school and is a certified MD, says that the educational system in Algeria does not put enough emphasis on key soft skills that will help youth excel in the workforce. Sétif Empower Youth Association aims to fill that gap, providing career counseling for youth, and trainings that walk youth and recent graduates through the art of CV writing and crafting letters of intent. One of the programs, Young Arab Voices, focuses on developing communication and debate skills, strengthening the critical thinking of young members, as well as their ability to present their ideas.
"When we started this training program the girls were shy and they did not have self-confidence," Maria explained.  "After the training program you can see that they are more self-confident, they have new skills, and they improved their research skills on political and social issues."
Tasneem agrees that it is important to put emphasis on this know-how. This is especially true for young women, as the cultural environment creates obstacles for their participation in the community.
"For the girls, when they join our organization the problem is that it is not acceptable because if she is a girl she has a responsibility at home so she cannot participate in the events," Maria explained of the situation in Algeria.
She says that she has felt the effects of these societal norms first hand.
"When you create your own NGO and you are a young woman, you don't find a lot of support for your vision," she explained. "You want to deliver the message and sometimes you feel the other side does not receive the message as you want."
This is where Tasneem hopes the participatory approach learned from Equitas will help not only train youth, but also change their way of thinking and make it accepted that they are valuable members of society. This approach really puts emphasis on the participant's own experiences and ideas, building upon what they already know, and giving youth the responsibility for their own learning.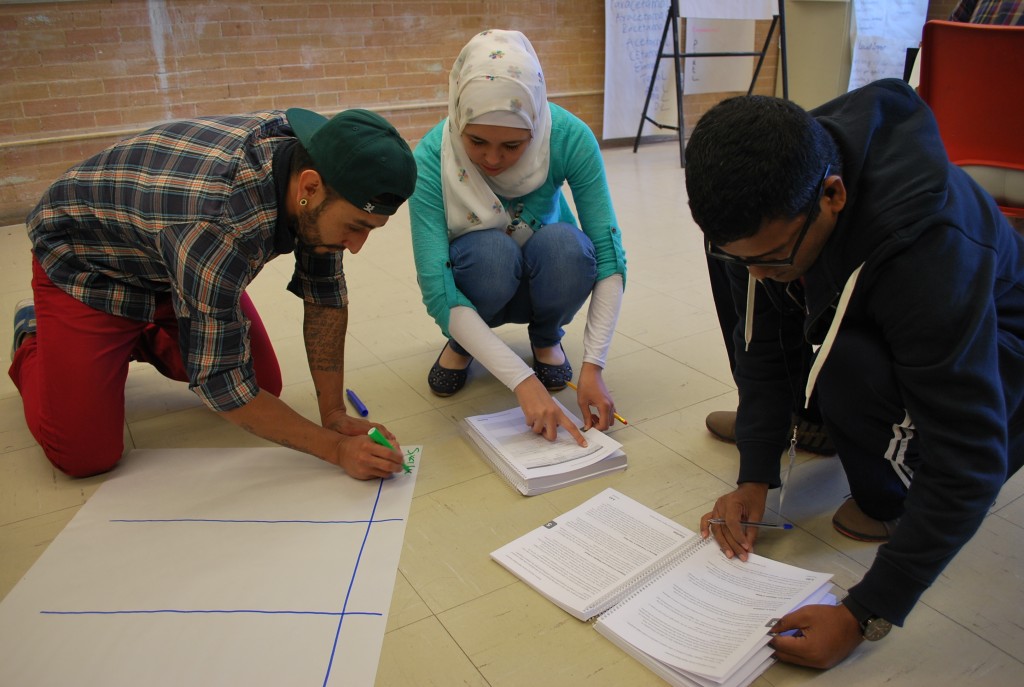 "We remind them that this is not our project, this is their project. I tell them 'remember that this is not me or my supervisor who decides, you decide, your role is very important," Tasneem explained.
Human rights training A large aspect of working in human rights activism and education is meeting with other organizations that are working towards the same ultimate goal. Maria and Tasneem swapped stories, experiences, and learned from each other's work when they met this past June during Equitas' IHRTP. ——
RELATED
:
Learn more about
Equitas' International Human Rights Training Program
here >
  ——  
While Maria learned a lot in the classroom during the IHRTP, she is also thankful to have spent the three weeks surrounded by human rights leaders with plenty of knowledge to share.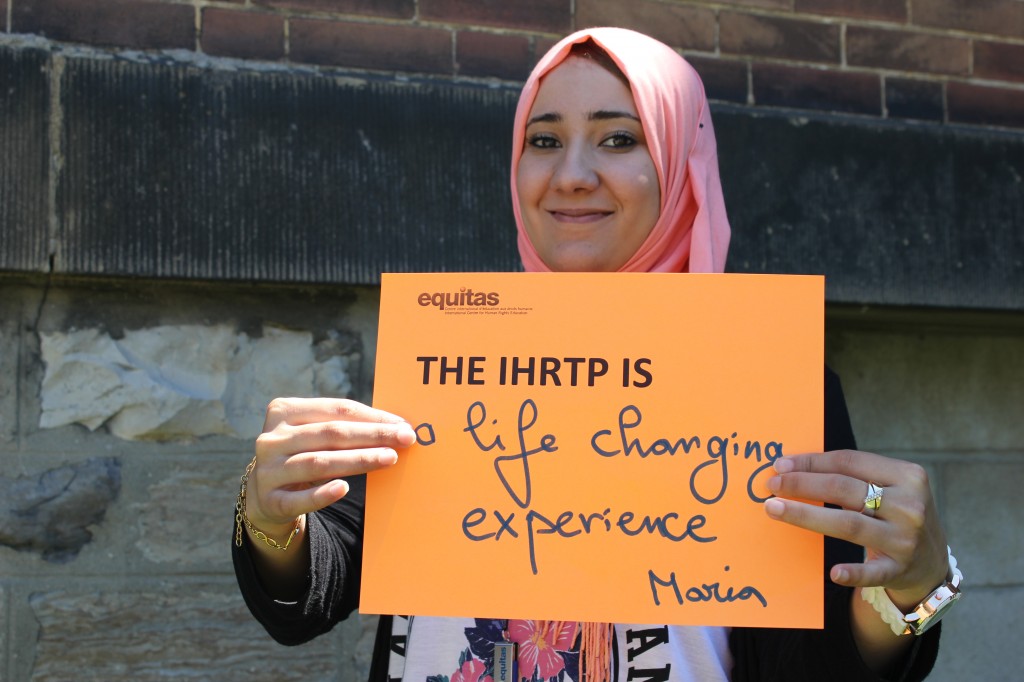 "They have this huge amount of experience, and they have some concrete examples from where they work that I can use in my work," she explained. "We will keep in touch to share our projects and in the future to maybe collaborate."
Both Maria and Tasneem believe there is a lot of work to be done, but following the Equitas training, they are ready to keep pushing their causes, and are returning to their work with a fresh perspective on human rights.
"This IHRTP training gives a chance to interact with people from other cultures, to know what they think, their attitudes towards you, towards the world, and this increased diversity inside me. Now I can understand people better than before," Tasneem said.
By Casandra De Masi, web editor and communications intern at Equitas +++
Did you like this story? Follow us for more! Equitas provides individuals the necessary tools to shape attitudes and positive behaviours. Give us your support! Even the smallest donation contributes to fulfilling Equitas' mission. 

See how

>