March 11, 2015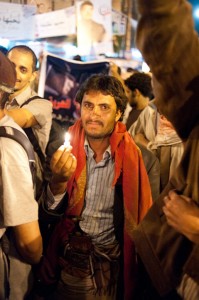 The power of a voice can be revolutionary. The ability to share ideas and band together for a common cause and the greater good is a very unique facet of humanity, and over the years this practice has grown. As the gap between us grows smaller, the voices grow louder. We're connected now more than ever before, giving power back to the people and to human rights activists.
Facebook currently has over 1.23 billion monthly active users, and about 757 million daily users. With Twitter, we're looking at about 288 million users worldwide.  That's a lot of people, and a lot of connecting, talking, tweeting, sharing, liking, messaging, and selfies. While social media is sometimes shunned for its fickle nature, it has proven to be a truly powerful storytelling tool, especially for human rights activists working globally.
Human rights education and advocacy thrives on connection: civil society connecting with each other, activists in dialogue with government, and all of this happening on a platform that is widely accessible. This type of mobilization is a key factor in the success of human rights work, especially when rallying people for a common cause.
During the Arab Spring, social media usage in the Middle East skyrocketed. It's important to recognize social media as a tool and not the cause of the revolutions, according to IHRTP alumnus Alaa Jarban, who was an active blogger in his native Yemen during the time. Jarban says that he and his friends were taken by surprise during the uprisings in Tunisia.
"When we saw the real influence of what they were doing by protesting and speaking out for their rights against the government, we all were very influenced by it. I remember I was chatting with my friends in Tunisia and said I want to start something like this in my country," he said.
That's exactly what he did. The Yemeni youth banded together with this idea of change, progression, and using their voices. Jarban and his friends organized a protest through Facebook.
There were a couple hundred people at that protest, but from there on it continued to grow. As more protests were planned, Jarban found himself live tweeting in both English and Arabic. His videos were used by major news organizations like CNN and Aljazeera. Social media became a tool of empowerment, handing the reins over to the citizens and giving them the platform they needed to rise above the government.
Many protesters and activists find themselves in hostile environments when expressing their opinions and beliefs, and Jarban thinks it is important that their actions are not done in vain.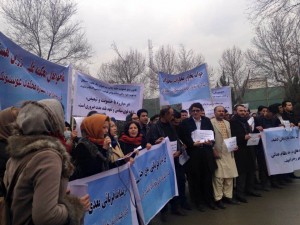 "Citizen journalism is very important because we were in a situation that was very dangerous and we had clear demands and support from people, but it wasn't really shown," Jarban said. "It was very important for us to use social media to express that."
While social media facilitates the sharing of information within civil society, it is also a valuable tool that can be used to hold the government accountable.
Over in Afghanistan, former IHRTP participant and human rights activist Omaid Sharifi uses social media in all aspects of his work. Sharifi is a man of all trades, but focuses heavily on women's rights. Recently, he and a large group of civil society activists came together to organize a protest to condemn the recent increase in violence against women in Afghanistan.
The protest took place in front of the Supreme Court of Afghanistan on February 23, 2015, and 30 different media outlets were present.
"From the first step of organizing the chat online, to the consultations, to sharing information on the cases of violence, it was all happening through Facebook and Twitter," he said.
Sharifi sees social media as a strategic tool to pressure the government into enacting the change the people want to see. The beauty of social media is that everyone is connected, and if the online voice is loud enough it can be hard to ignore.
 "It is sort of a game of name and shame. If they [the government] don't act on it or take a stand against it, then there will be big shame for them because people will talk about it, everybody will share it, and this is a big psychological pressure on the minds of the people who are involved, specifically in the government," he said.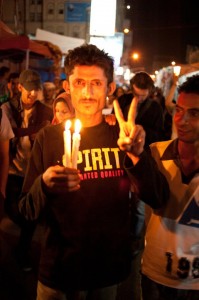 IHRTP alumnus Ronnie is an activist for the rights of the Rohingya people in Burma. The Rohingya are a Muslim ethnic group living in Rakhine, Burma. They were declared stateless by the Burmese government in 1982, with the passing of a citizenship law. They find themselves living in displacement camps, labeled as illegal immigrants from Bangladesh.
Ronnie saw this idea of pressure through social media first-hand during the census in Burma last year, the first in 30 years in the country.
"The Burmese government wanted to label us as Bengalis to deny our ethnic and citizenship rights as Rohingyas," he said.
Through the use of social media, many organizations were able to shed light on the flaws within this census, and how the government was denying the Rohingya population from self-identifying as their proper ethnicity.
Ronnie believes that social media empowers people because they also feel like they are doing their part. He has also noticed that the old-fashioned practice of hearing about things through the grapevine plays a direct role with social media. People speak and share ideas daily, and that includes sharing what you've read online.
"We noted that the information passed through social media ultimately reaches those who don't have access to Internet, because people always share the information with their peers," he said.
The consequence of free speech
While the Twittersphere has proven to be a valuable asset to human rights causes, not everyone using social media has good intentions. Jarban knows the dangers of social media all too well. He faced personal death threats back in Yemen following a blog post where he spoke openly about his sexual orientation.
He continued to use his blog as a platform for those who wanted to speak openly and anonymously about their experiences and struggles with identity.  It got to the point where his personal information was posted online, a threat to his family as well. He then shut down the blog, and after his visit to the IHRTP in Montreal, he decided to seek refuge in Canada.
"I expected some bad or negative feedback, but not as bad as it happened. It was very shocking for me," Jarban said.
Accessibility can also be an issue for some. In Afghanistan, electricity outages in even the most elite parts of the country and cost of Internet, especially for young university students, can make it hard to stay online.
"65% of the Afghanistan population is under the age of 25, so you're talking about 30 million people. That's around 18 or 17 million young people who should be using the Internet," Sharifi believes. "But if you look at the estimated users of social media in Afghanistan, it's around 2 million or even less."
Sharifi believes that social media is a crucial tool for these changing countries, and wants to see this number grow.
"My country is going through a transition, so social media is important because we really want to raise our voice, take a stand, and the only platform we have right now is social media," he said. "So we will continue using it, and we will always try to find a way to influence mainstream politicians to really make sure the rights of the people, and women's rights, are respected."
Human rights training 
As more and more countries are finding themselves connected, the Internet and social media are becoming an important means of connection to discuss human rights. The number of human rights educators using social media is on the rise, with an increasing number of Equitas IHRTP participants effectively using it in their work. Equitas training equips participants with the tools and skills needed to take their social media use to the next level in a context of human rights education.
Equitas IHRTP training has had a heavy influence on all three activists. For Jarban, the training helped with his organization when it comes to overseeing personal projects, something all participants have to do. He now volunteers with the Canadian Council of Refugees, and provides training for young newcomers to Canada.
"Last summer in Toronto, I did a few workshops on human rights, and also talked about how to use social media, how to do to campaigns for issues that they face in their local communities. So many of the things I gained from Equitas are being shared with the communities that I work with," he said.
Omaid's training has allowed him to become much more efficient as a facilitator.
 "It's very basic changes, from how I set up my classrooms, how I set up the lighting and heat, how I directly have eye contact with my students, listening to questions, working in groups, all these things I learned in Equitas training," he said.
By Casandra De Masi, web editor and intern at Equitas
Did you like this story? Follow us for more! Equitas provides individuals the necessary tools to shape attitudes and positive behaviours. Give us your support! Even the smallest donation contributes to fulfilling Equitas' mission. See how.
Learn more about Equitas IHRTP Program.