THÉRÈSE CASGRAIN  ̶  Montreal, Canada
Co-founder of Equitas
This story is part of the series We are human rights changemakers to celebrate Equitas' 50th anniversary (#Equitas50). All through 2017, we invite you to discover stories of 50 inspiring human rights changemakers. These are but a few of the hundreds who have changed lives around the world through human rights education with Equitas' support.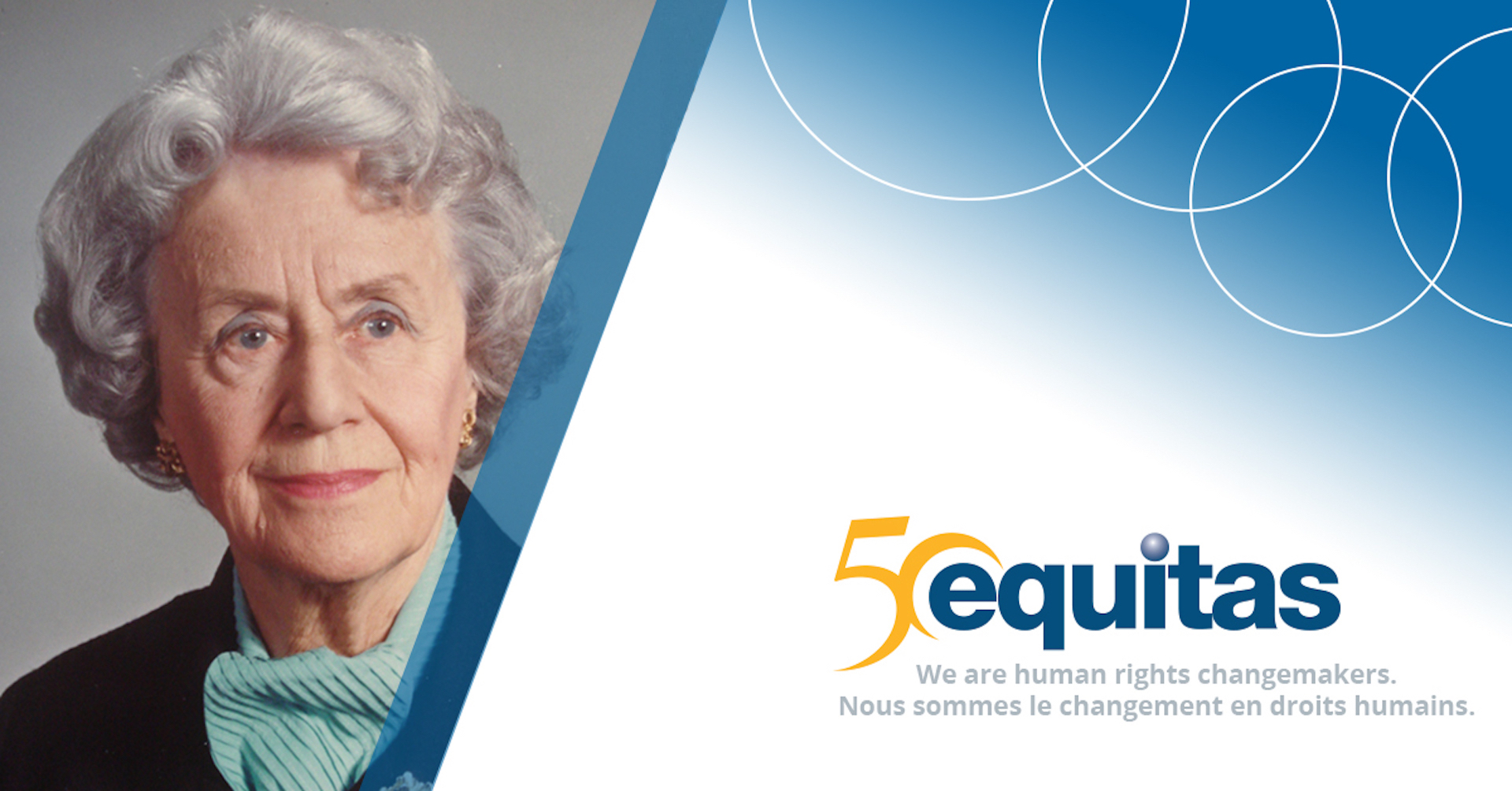 In 1967, a group of eminent Canadian scholars and social activists founded a non-profit organization formerly known as the Canadian Human Rights Foundation, known today as Equitas. With the stong belief that education in the field of human rights would lead to more social justice, the founders created Equitas to transform that belief into reality. Among the men at the origins of Equitas, including John P. Humphrey (the co-drafter of the Universal Declaration of Human Rights) and Dr. Gustave Gingras, we find one woman: Thérèse Casgrain.

The name of Thérèse Casgrain is emblematic of Quebec's recent history. Born in Montreal in 1896, Thérèse Casgrain pushed back the barriers of women emancipation in Quebec and paved the way for rights, such as women's right to vote in Quebec and the right to access higher education, which we too often forget that they were granted only a few decades ago.
When reading her many profiles, one cannot help but be impressed by her achievements. But it is in talking with her granddaughter Lise Casgrain, that we really understand Thérèse Casgrain's character, especially her courage, her devotion and even her stubbornness!
"You could not say no to her. On the contrary, when she was told no, it was enough to motivate her even more to pursue the cause she wished to defend!" explains Lise Casgrain.
It is to this determination that we owe many of the positive changes for women in Quebec, and obtaining the right to vote in 1940 is undoubtedly one of the most significant.
Thérèse Casgrain's involvement in politics was also punctuated by ten election campaigns, even becoming the first woman in Canadian history to run a political party, when she was the leader of the Co-operative Commonwealth Federation (CCF) in Quebec in 1951, which later became the New Democratic Party (1961). She also founded the Provincial Committee on Women Suffrage in 1921, chaired the League for Women's Rights from 1928 to 1942, was elected President of the League for Women's Rights in 1929, and founded the Quebec Women Federation in 1966, to name but a few of her many achievements.
Examples of her achievements and audacity abound. In 1917, for example, Thérèse Casgrain made a presentation that was originally to be given by her husband, Pierre Casgrain, federal Liberal MP, who had fallen ill that day. In what was inconceivable for a woman at the time, she went to an election rally in Baie-Saint-Paul and gave the speech in place of her husband. This speech was also decisive for Thérèse Casgrain, because it allowed her to make herself known to the activists for the right to vote and led her to get involved in politics.
Thérèse Casgrain did not lack ideas on how to draw attention to the causes she was defending. As she fought for the right to vote for the women of Quebec, "she had red roses sent to the Premier of Quebec. Nothing stopped her. This threw people off. She was never a traditional person."
No matter the cause, she found ways to be heard and her strategies did not lack originality. She was well-known on the political stage, a reputation she knew how to use wisely.
In 1945, under the government of Mackenzie King, Thérèse Casgrain objected to the fact that the new family allowance cheques would be sent to fathers in Quebec, while it was mothers who received them elsewhere in Canada. When a cause was close to her heart, she always knew who to call and did not hesitate to do so. She then communicated personally with the Prime Minister, who knew her reputation and knew she was in a position to make a difference. As a result, the project was quickly reviewed and family allowances were then sent to women in Quebec.
Thérèse Casgrain also showed great openness to the opinions of others. She enjoyed debates and shared ideas. As Lise Casgrain says, "we talked about everything, there were no barriers. It was also known that when she entertained, it was always a surprise. It would always be a very interesting evening." She once had, at the same table, Jean Cournoyer, former Quebec Minister of Labor and Gilles Vigneault!
Although today we remember mainly Thérèse Casgrain's role in advancing women's rights, Lise Casgrain points out that her grandmother also fought for men, families, minors, the living conditions of prisoners, textile workers, the miners of Asbestos and the elderly. She wanted to change Quebec society and Canada as a whole and improve the living conditions of all citizens.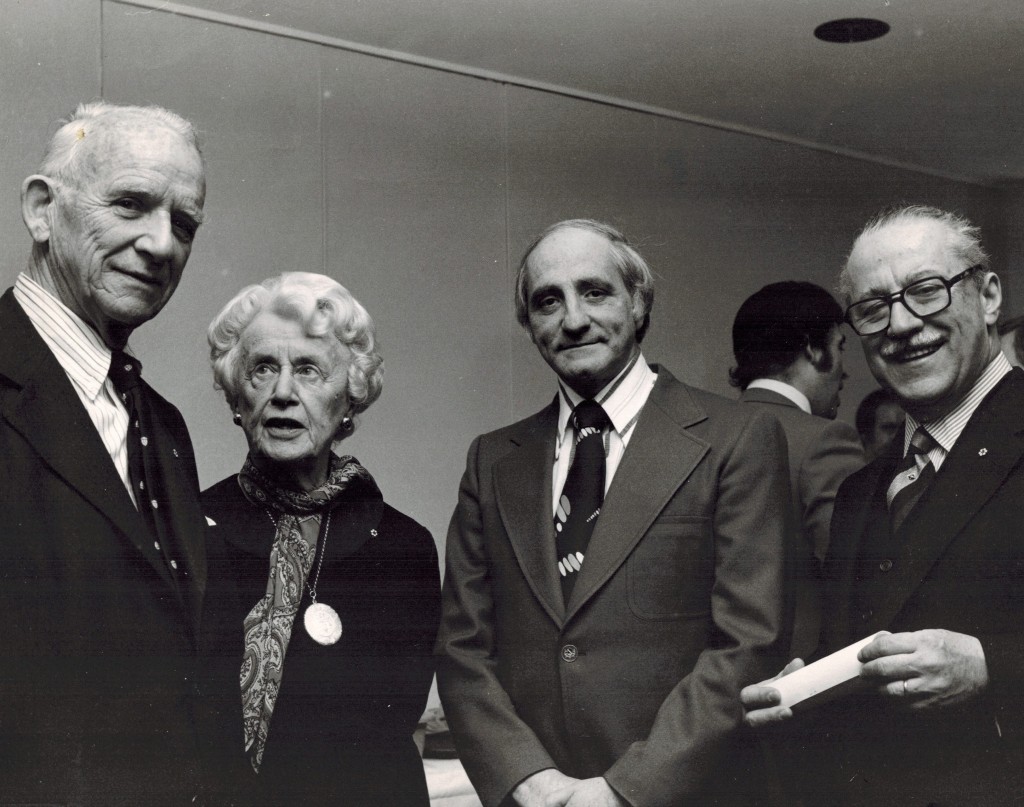 Photo: The Equitas co-founders – John P. Humphrey (left), women's rights activist Thérèse Casgrain (centre) and the "ambassador of persons with disabilities", Dr. Gustave Gingras (right)
It is undoubtedly this interest in human rights that led her to be the chair of the Human Rights League three times and to co-found the Canadian Human Rights Foundation in 1967, (now known as Equitas), alongside prominent academics and social activists such as John Humphrey, co-author of the Universal Declaration of Human Rights, and Dr. Gustave Gingras, "Ambassador of the Disabled". Her involvement knew no borders. In 1961, she founded the Quebec division of the Voice of Women, a movement dedicated to peace in the world. She also participated in planning aid delivery to victims of the Vietnam War.
Towards the end of her career, Thérèse Casgrain was appointed to the Senate of Canada in 1970 but had to retire in 1971 at the age of 75.
To a journalist who asked her when she was appointed to the Senate "What do you expect to accomplish in 9 months in the Senate?", she replied with the humor that was known to her: "Young man, you would be surprised to learn what a woman can do in nine months!"*
The legacy of Thérèse Casgrain, who relentlessly pursued her social and political actions until her death in 1981, is still felt today. Her accomplishments are a source of motivation for younger generations who continue to mobilize for social justice and the rights of women, families and the poor. This is a moving tribute for her granddaughter Lise Casgrain, who states, not without a bit of emotion: "For me, my grandmother is an inspiration. We, her grandchildren, cherish that her work is alive today."
---
THÉRÈSE CASGRAIN  ̶  Montreal, Canada
Initiator of the movement for women's right to vote in Quebec
Founder of the Quebec Women Federation
Co-founder and member of the Board of Directors (1967-1981) of the Canadian Human Rights Foundation (now Equitas)
---
Story narrated by Lise Casgrain, granddaughter of Therese Casgrain, and prepared by Alex Chartrand, communications intern, Equitas.
* Anecdote told by Madam Jeanne Sauvé. http://www.fondationtheresecasgrain.org/documents/pdf/Biographie-Therese-Casgrain.pdf
Did you like this story? Give us your support! Even the smallest donation contributes to big impact in Canada and around the world.