Advancing Equality Through Human Rights Education in Burkina Faso
The ultimate goal of the Advancing Equality project is to increase the empowerment of women and girls to advance gender equality. In Burkina Faso, reaching this goal implies promoting women's inclusion and participation in decision-making processes. The project focuses on strategies to address social norms and deconstruct gender stereotypes that enable practices that harm women and girls and limit their empowerment.
The situation today
In Burkina Faso, many efforts are being made to protect women and girls' human rights. However, some realities indicate obstacles to their fulfillment :
52% of young women are married before 18
13% of women in Parliament
95% of girls in primary school, 40% in secondary, 4% in tertiary
Our approach
The Project adopts a participatory approach to advance gender equality that includes:
Knowledge and capacity-building
Training on human rights and gender equality

Community initiatives and forums
Collaboration
Awareness-raising campaigns
Support to networks and coalitions
Engagement with decision-makers
Joint actions on human rights and gender equality
Dialogues and forums
Learn more about our work in Burkina Faso
The planning and implementation of the Advancing Equality through Human Rights Education program is done in cooperation with the target communities in Burkina Faso. Thus, community members have been consulted and have themselves outlined the most pressing gender equality issues in their communities through data collection conducted by Equitas and its local partners during the baseline study. The data collected were subsequently shared back to the communities and validated by them as truly reflecting the issues they had raised. Through human rights education, Equitas will provide them the tools and skills needed to achieve the desired change.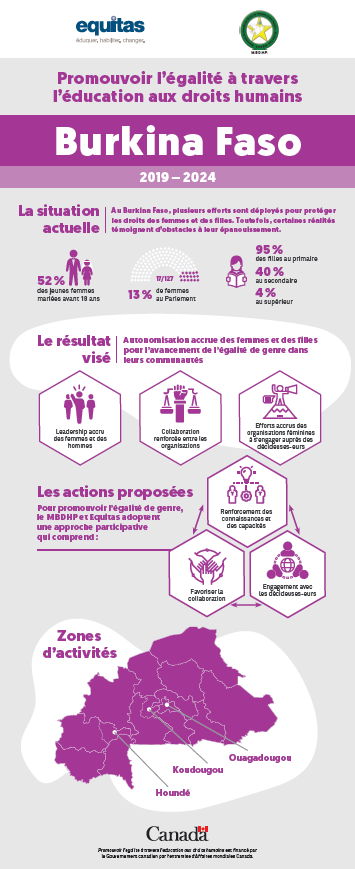 Equitas works in Burkina Faso with Mouvement burkinabé des droits de l'homme et des peuples (MBDHP).
Our work in Burkina Faso is part of Advancing Equality through Human Rights Education project, funded by the Government of Canada through Global Affairs Canada (GAC).