(English version follows)
Como parte del programa Fortalecimiento de la Educación en Derechos Humanos a nivel Mundial (FEDHM), Equitas está trabajando por un mayor respecto de los derechos humanos y de las prácticas democráticas.
Para más información haga click aquí
Próxima actividad:
La convocatoria para aplicar a la Primera Sesión Nacional de Formación (Marzo 2016) se encuentra abierta e invitamos a organizaciones de la sociedad civil colombiana que trabajan por el cambio social a enviarnos su aplicación a más tardar el 29 de Febrero de 2016 al correo fedhm@equitas.org. La información general del programa, así como el formulario de aplicación se encuentran disponibles aquí en Español:
Actividades recientes:
Abril 2015:
Un estudio de línea de base fue llevado a cabo en las comunidades piloto de Usme (Bogotá) y Soacha (Cundinamarca) para mejor comprender las oportunidades y barreras que hoy existen con relación a la participación efectiva de mujeres, niñas, niños y jóvenes en su comunidad. Los y las participantes del estudio manifestaron que, según su percepción, las principales barreras a las que se enfrentan estos grupos son: (1) estereotipos y percepciones negativas hacia los jóvenes; (2) discriminación basada en género y violencia contra la mujer; y (3) la exclusión de las niñas y los niños de la toma de decisiones.
Noviembre 2015:
Un evento de socialización fue llevado a cabo en cada comunidad piloto para compartir y validar con un número más amplio de miembros de la comunidad los hallazgos del estudio de línea de base. Bajo la forma de una Exposición de Afiches, participantes de los grupos focales lideraron la actividad al presentar los resultados del estudio a sus vecinos, amigos y otros miembros de su comunidad. En general, los y las asistentes consideraron que los resultados del estudio si reflejan aspectos de la situación de su comunidad y enfatizaron en la importancia de involucrar a una diversidad de grupos marginados en las actividades del proyecto FEDHM.
El Informe de Estudio de Línea de Base se encuentra disponible aquí en Español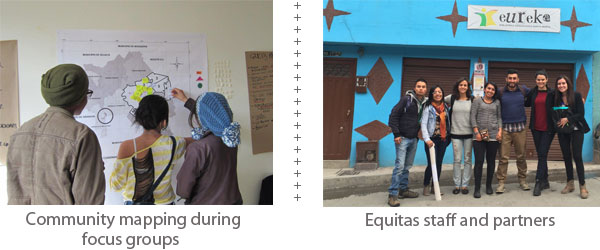 OTRAS ACTIVIDADES EN COLOMBIA
Formación a Formadores 2012-2013: 12 jóvenes líderes.
Programa Internacional de Formación en Derechos Humanos (PIFDH) 1995-2015: 17 ex-alumnos.
Sesión de Formación Regional 2009-2010: 1 exalumno
 ACTIVIDADES EN LA REGIÓN
Reunión Regional de Ex-alumnos (Quito, 2009): 10 exalumnos
Taller avanzado de formación en Educación en Derechos Humanos (Quito, 2010): 10 exalumnos
Taller de Evaluación (Perú, 2010): 10 exalumnos
Programa Internacional de Formación en Derechos Humanos (PIFDH) 1994-2015: más de 200 ex-alumnos.
 RECURSOS
Colombia (English)
As part of the Strengthening Human Rights Education Globally (SHREG) project, Equitas is working for a greater respect for human rights and democracy.
Learn more > (in Spanish)
 Next activity:
March 2016:
The call for applications for the first National Training Session (March 2016) is currently open and we invite Colombian civil society organizations that promote social change to send us their applications by February 29th, 2016 to the e-mail address fedhm@equitas.org. The General information about this training program, as well as the application form are available here in Spanish:
 Recent activities:
April 2015:
A baseline study was carried out in pilot communities of Usme (Bogotá) and Soacha (Cundinamarca) to gain a better understanding of existent opportunities and barriers to the effective participation of women, children and youth in their community. According to study participants, the main barriers to participation faced by these groups are: (1) stereotypes and negative perceptions of youth; (2) gender-based discrimination and violence against women; and (3) the exclusion of children from decision-making processes.
 November 2015:
An event was held in each pilot community to share and validate with a greater number of community members the findings of the baseline study. Under the form of a Gallery Walk, participants from focus groups led the activity by presenting the results to their neighbors, friends and other members of their community. Overall, attendees considered that results from baseline study do reflect aspects of the situation of their community and emphasized on the importance of involving a diversity of marginalized groups in SHREG project activities.
Baseline Study report is available here in Spanish
OTHER ACTIVITIES IN COLOMBIA
Training of Trainers 2012-2013: 12 young leaders
International Human Rights Training Program (IHRTP) 1995-2015: 17 alumni.
Regional Training Session 2009-2010: 1 alumni
 ACTIVITIES IN THE REGION
Regional Alumni Meeting (Quito, 2009)
Advanced Human Rights Education Training Workshop (Quito, 2010)
Evaluation Workshop (Peru, 2010)
International Human Rights Training Program (IHRTP) 1994-2015: more than 200 alumni
RESOURCES