Strengthening Human Rights Education Globally (SHREG) is a 5-year project (2013-2018) that engages key actors, including children and youth, in making communities safer, more equitable, more democratic and respectful of human rights.
Project components include:
Regional Human Rights Training Sessions in East Africa and West Africa
The online Equitas Community, a members-only online forum for Equitas alumni that includes online conversations and training courses as well as regional and thematic discussion groups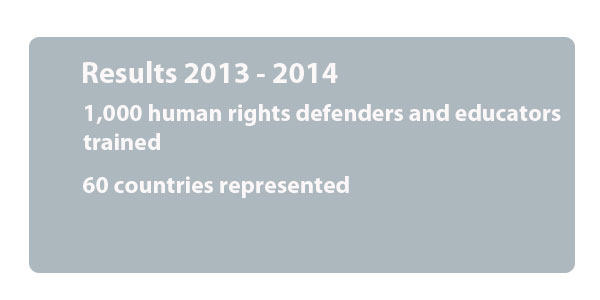 Highlights
Training sessions in Senegal, Burkina Faso, Cameroon and Ivory Coast on the implementation of the recommendations of the Universal Periodic Review in May and August 2013; followed by political consultations in July and August aimed at creating a greater respect of the rights of women and girls.
Human Rights Training in Abidjan on the citizen participation of women and girls. 31 participants from Senegal, Burkina Faso, Cameroon and Ivory Coast attended.
18 community action projects implemented in 15 communities in Haiti.
National Training on the citizen participation kit Je m'engage, ensemble nous bâtissons attracted 21 participants from 19 organizations in Haiti.
Youth Forum organized by Equitas and Rencontre africaine pour la défense des droits de l'Homme (RADDHO) was held on November 25 ,2014, in Pikine, Senegal with the participation of 98 youth from Pikine, Thiès and Dakar.
This project is undertaken with the financial support of the Government of Canada provided through Foreign Affairs, Trade and Development Canada (DFATD).