This year's International Human Rights Training Program (IHRTP)  welcomed seven participants and one co-facilitator that work to defend the rights of people with disabilities in their regions. Among them, four have disabilities that motivate them to advocate for more visibility and accessibility, as well as to demand the same basic human rights that are naturally afforded to able-bodied people. We sat down to ask them about their experience at the IHRTP and what they think could be improved for future years.
The general consensus was positive. They highlighted moments in which they felt particularly grateful for people's actions and ways their facilitators adapted the classrooms to fit their needs.
"Since the first day, we talked about me," said Ala Daqqaq, the Policy and Planning Coordinator of the Higher Council for the Rights of Persons with Disabilities in Jordan. "[My facilitator] Pamela said, 'we need to sit down [and talk] so I can understand your needs in the classroom and with colleagues.' I really appreciate that she asked me on the first day."
Imed Tarchi, an executive member of the Organisation Tunisienne de defense des droits des personnes handicapées (OTDDPH), mentioned that his facilitator modified daily classroom activities in order for him to be able to participate.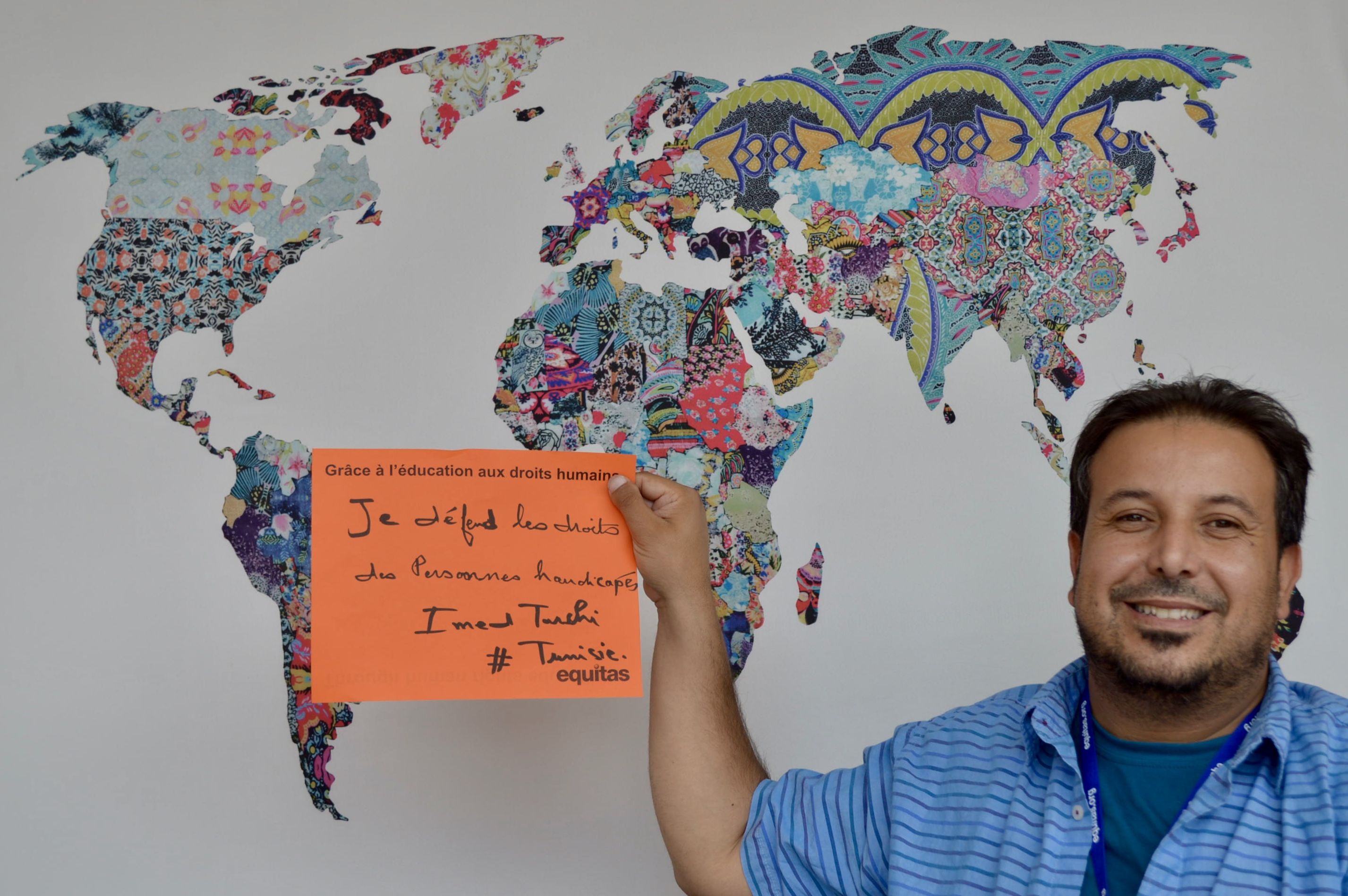 Ala's experience was similar.
"[My facilitator] knows I'm a person with disabilities," she said. "In every activity, she asks me a question about how to include a disability issue."
While the staff at Equitas tries to accommodate everyone to the best of their ability, hearing about firsthand experiences is how they can make significant improvements to the program in the coming years.
"We're gathering skills as we go," said Marie-Pierre Arseneault, one of Equitas's IHRTP Coordinators. "Having people with disabilities in the groups and as facilitators allows the issue to come up in conversation even if it's not necessarily part of the content. We talk about it, it becomes a priority, and we never forget about it."
This method is part of the participatory approach, which puts participants at the center of their own learning. Rather than being composed of lectures, the three-week training program seeks to create a space where people are comfortable sharing their views and learning about how social issues vary around the world. There is also an emphasis on a human rights-based approach. Having marginalized people present during the program provides a platform for their voices to be heard and valued, and their struggles to be understood by everyone. Every IHRTP participant works to defend human rights in their own community, meaning they have an abundance of knowledge to share. It also means they have a place to bring newly acquired perspectives back to once the program ends.
Ways in which we can improve
Though no one with a visual impairment attended the 39th annual IHRTP, one participant provided a concrete example as to how something extremely simple – that able-bodied people take for granted – could easily be made more inclusive.
"When we were sorted into groups, it was by colour-coded Post-Its," said Rania Derbel, a Project Manager for the Fédération des associations Tunisiennes oeuvrant dans le domaine du handicap (FATH). "Instead of using colours, we could use shapes. Triangles, squares, circles… So that visually-impaired people can feel the difference. This is a simple way to make something more inclusive."
In the past, Equitas has assigned interns to assist visually-impaired participants throughout the program. The participants also had access to an app on their phones that would read their manuals out loud.
A shared suggestion on how the program could be more inclusive in coming years is to devote a thematic session to the subject of the rights of persons with disabilities, in the same way there are sessions for the LGBTQI+ community, indigenous populations, and so on.
"The disability issue is rarely mentioned in the program," said Thi Phuong Hao Nguyen, a Program Manager at the Association for Empowerment of Persons with Disabilities in Vietnam. "If possible, [I would like it] if we have a chance to include it and make it more visible."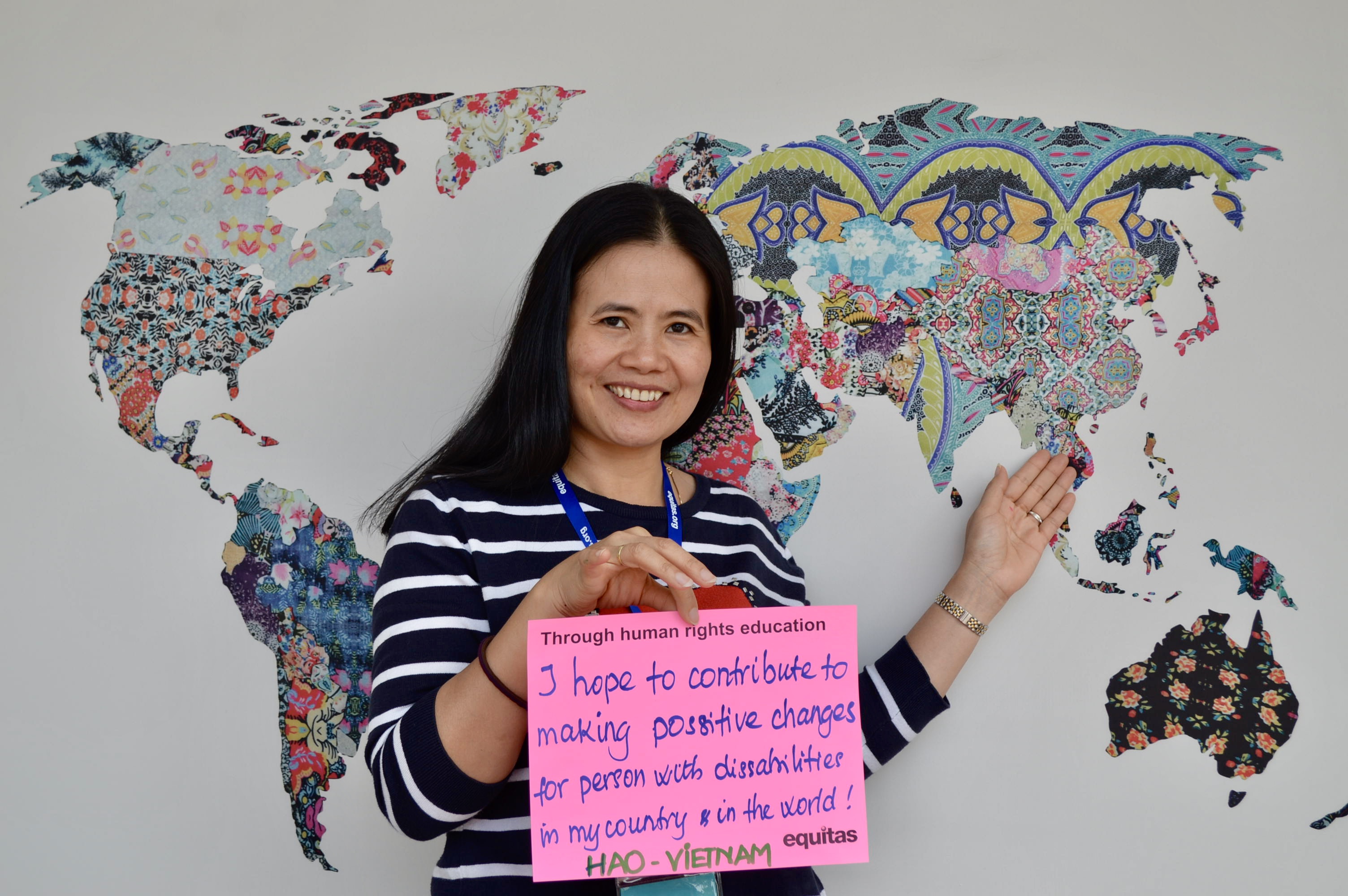 "This is a training for human rights," said Rania. "It includes people with disabilities."
Currently, the IHRTP has a three-hour block of time devoted to a session called "Open Space Technology," which serves as an opportunity to address a social issue that hasn't yet been discussed during the program. Marie-Pierre suggests this as an occasion to address the subject but notes the request for a better emphasis on the issue as a main theme during the IHRTP.
Ahlem Nsiri, Director the Centre Tunisien méditerranéen reminds us that "it's important to see this issue from an intersectional standpoint. It affects women, it affects the LGBTQI+ community, it affects everyone."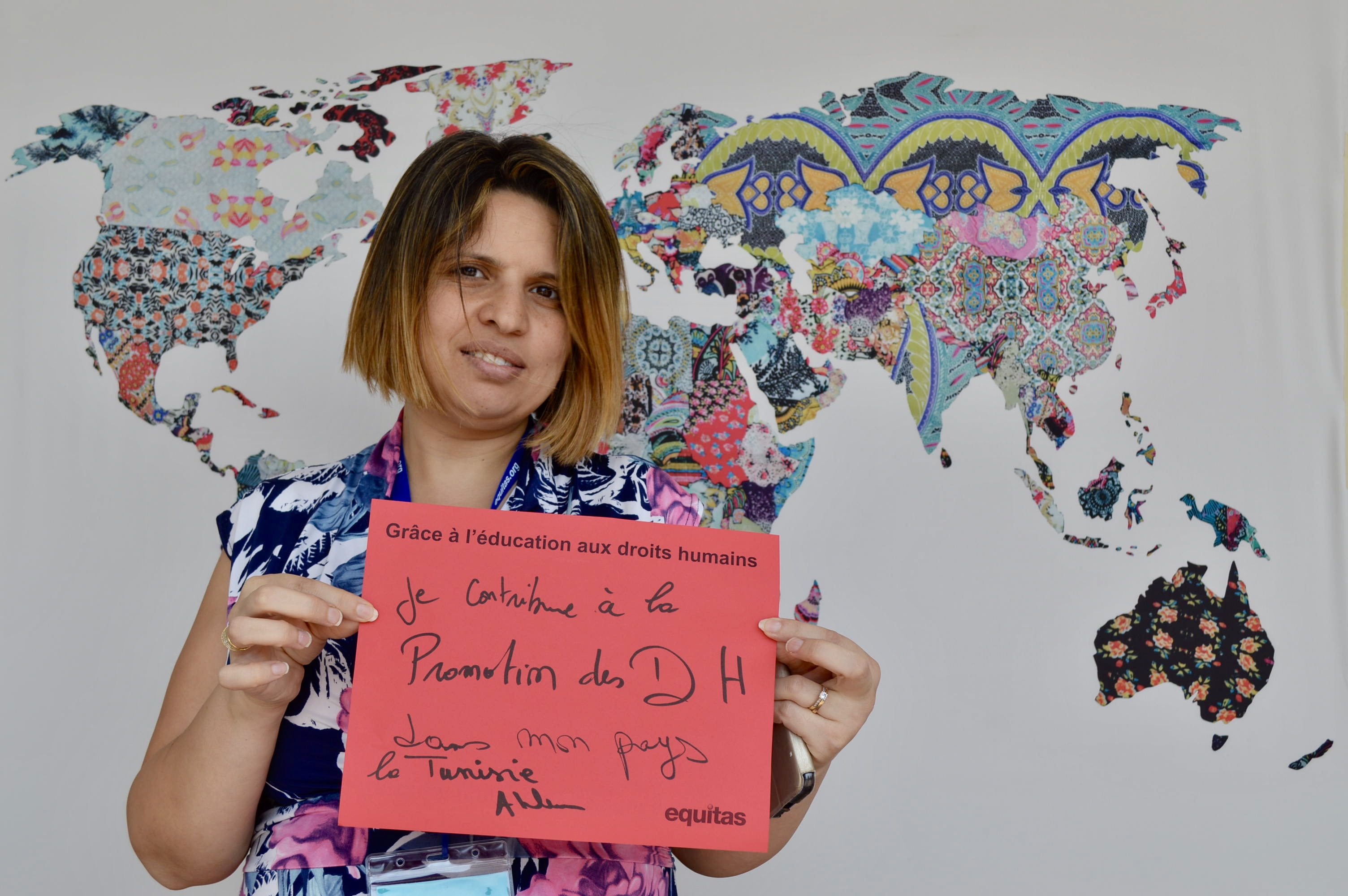 Equitas is in the process of launching a capacity-building initiative called Rawabet, which means connections in Arabic, targeted towards women, youth, and people with disabilities, in Morocco, Jordan, Tunisia and Egypt. The project aims to engage in support of the respect for human rights. Through Rawabet, over 1,500 youth, women and persons with disabilities in Tunisia, Jordan, Morocco and Egypt will learn how to effectively use new technologies to engage with their communities and participate more actively in the promotion of social and economic rights. Of this year's eight participants that work to defend the rights of persons living with disabilities, six come from regions where Rawabet is being launched.
By Katelyn Thomas, Equitas's 2018 Communications Intern.